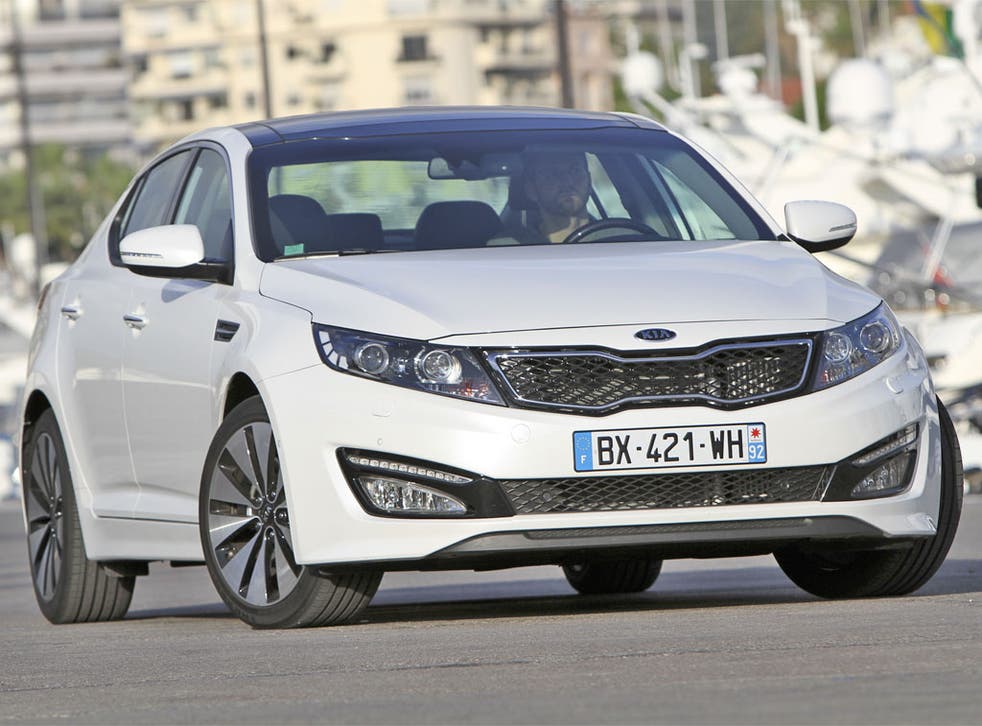 Kia Optima
A Kia that looks like a Jaguar – does it drive like one too?
Price: from £19,595
Engine capacity: 1.7 litres
Top speed (mph): 125
0-60mph (seconds): 10.2
Fuel economy (mpg): 57.6
The Optima is a thing of beauty, and you don't get a chance to say that about a Kia very often. Sleek, smooth and classy, its looks in part a deliberate attempt to mimic the proportions of expensive rear-wheel drive luxury saloons.
The Optima, like all of its Mondeo-class competitors, has front-wheel drive, but visual tweaks and hard work mean that, badges and grille apart, it looks a bit like a Jaguar. It's a real credit to Kia's design chief, ex-Audi man Peter Schreyer, who has played a vital role in the company's rise since 2006.
Once you get inside, though, the Optima is, perhaps inevitably, a lot less Jag-like. Instead of good old British wood and leather, or classy touches like Jaguar's famous gear selector that automatically rises from the centre console when you start the engine, you get a fairly standard cabin that's broadly comparable with its competitors.
That means it's roomy, tasteful and well-equipped – but not too exciting. The relevant comparison here, though, is with Kia's previous big saloon, the Magentis. In many areas, that now looks and feels not so much like the Optima's immediate predecessor but a car two, or perhaps even three, generations older, and nowhere is the difference more obvious than in the Optima's interior.
Compared with the Magentis's old-school Korean detailing, the Optima's cabin is a shrine to the principles of surprise and delight. And the big advance compared with the Magentis is also very noticeable when you get out on the road. The Optima is a reasonably tidy handler but it's the new car's drive-train that represents the big step forward. In other markets there are several engine options, including petrols and hybrids but UK models are all being fitted with Kia's smooth and strong 1.7-litre diesel, at least for the time being, a sensible decision given local buyers' preferences.
A few years ago, I'd probably have been telling you that this was another area in which comparisons with Jags, despite the Optima's flowing looks, were out of place, but now I'm not so sure; even Jaguar has bowed to the inevitable and started offering four-cylinder diesel engines in its big cars, so some XFs won't actually sound that different to an Optima.
One area where an Optima can't quite match a Jag, though, is in terms of its optional automatic gearbox, which has six speeds, whereas Jaguar has started rolling out eight-speed boxes to most of its models. On the other hand, Magentis automatic were four-speeders, and the last time anyone got excited about one of those was probably around 1982.
Although the Optima is a pretty decent effort, Kia doesn't expect it to sell in huge numbers in the UK; the Magentis had such a low profile here that the company is now effectively a new entrant in the hard-fought Mondeo class. That won't bother the Koreans, though, because much of the buzz generated by this car's glamorous looks will rub off on the rest of the Kia range, and they can already sell pretty much every Optima they can make to the Americans, who have gone for it in a big way. Kia seems to be pretty much unstoppable at the moment, and the Optima can only add to the momentum.
The competition: The Optima is most likely to be competing for sales with its half-sister, the Hyundai i40, and the established champ among budget badge big saloons, the Skoda Superb.
Join our new commenting forum
Join thought-provoking conversations, follow other Independent readers and see their replies