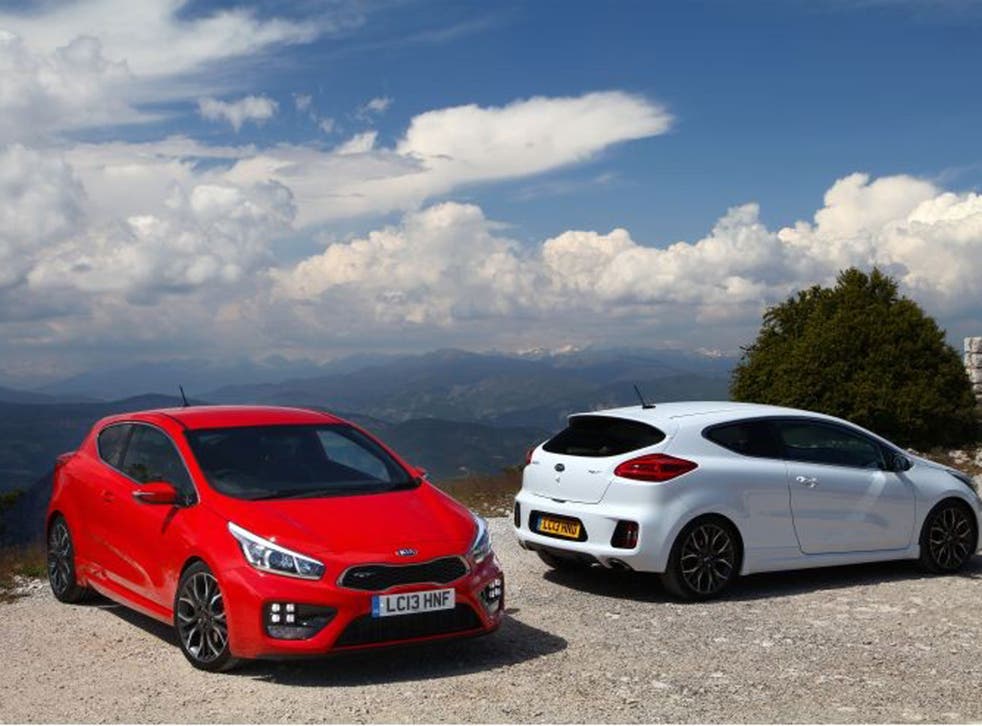 Kia Pro Cee'd 1.0 GT-Line, motoring review: This reliable new hatchback is a car for European tastes
Kia is one of the last mainstream carmakers to catch on to the wheeze of using a smaller turbocharged petrol engine
Jamie Merrill
Wednesday 23 March 2016 22:34 Comments
Price: £18,820
Engine capacity: 1.0-litre petrol turbo
Power output (bhp @ rpm): 118 @ 4,000
Top speed: 118mph
Fuel economy: 57.7mpg
CO2 emissions: 115g/km
For those of us in the market for a safe and reliable hatchback with a reassuringly generous seven-year warranty, the Kia Cee'd has long been a sensible choice. Its South Korean manufacturer has been exploiting its winning recipe since 2006 and sold more than one million Cee'd models since the car was first launched.
The problem is that since 2006, there have been a million or more automotive advances, from aluminium construction and touch screen displays to downsized petrol engines and emergency braking systems. And in comparison to some of its key competitors, it is starting to look a little old.
That's where the new Cee'd comes into play. It's been designed for Europe and European tastes, from its frugal new 1.0-litre engine right down to its new touch-screen entertainment system and hot-hatch looks. The biggest change (Kia claims) is the new smaller engine. Kia is one of the last mainstream carmakers to catch on to this wheeze of using a smaller turbocharged petrol engine – in this case a 1.0-litre unit – to replace older, larger, less economical engines. The addition of the turbocharger keeps the oomph levels up, while the smaller size – the theory goes – should delivery greater diesel-like economy.
But the new Cee'd fails to live up to its economy promise. In the real world (where we all live, as opposed to a European test centre) it's simply not possible to reach the economy figure of 57.7mpg. The firm shouldn't be able to claim that it is.
Thankfully for Kia, this is a charge I could level at most small petrol cars on the market today and it won't hurt them while petrol prices remain depressed (adjusted for inflation and improved fuel economy, filling up at the pumps today is about as cheap as it has ever been). Gone, too, is the perception that the Kia Cee'd range, which includes the three-door Pro Cee'd I've just tested, is a cut-price import. In fact the Cee'd is made in Slovakia.
This all makes the new Cee'd an attractive proposition, but, of course, there's a catch. All these European refinements are expensive and a decent spec five-door will set you back nearer £20,000 than £18,000. That's no small sum. Kia is playing with the big boys now.
Register for free to continue reading
Registration is a free and easy way to support our truly independent journalism
By registering, you will also enjoy limited access to Premium articles, exclusive newsletters, commenting, and virtual events with our leading journalists
Already have an account? sign in
Join our new commenting forum
Join thought-provoking conversations, follow other Independent readers and see their replies