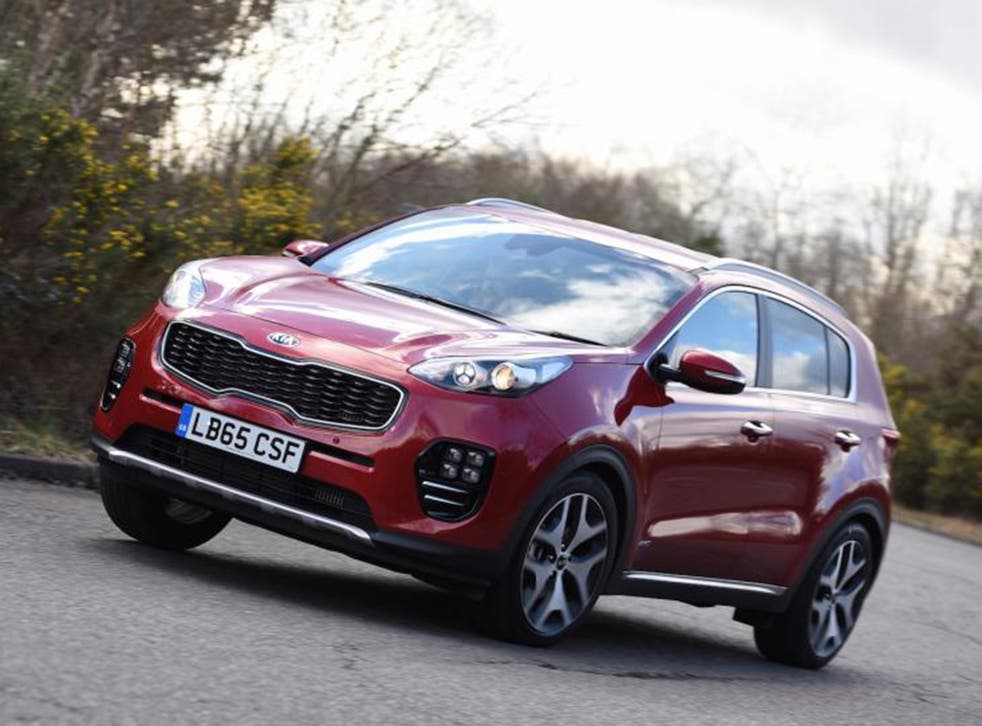 Kia Sportage 1.6 T-GDi GT-Line, car review: SUV looks more fun than it is
Excellent grip makes it a very secure car to drive, but it's not what you'd call entertaining
John Calne
Friday 11 March 2016 14:12 Comments
The new Sportage is set to score a lot of sales, and most of them will go to diesels. But it's a car whose styling definitely puts the 'sport' in sport-utility, and with its 174bhp turbocharged 1.6 petrol engine the one tested here has a bit of zest to go with its looks.
There's a 7-speed auto on the options list, but we've got the standard 6-speed manual. Both send the engine's torque (195lb ft, since you ask) to all four wheels, so you rarely want for grip.
That makes it a very secure car to drive, but it's not what you'd call entertaining. There's a predictable slough of understeer if you try to play games, along with evident body roll and a disappointing lack of steering feel.
Not that the engine particularly encourages you to get stuck in. We said it has 'a bit' of zest, and that's exactly right. It'll hit sixty in 9.2 seconds, which is zesty but only a bit.
The problem is that you need to rev it, a lot. And you'll be forever at the gearbox, too – which might not entertain you as much as it could, because it's a long-throw stick so you won't be able to shut your eyes and imagine you're in a Cayman S. The engine does spin up nicely, so using its potential stops short of being tedious, but ultimately that potential just isn't that great.
To be blunt, it's a car that looks like fun but isn't. That's a bit harsh but, especially in this GT-Line trim, the Sportage has an image that encourages you to think it's going to be funkier to drive than it turns out to be.
It definitely is funky inside, though. They've stepped it up a notch from the previous-generation model, which was already pretty good, with quality materials and a tidy, modern looking design. It's roomy in every seat, flexible enough to carry a good load of luggage and as well equipped as you expect a Kia to be. Our GT-Line model had a 7" touch interface, and it's a good, user-friendly example of the breed.
That alone isn't enough for us to recommend this version of the Sportage, though. It doesn't have the fun factor you want from a petrol engine, and at 37.2mpg and 117g/km it doesn't have the economy of its diesel counterparts. So we'll recommend those instead.
Register for free to continue reading
Registration is a free and easy way to support our truly independent journalism
By registering, you will also enjoy limited access to Premium articles, exclusive newsletters, commenting, and virtual events with our leading journalists
Already have an account? sign in
Join our new commenting forum
Join thought-provoking conversations, follow other Independent readers and see their replies