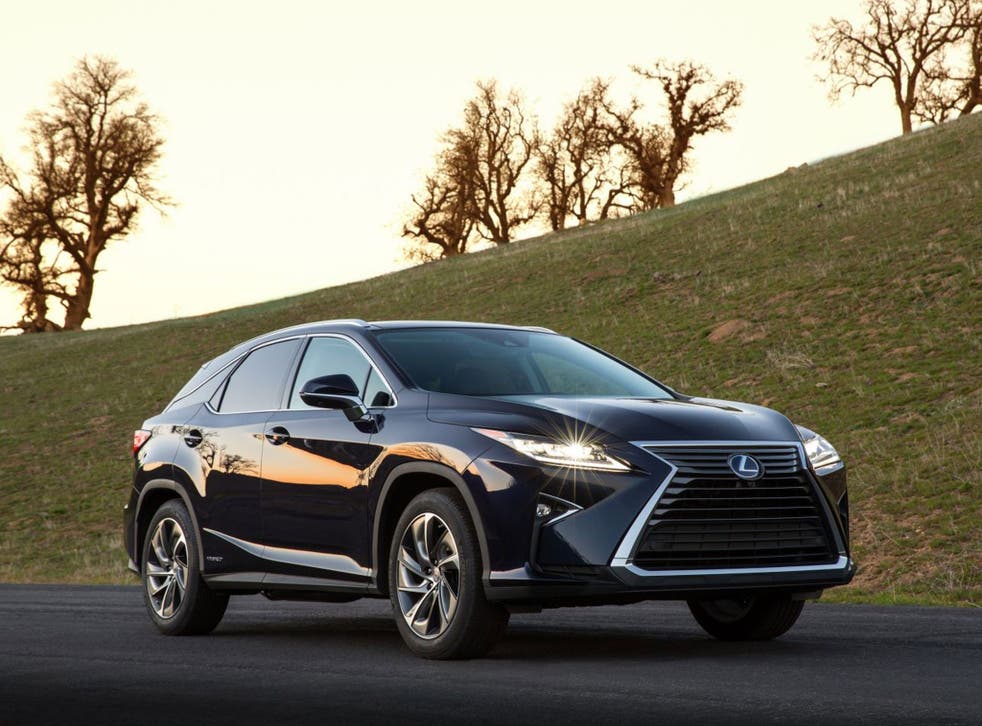 Lexus RX450h, motoring review: More brawn than brains, despite the clever accessories
The Lexus is more about posing than pushing through mud, says Sean O'Grady
Sean O'Grady
Thursday 25 February 2016 00:19 Comments
Price: £52,995 (£54,935 as tested)
Engine capacity: 3.5 litre V6 diesel + 2 electric motors
Power output (hp combined): 308
Top speed (mph): 124
Fuel economy (mpg): 51.4
CO2 emissions (g/km): 127
To clamber up into the driver's seat of the Lexus RX450h is to take charge of a technological masterpiece, or at least so it seems. They say that you never use more than 10 per cent of your brain and, in the case of the Lexus' non-organic intelligent power, you might say the same about this full-size SUV.
For example, mine had a feature called a "Haptic feedback force". What this is is an adjustment to the sensitivity of the mouse-like thing that operates all the menus and controls from the centre console. Except that to make the adjustment you first need to know it is there and, second, access it through that very same ultra-sensitive mouse, which makes navigation tricky on the move. So maybe not such a master feature after all. I also never managed to fathom how the heater ("climate control" nowadays) worked.
Still, there is plenty of useful technology there. The eager 3.5-litre V6 petrol-powered engine would in most settings represent a degree of automotive sophistication, but in this company – namely two extra electric motors over each axle (four-wheel drive you see) and a hybrid powertrain, where surplus energy is recycled via lithium batteries – it is but a rusty nail in comparison. Now glorious things of this hybrid are spoken, but in real-world use I only managed to get about 28mpg out of it. Not bad for a 2.5 ton behemoth that can easily surpass 100mph, but nothing like what the official figures suggest. It is also fair to point out that, with its unusual powertrain, the Lexus has nothing like the off-road capability of rivals from, say, Land Rover. The Lexus, in other words, is more about posing than pushing through mud and the British product is the more genuinely technically accomplished, mechanically speaking.
And pose it certainly does. From the rear and side it has some interesting styling cues, with curiously square front wheel arches and little blisters on the indicators (for aerodynamics I presume). And this Lexus has an awful lot of front too, with a gigantic zig-zig grille that is like nothing else on the road. Bold and distinctive as it is, it made me feel just a little self-conscious. If I say it looks ostentatious next to a Range Rover I hope you'll catch my meaning. For many, it will do exactly what an SUV should do: impress with its sheer bulk and presence, reinforced by a cherry-red paint job and some bling alloys. Big, then, but not quite as clever as first it appears.
Register for free to continue reading
Registration is a free and easy way to support our truly independent journalism
By registering, you will also enjoy limited access to Premium articles, exclusive newsletters, commenting, and virtual events with our leading journalists
Already have an account? sign in
Join our new commenting forum
Join thought-provoking conversations, follow other Independent readers and see their replies