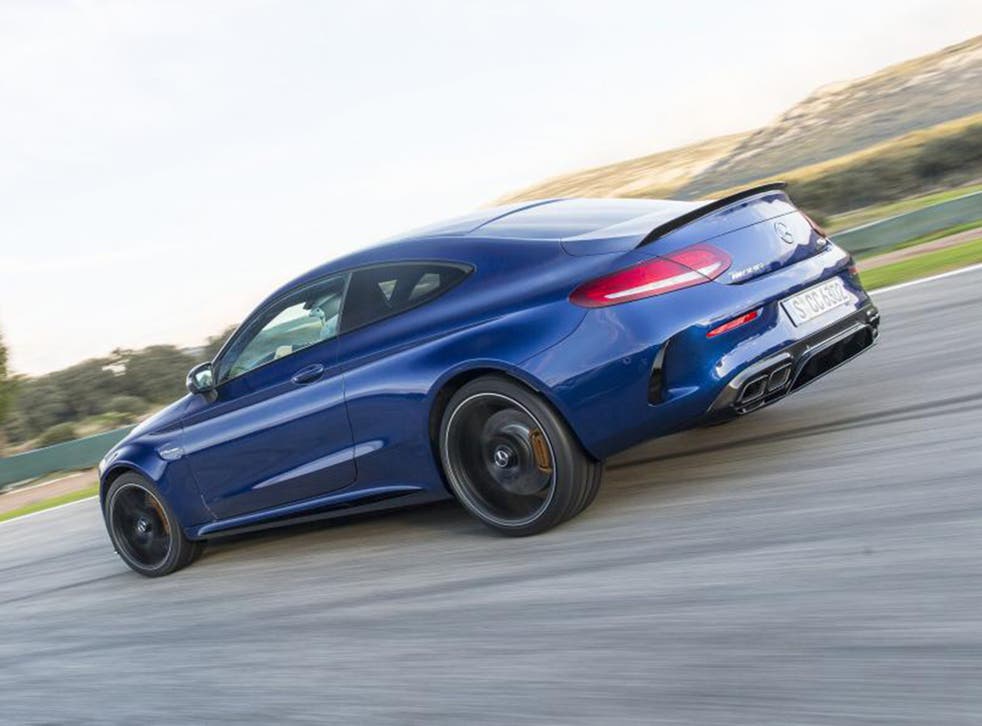 Mercedes-AMG C63 S Coupé, car review: Magnificent car proves cubic inches aren't everything
The new engine may be smaller – but unlike the big old lump, it's packing twin turbos
John Calne
,
Autocar
Monday 23 November 2015 13:44 Comments
A 4.0-litre engine is less than 65% of the size of a 6.2-litre engine. So when you learn that that's what's happened to the new C63 S Coupé, you may be concerned for its welfare.
Don't fret, though. The new engine may be smaller – but unlike the big old lump, it's packing twin turbos. Enter stage right a 503bhp, 516lb cornucopia of thrills.
There's a less powerful version too, but we've got the S model here and it's the funky one. Not that either is slow, but if you're going to do a thing you might as well do it right.
As well as a chunk more power and torque, the S gets a smarter diff. Downstream of AMG's latest seven-speed dual-clutcher is an electronic locker which Merc says operates faster than the mechanical unit in the less powerful car.
Like the engine itself, the whole of the transmission is simply superb. Whichever mode you choose, it changes gear with a speed and precision that can both be described as razor-sharp, and the diff provides a level of grip that feels both enormous and natural.
The new engine lets you make the most of it all, and how. With those two turbos at its shoulder, it sends you surging up the rev range on an irresistible swell of torque. It makes crushing acceleration feel thoroughly matter-of-fact – though if you want to add some spice to the mix, an assault on the rev limiter will reward your eardrums with a noise that smacks of angry predators as you leap forward like a pouncing beast.
Its handling's right on the money, too. It rides with insouciant mastery of the road surface, soaking up everything in Comfort mode yet still responding like a good coupé should. Or crank up the dial and it'll turn itself into a full-on track warrior, all focus and intent.
Not that there's anything of the stripped-out trackday weapon to it. This is a luxury performance car whose weight has actually grown from the old 6.2-litre days, so you needn't fear anything as vulgar as being denied your creature comforts.
The C63 Coupé joins saloon and estate versions of the same package in the Mercedes-AMG line-up, and does rather a nice job of completing the trio. It's a magnificent car in its own right – and it'll go down in history as the C-Class which proved that actually, there IS a substitute for cubic inches after all…
Register for free to continue reading
Registration is a free and easy way to support our truly independent journalism
By registering, you will also enjoy limited access to Premium articles, exclusive newsletters, commenting, and virtual events with our leading journalists
Already have an account? sign in
Join our new commenting forum
Join thought-provoking conversations, follow other Independent readers and see their replies