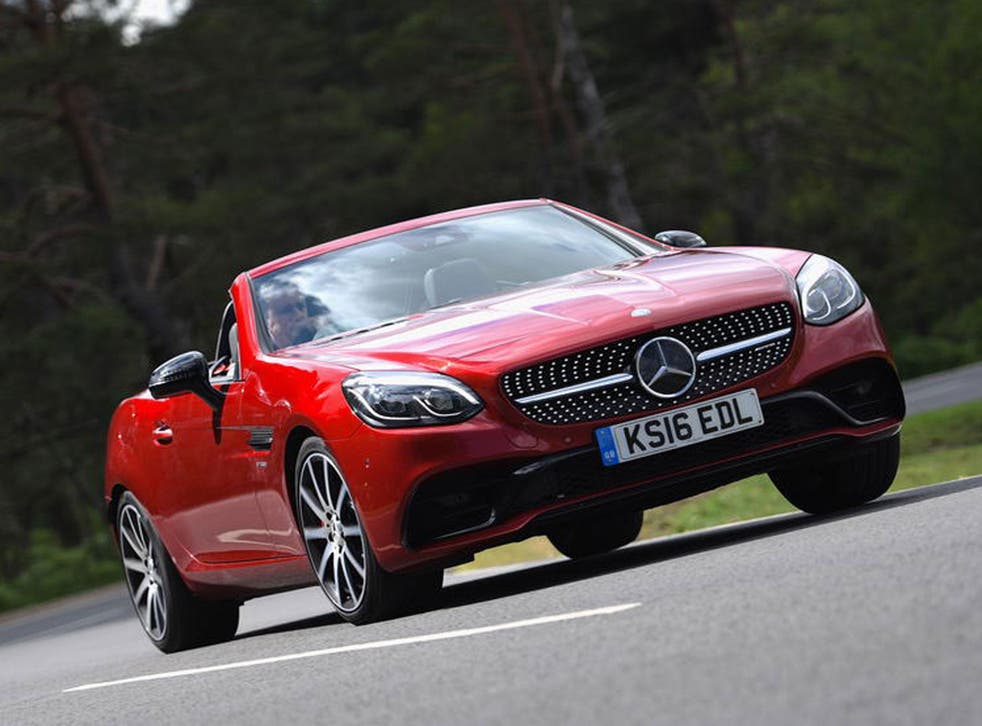 Mercedes-AMG SLC 43, car review: SLK 55 successor feels like a car waiting to be replaced
There's an integrity, and a price tag, to the best of its rivals which it simply can't match
John Calne
Friday 01 July 2016 17:34 Comments
The pace of change continues unabated in the world of AMG. But there's no change of pace, so that's alright.
Or is it? Here's the new SLC 43, which replaces the SLK 55. So, a 3.0-litre V6 with twin turbos instead of a 5.5-litre V8 with a hairy chest and a bellow to match.
There's less bellow now, but there's more torque. There's less acceleration, to the tune of 0.1 seconds, but there's way better fuel economy – mix 4.7 seconds with 36.2mpg and you can see why the move to a smaller engine makes sense.
It makes sense, but does it make whoopee? Actually, to a great extent, yes – keep your boot in and the engine rarely sounds less than exciting.
With 362bhp and 384lb ft under your right foot, it more than just sounds the part. Merc-AMG's latest nine-speed auto does no harm here, helping you make the most of the engine's searing output as its shifts through the ratios with speed and precision.
The chassis, on the other hand, is showing its age – especially when you compare it with the mesmerisingly good Porsche 718. AMG has done its best with it, firming up the suspension to enhance its handling without wrecking its ride, and the steering wheel tells you stuff it wouldn't have before. But there's an integrity to the best of its rivals which it simply can't match.
There's also a price to the best of its rivals which it can't match. The 718 Boxster costs the thick end of five grand less, and for that you get a brand new design whose dynamics are right at the cutting edge. You do at least save close to double that against the cost of an SLK 55.
But the SLK was then, and this is now. And a new name doesn't change the fact that the SLC feels like a car waiting to be replaced.
Register for free to continue reading
Registration is a free and easy way to support our truly independent journalism
By registering, you will also enjoy limited access to Premium articles, exclusive newsletters, commenting, and virtual events with our leading journalists
Already have an account? sign in
Join our new commenting forum
Join thought-provoking conversations, follow other Independent readers and see their replies