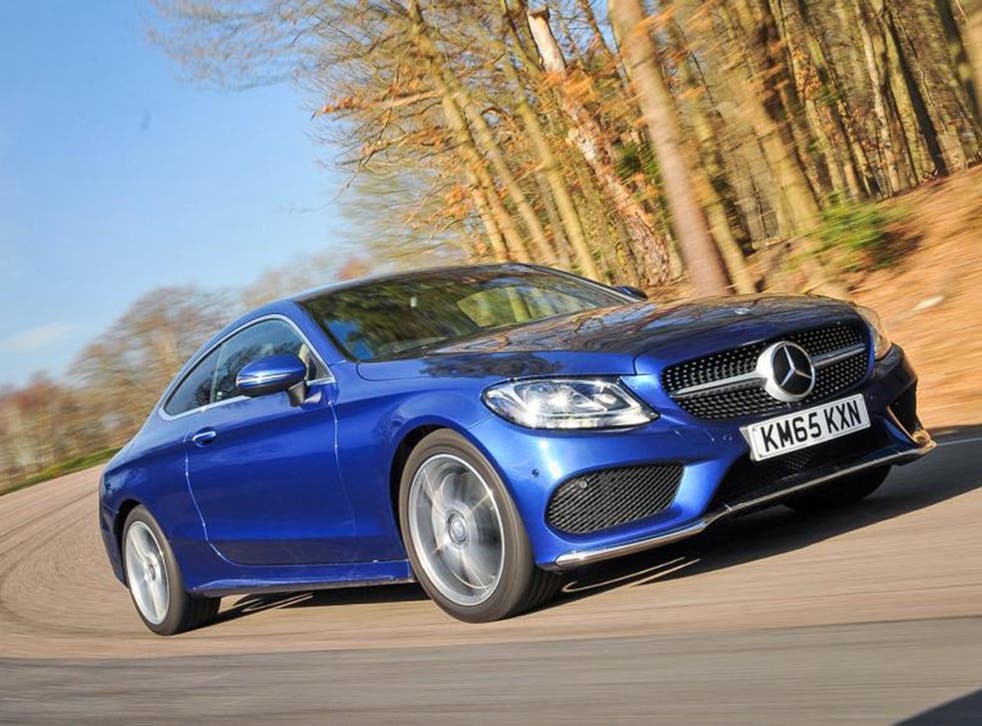 Mercedes-Benz C250 d AMG Line Coupe, car review: Air-suspension option makes a great all-rounder a class leader
The £895 extra addresses the basic models's suspension issues without detracting from the fun
Sarah Bradley
Friday 11 March 2016 14:31 Comments
Mercedes' new C-Class Coupe is so much more than 'simply' a two-door version of the saloon.
Boasting mainly unique body panels, riding 1.5cm lower, and with its own steering and front suspension set-ups, it's an accomplished model in its own right. It also has – by coupe standards – a surprisingly roomy four-seat cabin and good load space.
We drove the C250 d AMG Line Coupe, with its strong, if slightly coarse-sounding bi-turbo diesel. Merc's latest nine-speed automatic transmission is very precise, and hesitates momentarily only under the harshest of acceleration.
It's another departure from the C-Class – which uses the more traditional seven-speed auto – while the Coupe's steering is an improvement as well.
When it comes to suspension, our AMG Line's firmer set-up was fidgety and the tyres even came unstuck a couple of times over mid-corner bumps.
The answer is the £895 optional air-suspension, which addresses these issues without detracting from the fun, and is capable of handling the diesel's 201bhp and more. We'd strongly recommend any potential buyers add it to their extras list.
Inside the swanky cabin you'll find sports seats plus a seven-inch infotainment touchscreen with sat-nav, DAB, Bluetooth and the latest connectivity apps.
In its basic form the C250 d AMG Line Coupé is a great all-rounder; efficient yet pokey, with a quality feel. Add that air-suspension and it really is a class leader.
Register for free to continue reading
Registration is a free and easy way to support our truly independent journalism
By registering, you will also enjoy limited access to Premium articles, exclusive newsletters, commenting, and virtual events with our leading journalists
Already have an account? sign in
Join our new commenting forum
Join thought-provoking conversations, follow other Independent readers and see their replies