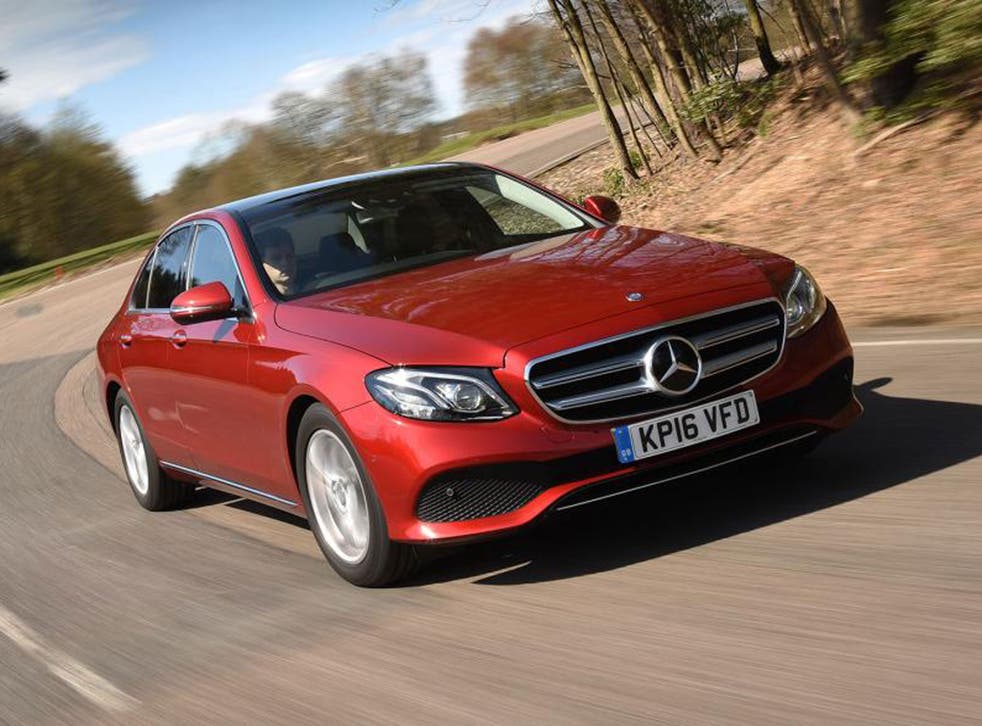 Mercedes-Benz E 220 d SE, car review: New 2.0-litre engine transforms upmarket executive saloon
If you need to drive a lot of miles and want to feel comfortable, there's never been a more suitable E-Class
Graham Scott Comments
Owners of the new E-Class are more likely to drive than be driven – a situation that turns around for owners of the S-Class. But the effect of driving the new E-Class is almost similar. You can drive a good distance and get out feeling fairly pampered and fresh. But this is a car that lets you know how it wants to be driven. Agree, and you'll have a remarkably lovely time behind the wheel.
Disagree and, really, it's an argument you're not going to win. So how does the E 220 d like to be driven? Really, a bit like it's an S-Class with nowhere particular to go by no particular time. Which is ironic because this is going to be a favourite car for the company car driver. Look at the numbers.
A claimed 72.4mpg (probably at least 55mpg in the real world) and CO2 emissions of a claimed 102g/km. Add in a 0-62mph time of a highly respectable 7.3sec and a 149mph top speed, and you have the sort of numbers that might make even an accountant smile.
This is down to the very latest 2.0-litre four-cylinder turbodiesel, an engine which will we'll see a lot more of in the Mercedes-Benz range. Again, this is partly down to the numbers. There's a respectable 192bhp on offer but look at the torque figure: 295lb ft starting at 1600rpm. Add in a nine-speed auto box of Germanic efficiency and you can see how that all stacks up.
It means you don't hammer along, you waft. You can waft at 70mph with under 2000rpm on the rather classy dials, with commensurate low levels of just about everything, including pulse rate. It's best not to try to really rev the thing and generally thrash about. You can, but it's clearly not what the engineers had in mind.
The handling is the same. The SE trim gives you lowered suspension that is passive and well damped. The ride is gentle, like a magic carpet, soaking up bumps and thumps so you get neither shaken nor stirred. Try to press on and it starts to wallow a bit and generally feel slightly less planted. Back off again and serenity returns.
We wonder how this would be with active suspension or the Airmatic springs, but that's a thought for another day. That might well transform the new E-Class in this guise, but for now it's really like driving a smaller S-Class at least for some of the time. The cabin is splendid and luxurious, but as you'd expect Mercedes keep a lot of the really fine stuff on the options list so you'll end up spending more than the base price of £35,935. Or so they hope.
If you want a car with sharp, communicative steering and handling, then in this guise this isn't the car for you. But if you need to drive a lot of miles, say for business, and you really want to feel relaxed and comfortable, then there's possibly never been a more suitable E-Class. We're expecting it to appear on a lot of shortlists for company car drivers.
Register for free to continue reading
Registration is a free and easy way to support our truly independent journalism
By registering, you will also enjoy limited access to Premium articles, exclusive newsletters, commenting, and virtual events with our leading journalists
Already have an account? sign in
Join our new commenting forum
Join thought-provoking conversations, follow other Independent readers and see their replies