Mercedes-Benz Gl 420 Cdi

Show all 6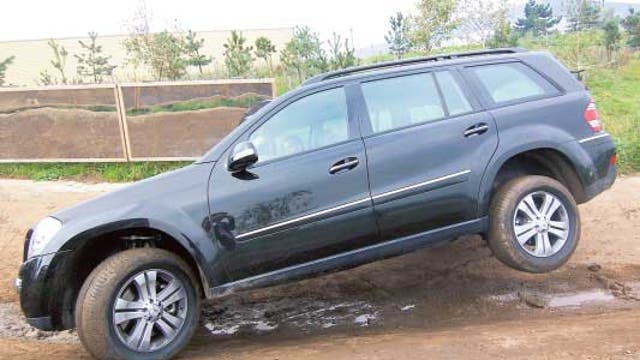 Mercedes-Benz Gl 420 Cdi
Mercedes' new SUV is a superbly able machine on any terrain, but just a little profligate. And, asks Sean O'Grady, do we really need it?
Tuesday 05 December 2006 01:00 Comments
Price: £63,075 (range starts at £51,675)
Engine: V8 Diesel; 306bhp; 517lb/ft of torque. V6 diesel and V8 petrol models also available
Transmission: seven-speed automatic, four-wheel drive
Performance: 143mph; 0 to 60 mph in 7.6 seconds; 23.9mpg
CO2: 313g/km
When Mercedes-Benz offered me the opportunity to drive its latest off-roader, I thought I'd do something really mentalist with it. I did, too. I took it off road. Well, not mentalist as such, because that's what the GL-Class is designed to do; more very, very unusual, I suppose.
As we all know, cars such as this rarely get their tyres muddy and spend most of their working lives on the school run or waiting for their owners outside fashionable boutiques and upmarket restaurants. A kerb is the biggest obstacle they're liable to face. Something as large as the GL-Class would also be handy for ferrying around antiques between the family homes, I fondly imagine. It has seven seats, too, so everyone in the family from dowagers to newborns can be accommodated in its classy interior. I don't know for sure, though, because I don't move in those sorts of circles, that is people who can spend upwards of £51,000 on a status symbol. Me? I drove it into a pond.
Now before you accuse me of duck-worrying or whatever, let me explain that I wasn't doing this in some fragile wetland ecosystem, but rather in the man-made environment of Mercedes-Benz World at Brooklands in Surrey. The company has taken part of the site where the race circuit once stood and spent undisclosed millions on redeveloping it into a museum/showroom/adventure park/Merc Mecca. I've no idea whether it was worth it financially, but it is a fun destination for a petrol-head. The best bits are the handling tracks and the off-road course where you can test cars to their - and your - limits.
Actually, I guess the off-road course really amounts to just a nursery slope. Still,I thought it would be interesting to see how the magnificent engineering in the GL-Class stood up to a little bit of rough.
I can certainly confirm that you won't get wet in one of these vast vehicles. The water we waded through rose above the sills but not a drop entered the cabin. Impressive, and just as well, because I happened to have my best whistle on. By the way, indoors you'll find the usual tasteful Mercedes treatment but it doesn't approach the modern Scanda-sassiness of a Range Rover, the only make that has learnt much from the world of architecture and interior design. It's still luxurious, though; Mercedes has fitted twin screens on the back of the front seat head-rests for the DVD player, there's a switch at the rear that will fold the third row of seats down electronically, and the boot also operates automatically. You almost feel guilty at the consumerist excess of this 5m-long monster.
Anyway, back to the mud. We tackled a few 45-degree slopes and checked out the Mercedes' two-stage transfer box, adjustable ride height (the higher the better), locking differentials, "downhill speed regulator" (like Land Rover's hill descent control) and hill-start assist. For the ungifted amateur, the key to successful off-roading is, as far as I'm concerned, to select the lowest gear you can, leave it there and keep moving. And, if possible, get your hands on the most capable, powerful and intelligent machine you can, because they usually can take care of any deficits in your driving. Careering around a mock-ravine on three wheels makes you very grateful for all that all-terrain cleverness.
Our test car, then, acquitted itself perfectly well. How, I wondered, might it cope with the handling track? The answer to that is pretty positive, too. Normally I take the view that sports utility vehicles are, by their very nature, much more about utility than sportiness. With their weight, crude chassis, soft suspension and high centre of gravity, they are indeed about as far away from the racing-car ideal as it is possible to get. This Mercedes GL-Class isn't going to feature on many track days.
However, what you find increasingly on these high-end SUVs (the BMW X5, Range Rover and Porsche Cayenne are the others) is that the engineers have spent so much time and effort and money on developing their suspensions (more often than not advanced air systems, as on the GL-Class) that they handle relatively well. So when you do enter a corner far too quickly, as you can in safety at the wunderbar Mercedes-Benz World track, you can actually feel the electronic stability control kick in and go about its life-saving work. The result is that chucking this 2.5-tonne leviathan about is much easier than you might think.
It seems a pity though, that the tastes of today's buyers are such that they demand so many cars that are in fact self-contradictions. In this case they seemed to asking Mercedes to make a car that will take seven people in relative comfort up a mule track, handle as well as a Mini Cooper (the original one) and double up as a limo. To the extent that it could, Mercedes has succeeded, the main obstacle to a totally refined drive being the engine, or at least the V8 diesel I tried, which was a little too gruff perhaps. There's also a V6 diesel but, if you're not worried about fuel economy, I'd go for Mercedes' new high-revving V8 petrol unit.
The only thing that this Mercedes-Benz can't do is to salve your conscience. Despite its superb blend of abilities, it is a terribly profligate thing. It uses too much fuel, and thus pollutes too readily, and it takes up too many resources to manufacture. I remember when the Austin Maxi was hailed as the first car with five seats and five gears; now we have the Mercedes GL-Class with seven seats and seven gears. You don't have to be a raving Trot to wonder whether the world has its priorities right.
I know Mercedes will say that its new SUV is way ahead of where it and the auto industry used to be on emissions, and that it's recyclable and that in any case it will last for donkey's years, but you should still ask yourself whether buying one of these is really the best thing you can do for your planet. The fact is that the car is made in Tuscaloosa, Alabama, and is primarily aimed at the American consumer. It's just too big for Britain's roads.
The worst waste of all, I think, is all that off-road engineering that will, in all likelihood, be seldom troubled. So I would thoroughly recommend the GL-Class to that slim slice of the national demographic comprising very wealthy people who live up mountains and have need of a car that can carry extended families in leather upholstered opulence. Otherwise, get an estate car. Mercedes does some nice ones.
The rivals
Audi Q7 V6 TDI Sportline £40,685
As long and a little wider than the GL-Class, this does much the same job of intimidating other road users. It seats seven in luxury, and in this company it's value for money. There's even a stonking 6.0-litre V12 diesel due in 2008.
Volvo XC90 D5 Executive £46,330
The most car-like interior of all the current crop of premium SUVs. It's cheaper than the Merc, but if you just want to splurge and can settle for five seats, go for a Porsche Cayenne or the brilliant new V8 diesel Range Rover.
Land Rover Discovery V6 TD HSE £43,287
Another classy seven-seater, and for some only the cachet of this famous brand will suffice. A pity we may have to wait for some time for the V8 diesel engine to migrate from the Range Rover. Ultra-strong but heavy construction.
Register for free to continue reading
Registration is a free and easy way to support our truly independent journalism
By registering, you will also enjoy limited access to Premium articles, exclusive newsletters, commenting, and virtual events with our leading journalists
Already have an account? sign in
Join our new commenting forum
Join thought-provoking conversations, follow other Independent readers and see their replies