Mini Cooper SD Clubman Hampton

Show all 7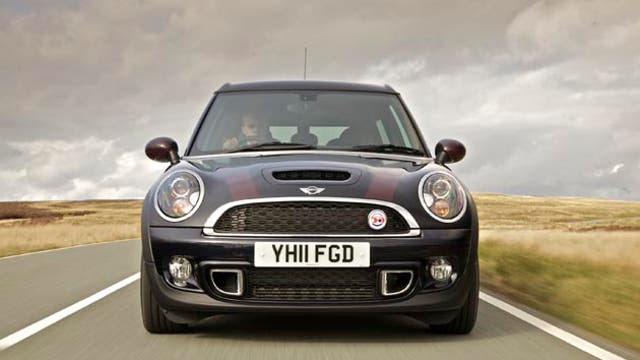 Mini Cooper SD Clubman Hampton
Price: £23,185
Engine: 2.0-litre diesel
Top speed: 134 mph
Acceleration: 0-62 mph in 8.6 seconds
Combined cycle fuel consumption: 64.2 mpg
CO2 emissions: 115 g/km
Great news for anyone who thought that Mini had lost its way with the introduction of the bloated Countryman, a group that probably includes just about everyone who isn't in need of an urgent appointment at Specsavers – BMW has made some very worthwhile improvements to the core Mini range which increase its appeal quite a bit.
First, there is a new, lavishly equipped special edition called the Hampton. A lot of people worry that the Mini is becoming a German car that happens to be built in Britain, rather than a truly British product, but the introduction of the Hampton provides reassuring evidence that there is surely at least one person with a sense of humour at BMW's Munich headquarters, a person who understands the Mini's cheekily subversive British character and has a good working knowledge of Cockney rhyming slang. It really is all most encouraging. Once you get past the name, the Hampton package is a bit of a mixed bag. My test car, a Clubman estate, was fitted with some fantastic leather seats with contrasting piping, which were great to look at and great to sit on. Less succesful was a strange purpley tint that had been applied to much of the interior trim, and a maroon pinstripe pattern on the main dash panels. It's all a matter of taste, I suppose, but on the grounds that increased choice is almost always a good thing – the extension of the Mini range to include the Countryman being the obvious exception that proves the rule - I'd classify the introduction of the Hampton models as a plus.
The big news, though is the availability of an additional, more powerful diesel engine. The external appearance of the BMW Mini hasn't altered a great deal since it first saw the light of day ten years ago but the diesel versions have seen quite a bit of under-bonnet chopping and changing. Early models used a Toyota power unit, but this was later replaced by an engine from BMW's drive-train partner Peugeot, which in turn gave way to an in-house diesel with a capacity of 1.6 litres. Now the 1.6 is joined by a 2.0-litre engine, also BMW's own, which gives quite a bit more power.
Stuffing a big diesel engine under the bonnet may not seem like a very Mini thing to do but the car that results still achieves a very high Mini-ness rating, mainly because of its lively performance, which fully justifies BMW giving this new model not just a Cooper badge but an S - presumably for Sport or Sporty - to go alongside its D for diesel. With this much (refined) go, the 2.0 diesel Mini shows excellent levels of brand-typical nippiness and must therefore be judged a great success.
A short stint in a Clubman estate also confirmed that this often overlooked version of the Mini is a very good compromise between the cramped hatch model and the bulky Countryman. It provides just enough extra rear leg-room and luggage space to address the main drawbacks of the hatchback, while its longer wheelbase doesn't dent the Mini's dynamic qualities and, if anything, feels like it probably helps ride comfort.
And there's more good news on the way. A sporty new coupé version of the Mini will go on sale shortly, and the 2.0 diesel will be one of the engine options – now that really promises to be a combination worth trying.
Register for free to continue reading
Registration is a free and easy way to support our truly independent journalism
By registering, you will also enjoy limited access to Premium articles, exclusive newsletters, commenting, and virtual events with our leading journalists
Already have an account? sign in
Register for free to continue reading
Registration is a free and easy way to support our truly independent journalism
By registering, you will also enjoy limited access to Premium articles, exclusive newsletters, commenting, and virtual events with our leading journalists
Already have an account? sign in
Join our new commenting forum
Join thought-provoking conversations, follow other Independent readers and see their replies