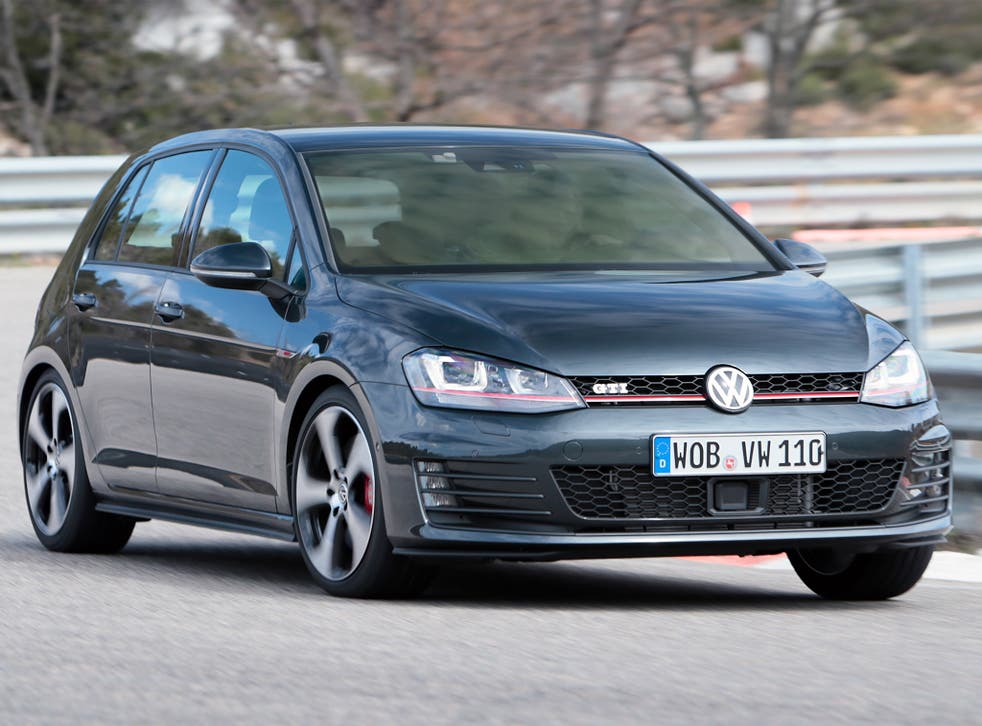 Motoring review: Volkswagen Golf GTI
Of course I love the Golf GTI. Please can I keep it?
Price: £27,915
Engine capacity: 2.0 litres
Power output (PS @ rpm): 220 @ 4,500
Max torque (Nm @ rpm): 258/350 @ 1,500-4,400
Top speed (mph): 152
0-62 mph (seconds): 6.5
Fuel economy (mpg): 44.1CO2 emissions (g/km): 148
If you listen very carefully you'll hear a faint tapping sound as you read this. It's the driver from Volkswagen, here to collect my Golf GTI, tapping on the window. I've barricaded myself in until she goes away and lets me keep it.
What is it about the GTI that inspires such feelings? The roads of Britain are littered with small VWs. I have a non-scientifically vetted theory that if you look down any road with cars on it, you'll see a Golf or a Polo scooting past. They're as common as muck. Wonderfully engineered, safe, easily resellable, finessed German muck – but muck nevertheless.
The GTI is different. Even the two-decade old models with cheap tinted windows that career around small towns like the one I grew up in have a certain coolness that other superhatches just can't match. As much as I love my bashed up Corsa, if I had the cash (and the right insurance quote), it'd be the GTI for me. Which is why the arrival of the GTI for the seventh iteration of the Golf (last year's World Car of the Year, no less) was somewhat exciting.
Before we start on the performance of the GTI, it's worth taking a minute to alight on the bad-boy accoutrements that make this model a favourite of both retail-park boy racers and people such as me (bores in their late 20s who wish they were a retail-park boy racer).
It's the fine red stitching on the GTI's leather-trimmed steering wheel, or the classic tartanish Jacara cloth seats. The top-spec review model I've been supplied with also has the best touchscreen control unit of a car I've tested – with easy-to-work-out functions and a "touchless" touch- screen that brings up options on the satnav before you even touch the thing. Though this comes at a whopping £1,700 extra.
The thumping Dynaudio stereo system I bothered my neighbours with also comes as extra but produced sound crisp enough to warrant the £525 levy. There's also standard 18-inch alloys and rear tinted windows. It looks – and feels – boss.
As for the drive, the GTI offers the kind of controlled visceral thrill you'd expect from a two-litre turbo-charged engine. It's not so different from other hot hatches, such as the glorious Focus ST, and I liked the quarter-second of thinking time the engine required when I put my right foot firmly down before emitting a Tony Soprano-like roar as it bridged the gap between one group of traffic and the next. It's not so fast as to be stupid, but it's sporty enough to be tremendous fun.
Corners are ably handled, too. VW tested the car by slamming it around slaloms at 140mph. I wasn't able to do that, but it felt secure even at full whack on the motorway. A smooth DSG dual-clutch gearbox lent itself to automatic gear changes, which is fine, but I'd have liked a go on the manual with its classic diddy ball grip. But it's a minor quibble.
Frankly, I would have paid good money to test the new GTI on a track somewhere – fear for my driving licence kept me in line on the M1, but knowing the potential power at hand under the GTI's pedals made even the most tedious of journeys enjoyable. Now bear with me while I sit in here until they let me keep it.
Join our new commenting forum
Join thought-provoking conversations, follow other Independent readers and see their replies