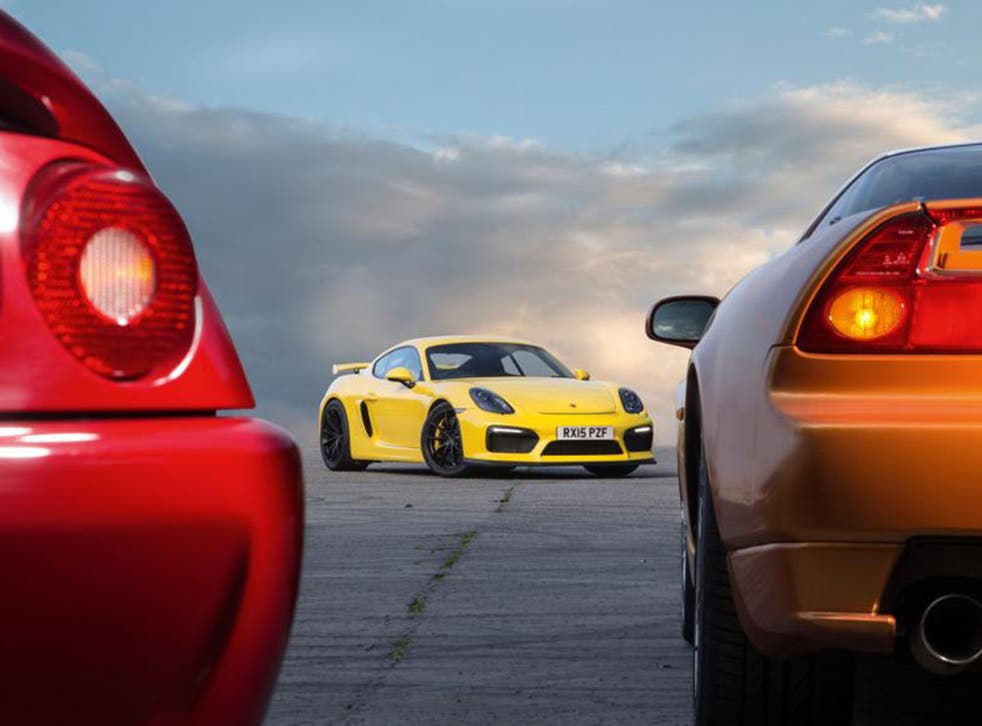 Porsche Cayman GT4 takes on Honda NSX and Ferrari 355 to see if it has potential legendary status
There's no doubting the brilliance of Porsche's latest contender, but we're looking for true game-changing credentials
Sarah Bradley
,
Autocar
Thursday 12 November 2015 14:19 Comments
Porsche's barnstorming new GT4 looks set to slay everything in its path – yet will this ultimate sports car have the same long-standing impact and game-changing credentials exhibited by supercars from its main competitors when they were unleashed on an unsuspecting world back in their day? We don't have a crystal ball, but to rate its chances we pitch the newcomer against a Honda NSX from the mid 2000s, and a Ferrari 355 from a decade earlier.
There's no doubting the Cayman GT4's brilliance, but we're looking for longevity and legendary status. Does it rip up the rulebook like the original NSX? Does it thrill and arouse like Ferrari's F355? Its modern-day tech makes it faster than either, but it that enough?
Well, we'll start by saying our trio of cars all have stunning powerplants. While the NSX's civil-sounding 3.2-litre V6 belies its wild performance, the F355's 3.5-litre 40-valve V8 screams all the way up to the 8500rpm redline. The king of power and torque, though, is the Cayman's 3.8 boxer, which simply pulls like a train.
The Porsche is nearly as simple to drive as the Honda, as well. The mid-engined Japanese model's raison d'etre upon its introduction was to be a supercar without the suffering. Its surefooted, precise handling, balanced grip and reassuring steering mean to this day it's still easy to drive in anger while continuing to feel safe and secure. In a most unsupercar-like manner, the NSX is easy to see out of as well. Did someone mention sensible...?
The Ferrari, on the other hands, is everything you would expect of a salivating performance monster. Beginners beware; it isn't out to cosset and flatter, more to keep you on your toes, wild-eyed and ready for anything. You'll need to be...
In contrast, the Cayman GT4's dynamics combine the best of both worlds. Steering, ride and handling are superlative, grip levels so perfectly judged that it can thrill like the F355 yet inspire confidence like the NSX.
Yet despite its mean, ground-hugging stance and huge rear wing, it looks less exciting that either – and not quite the stuff of school-kid dreams. This reflects why it doesn't win here. It may be relentlessly superb on the road, but we're looking for a legend, a landmark that will continue to make an impact decades after it was built. Something like the Honda NSX; the car with which the Johnny-come-lately Japanese showed up the European supercar kings when it was launched all those years ago, and continue to do so today.
Register for free to continue reading
Registration is a free and easy way to support our truly independent journalism
By registering, you will also enjoy limited access to Premium articles, exclusive newsletters, commenting, and virtual events with our leading journalists
Already have an account? sign in
Join our new commenting forum
Join thought-provoking conversations, follow other Independent readers and see their replies