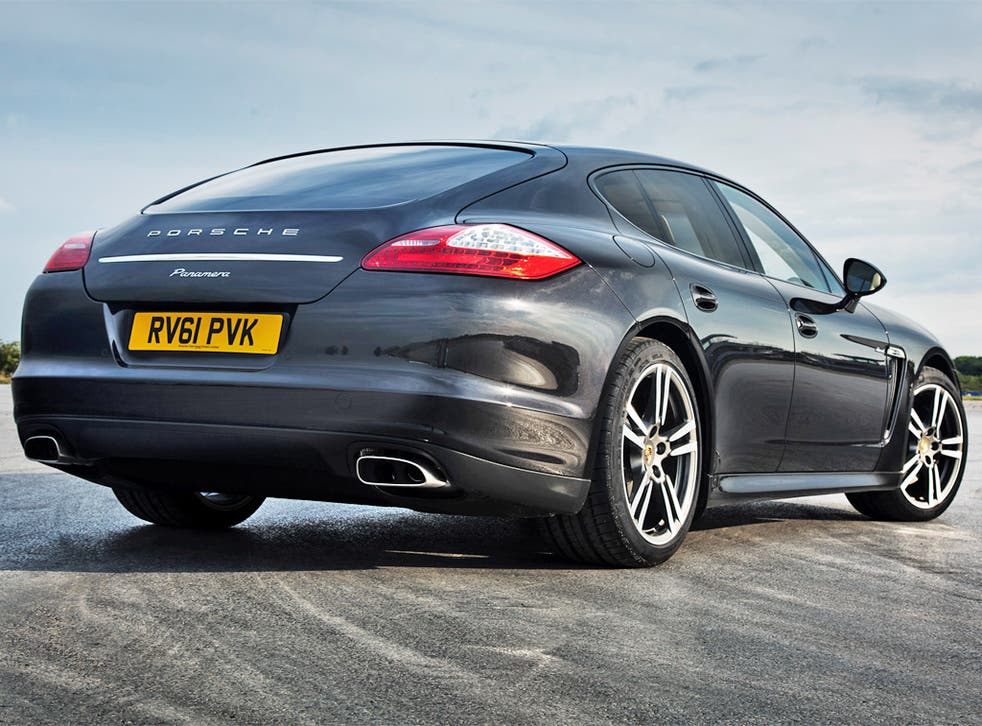 Porsche Panamera Diesel
Good mileage and room for a bike? Is this really a Porsche?
Price: £62,134
Engine capacity: 3 litre turbo diesel (250hp)
Top speed (mph): 150
0-62 mph (seconds): 6.8
Fuel economy (mpg): 43.5
CO2 emissions (g/km): 172
The latest Porsche Panamera is so practical, you can fit a bicycle in its boot. So when my colleague Simon was invited to review the luxury car company's new foray into the two-wheeled market, the easiest way to get a Porsche RS test bike to him was to drop it off in the back of the brand-new Porsche Panamera. And sure enough with the seats down, Simon's bike fitted easily into the massive car's boot. Bike carefully extracted from the luxury rear and dropped off to its rider (see how he got on here: ind.pn/TwoWheels) I take stock of what is a very large car.
At nearly 5m, it's the length of a luxury limousine and will take four 6ft adults in exquisite comfort and at breakneck-speed thanks to its chunky turbo diesel. Yes, while it will hit 60mph in 6.8 seconds and top out at 150mph its Audi-sourced engine is a actually a turbo-charged diesel. Purists will be disappointed at this break from tradition but if you drive sedately you can eke out more than 700 miles on a full tank and hit a mpg a family saloon would be proud of.
Thankfully, the only hint from the outside that this is an unconventional Porsche is a small badge behind the front wing and a slightly altered exhaust. The company's Chelsea Tractor, the Cayenne, already has a popular diesel variant but a diesel saloon is a real gearshift. And while it's not as powerful as its petrol stablemates it still has loads of mid-range torque that thrusts it along for effortless Continent-crossing cruising.
At two tonnes and 2m wide you wouldn't expect responsive performance but its massive size belies its agility and with its eight-speed Tiptronic S Automatic gearbox the gear shifts are smooth and seamless, while the steering is smart and responsive. For a really engaging drive you will want to opt for the paddleshifter to take control and the optional Porsche Active Suspension System, which helps to balance control and adds a dose of excitement to the package. That said, you'll struggle to get over the slightly flat engine note which is quiet for a diesel but uninspiring for a performance car.
Inside the comfort and controls are excellent with a first-class finish and a neat arrangement of buttons laid out on the wide transmission tunnel. The menu system isn't as simple as some of its rivals though.
Not that buyers seem to mind its brand bending and these minor niggles. The Panamera, in its traditional petrol guise, is the second-biggest seller for the German company after the Cayenne, while the full-throttle 911 languishes further back the sales grid. There are even reports that Porsche will add a third shift at its giant Leipzig plant to meet booming demand– up 25 per cent on 2010 despite the Eurozone crisis. Where is all this demand coming from? There's only one logical conclusion. Thousands of wealthy financier cyclists out there need to transport their bikes from the City to the mountain resorts of Verbier. At breakneck speed, and in sumptuous comfort of course.
The competition
If you must have a four-seater, super-quick luxury saloon and if money and economy are no object, the Aston Martin Rapide offers blistering performance with (some of) the practicality of a saloon. Just don't expect much change from £140k or space for your bike.
Join our new commenting forum
Join thought-provoking conversations, follow other Independent readers and see their replies