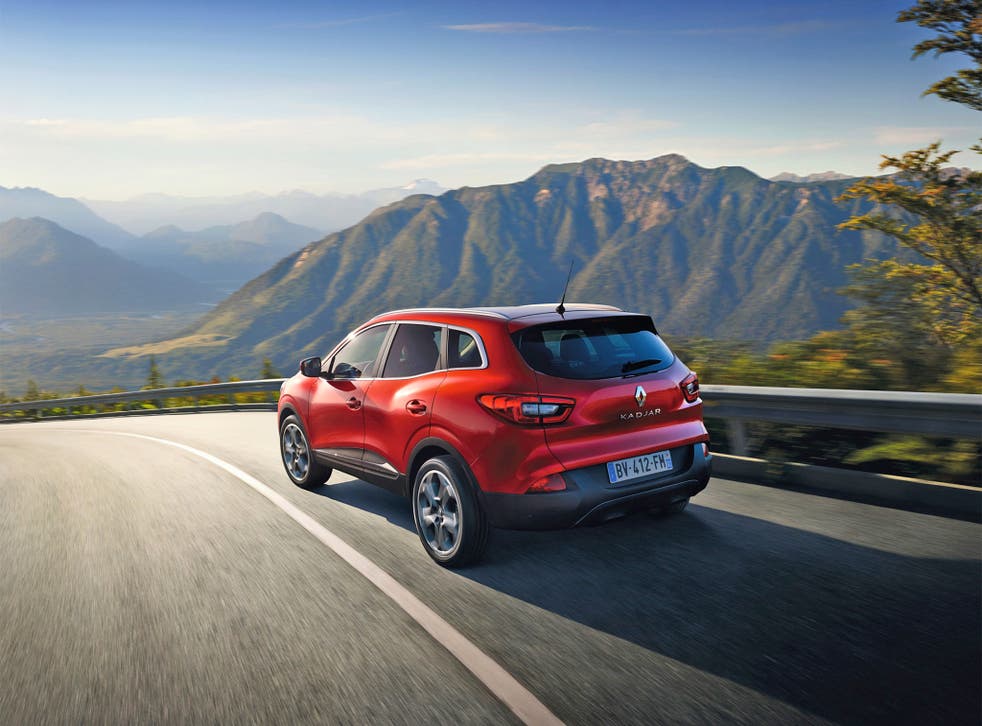 Renault Kadjar Signature Nav, motoring review: Taking on the crossover
The Kadjar finally fills the SUV-sized gap in Renault's line-up, tapping into a vital part of the car market
Jamie Merrill
Thursday 07 January 2016 00:53 Comments
Price: £24,795
Engine capacity: 1.6-litre 4cyl diesel
Power output (bhp @ rpm): 128 @ 4,000
Top speed (mph): 118
Fuel economy (mpg): 62,8
CO2 emiussions (g/km): 117
The Nissan Qashqai has long been the king of crossovers, those soft off-roaders that have banished the family saloon to second-hand car dealerships.
Enter the new Renault Kadjar, designed to carry on with Renault's recent Clio sales success and help the firm continue its mini-revival of the past 12 months.
The Kadjar finally fills the SUV-sized gap in Renault's line-up, tapping into a vital part of the car market. (More than one in every 10 new cars rolling off dealership forecourts is a crossover.)
The Nissan Qashqai remains its toughest competitor, the car that one former BBC car-show presenter dubbed "the Nissan Kumquat". Nissan's model might be bland – in my view all crossovers are – but it has sold like hot cakes since it launched the sector in 2006.
The two share more than odd names, though. Nissan and Renault have something of an automotive alliance, and the Kadjar is actually based on the same running gear as the Qashqai – which isn't that unusual in the increasingly competitive car world, as manufacturers come together to save on vast development costs. Until now, though, the Sunderland-built Qashqai has been winning, thanks to its levels of comfort and five-star ratings, but the Kadjar is gunning for the top slot.
So which model should you go for? The key in this sector is space and the Renault has a bigger boot, with 42 extra litres of storage, and is more spacious throughout, with an embarrassment of bins and cup holders, totalling around 30 litres of cabin storage. That's a big plus for the family buyers at which the Kadjar is aimed. The choice of engines is also sensible, with an entry-level petrol and a choice of diesel units. It's slightly cheaper, too.
In fact, the only real problem with the Kadjar is its ride on the top-spec 19-inch wheels. These are fairly harsh but can be replaced for 17-inch wheels at no extra cost. Do this.
Renault would probably like me to say the Kadjar has everything the Nissan has but with added Gallic flair. That would be a stretch too far, but it has more storage and costs less. In this bit of the market, that's all that really counts.
Register for free to continue reading
Registration is a free and easy way to support our truly independent journalism
By registering, you will also enjoy limited access to Premium articles, exclusive newsletters, commenting, and virtual events with our leading journalists
Already have an account? sign in
Join our new commenting forum
Join thought-provoking conversations, follow other Independent readers and see their replies