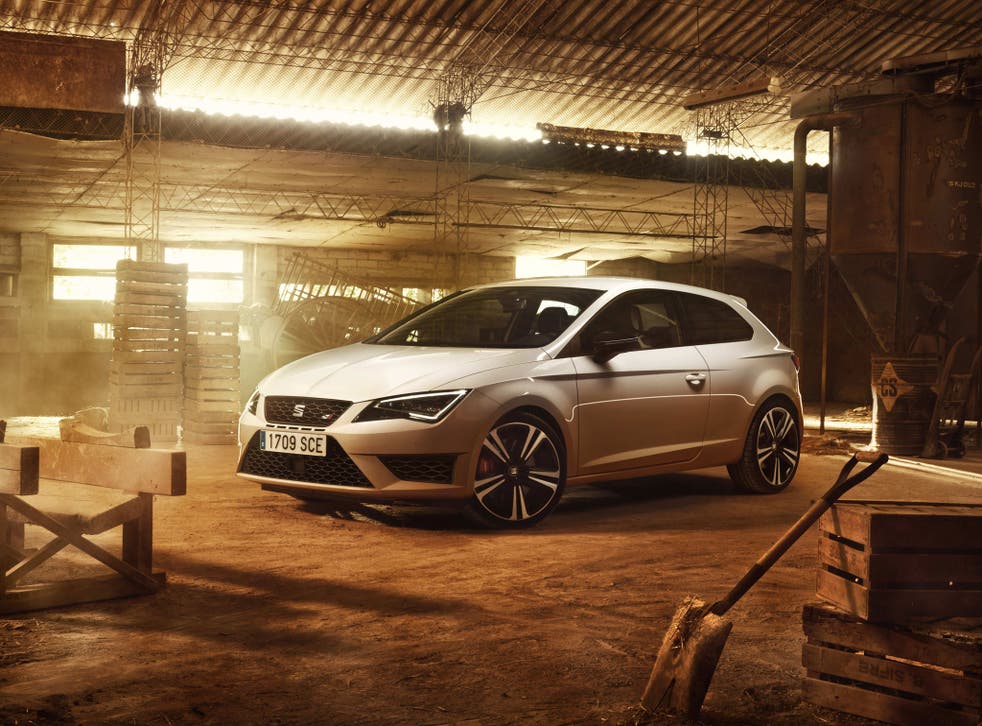 Seat Leon Cupra 290, motoring review: This sublime car will enthrall you
The Cupra 290 comes with a dowry of power. Sean O'Grady tries out its "Sport" setting
Sean O'Grady
Thursday 26 May 2016 20:27 Comments
Price: £28,680
Engine capacity: 2 litre, 4cyl petrol
Power output (bhp): 286
Top speed (mph): 155
0-62 mph (seconds): 5.9
Fuel economy (mpg): 42.2
CO2 emissions (g/km): 156
Here we have one of the great underestimated cars of our time: the Seat Leon Cupra 290. 'Seat' means it tends to get overlooked in the vast VW family of brands, not really getting the marketing push it deserves to give it an easily-understood appeal, like Audi's for quality and Skoda for value-for-money (accurate or not). Partly following from that, "Leon" is not a name the quickly comes to mind when a not-very-petrol-headed potential customer asks "what's a non-lazy default choice I can try instead of the usual Ford Focus or VW Golf?" "Cupra" is a bit more like it, emerging as a useful sub-brand for Seat and enjoying minor cult status. And "290"? Well, that's just a number. Isn't it?
Well, yes. That is the number of horse power at your disposal in this new, even more powerful Seat performance flagship, and I can only say it is sublime. For the purposes of comparison, my old Mini 1000 had 40bhp, and your dad/granddad's Hillman Hunter some 75bhp, considered ample in its day. A 1990s Golf GTI Mk 3 offered you 150bhp. Only quite exotic performance vehicles from the past or present, such as the Ford Focus RS, came with anything like this Cupra's dowry of power.
I have to say that the Ford is extremely entertaining, shall we say; the Leon a little more real-world. The power is on tap at all times and you always feel safe and in control. I spent most of my time with the Cupra with its "Sport" setting button on (there's something perverse about a comfort or normal setting in such surroundings). It was sublime, a really superb, fun, memorable drive, here is a car that will enthrall and charm you, and add something to your life. Even today, when almost every car is competent, and many far better, and when the technology in them makes them supercomputers on wheels, there are only a few that have that special quality.
I know the basic Leon shape has been around a while, with the odd "refresh" to try and kept it up to date, but I'm not sure it matters that much. It's a nicer looking thing than its close relative, the VW Golf R. After all, every iteration of the Subaru Impreza Turbo, including the last few hatchbacks, has been a very dull, sometimes ugly looking beast, with eccentric gold alloy wheels, but that didn't stop its success as an ultimate road and track sports saloon.
My example was fitted with a good old-fashioned manual gearbox, rather than the high-tech DSG version. That, I feel, is a better option for long-term ownership and, if my funds ran to it, I would be happy to keep my Leon for life, watching it gradually age and turn into a classic.
Register for free to continue reading
Registration is a free and easy way to support our truly independent journalism
By registering, you will also enjoy limited access to Premium articles, exclusive newsletters, commenting, and virtual events with our leading journalists
Already have an account? sign in
Join our new commenting forum
Join thought-provoking conversations, follow other Independent readers and see their replies