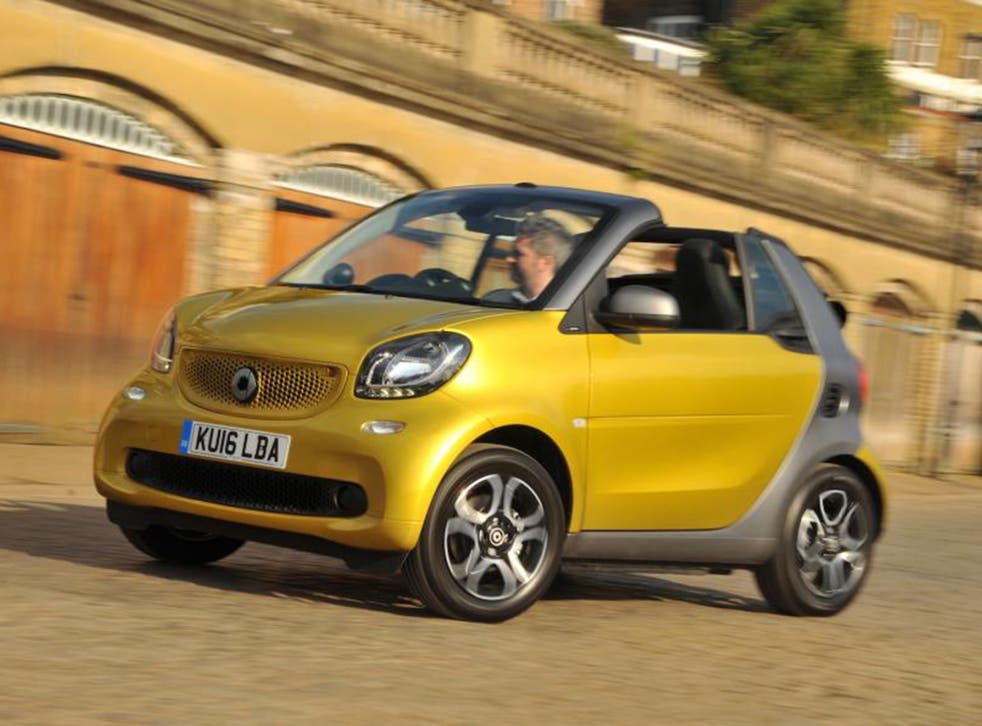 Smart Fortwo Cabrio 71 Prime Twinamic, car review: A city car that can lose its top in 12 seconds flat
You can turn your Smart into a fashion accessory, which is good because you won't turn it into a great car
John Calne
Friday 25 March 2016 15:56 Comments
Summer is on its way, and it's heading to town and country alike. If you spend most of your time in the former and as good as none in the latter, this could be the perfect way to enjoy it.
The Fortwo Cabrio has a roof that can fold down in 12 seconds. That's nice and quick, though of course the car's so tiny it hardly has any distance to cover.
But as always, for such a small car there's a remarkable amount of room in the cabin. There's also no small amount of equipment – our mid-range tester had climate, Bluetooth and a USB port among other things.
Is it worth spending the extra on the range-topping Proxy model? It's your money, but we wouldn't bother.
On the road, the Fortwo Cabrio is everything you expect of a Smart. It's small, agile and brisk to steer, it can turn on a sixpence and you can park it behind the sofa.
In this case, the briskness comes from a 1.0-litre three-pot putting out 70bhp. It comes with a five-speed manual as standard, but we're testing it with the optional dual-clutch auto, a six-speed unit which is adequate but not always quite up with the pace.
Take it out of town, and basically it's never up with the pace. You've got to drive it like you hate it just to stop all the people behind from hating you. Which is entirely forgivable because this is absolutely a car designed for the city and the city only.
Not that it rides very well in the city, or indeed anywhere else. Its light weight makes it bouncy and its tiny wheelbase means it rarely settles. Out of town, its steering feels nervous – though if that's the payoff for it being so good at low speeds, then so be it.
It might not ride very well, but for a small cabrio it manages to keep the wind out with the top down. You do get treated to a bit of road noise, but you'll arrive with your hairdo intact.
Your bank balance will suffer a bit, though. Soft-tops almost always cost more than the coupe they're based on, but even so a £2140 price walk might make you cringe. That's before you start getting stuck in to the options catalogue – which, this being a Smart, is absolutely loaded with ways to customise the way your car looks.
So you can turn your Smart into a bit of a fashion accessory, which is good because you won't turn it into a great car. There are better options out there if you want a ragtop for the city – and, being that the most obvious one is the Fiat 500, Smart doesn't exactly have a monopoly on the whole individuality vibe. It's Smart enough, this, but the smart money goes elsewhere.
Register for free to continue reading
Registration is a free and easy way to support our truly independent journalism
By registering, you will also enjoy limited access to Premium articles, exclusive newsletters, commenting, and virtual events with our leading journalists
Already have an account? sign in
Join our new commenting forum
Join thought-provoking conversations, follow other Independent readers and see their replies