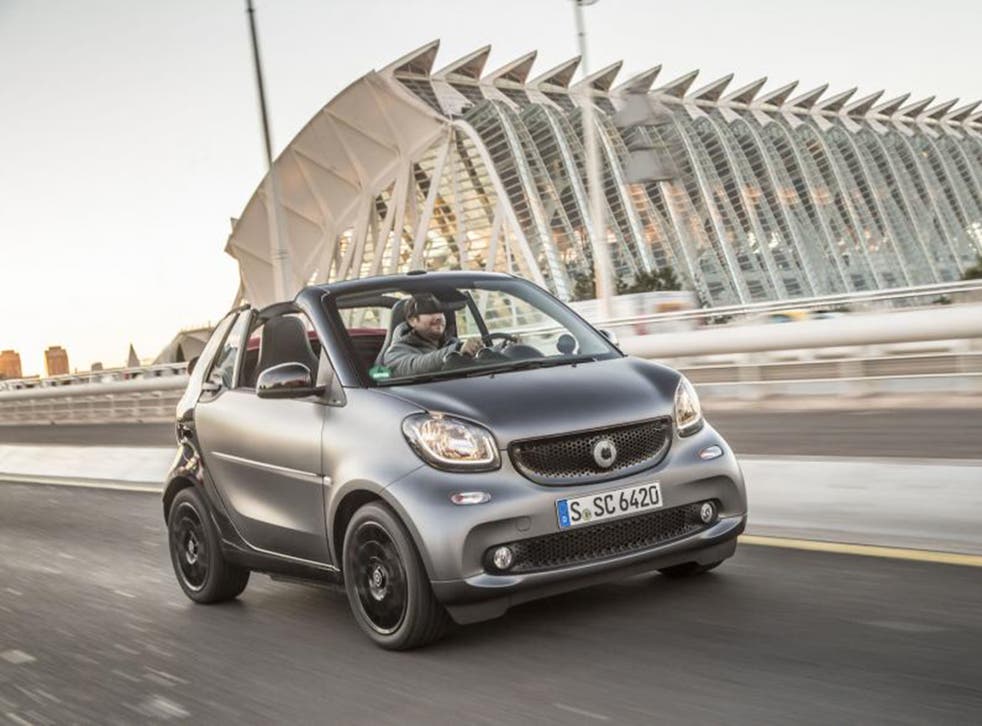 Smart Fortwo Cabrio 90 Twinamic, review: City car loses its roof but gets more expensive
It will put a smile on your face, but the old one about a lot of car for your money is a bit tricky to carry off
John Calne
Friday 05 February 2016 13:51 Comments
February seems like an odd time to launch a soft-top. But when was Smart ever willing to be tied up by convention?
Hence the imminent arrival of the Fortwo Cabrio 90 Twinamic. This is simply the equivalent Coupe with a folding roof, but you can have said roof in black or red so there's some instant individuality there.
In fact, when you add together all the various ways in which this thing can be personalised it would be possible to put a hundreds of them together and no two would be the same.
We tested the Proxy model, which is at the top of a range of three. It's well kitted out, though if you want to be able to adjust your seats and steering wheel you have to pay extra.
There's a decent amount of space in the cabin, however. So even if you're denied your ideal driving position you can at least have a good stretch. Don't expect to get much cargo in the back, though.
Further choices include how to wear your roof – closed, open or part-way there – depending on how cavalier you're feeling. And while the only engine is a three-cylinder petrol unit, it's available in 70bhp and 89bhp turbo guises.
At present, the only gearbox is a six-speed auto. Give it long enough, though, and a five-speed manual will join the party – and save you some money in the process.
That dual-clutch unit does its thing pretty effectively, anyway, changing gear without any of the fuss that blighted Smarts in the old days.
Instead, this one is blighted by a pretty harsh ride. Obviously, the car is at its best in the city, where a miniscule turning circle puts it in its element, but the city is also where you'll find the bumpiest road surfaces – and every pot hole will rattle your teeth.
Out of town, you'd be dreaming to think it would ever fully settle with such a short wheelbase. But our 89bhp model hummed along happily and didn't struggle to keep up with the traffic.
It shouldn't struggle to put a smile on your face at the pumps, either. Combined fuel economy is 67.3mpg and we got closer to the official figure than we've managed in many a car.
The only problem is that at £15,550, this range-topping Cabrio is rather pricey. The old one about a lot of car for your money would be a bit tricky to carry off, at least.
Being less ambitious about the trim level will help cure that, and so too will the manual gearbox when it arrives. We do say that with rather a heavy heart, however, because the Smart's auto does suit it very well.
Register for free to continue reading
Registration is a free and easy way to support our truly independent journalism
By registering, you will also enjoy limited access to Premium articles, exclusive newsletters, commenting, and virtual events with our leading journalists
Already have an account? sign in
Join our new commenting forum
Join thought-provoking conversations, follow other Independent readers and see their replies