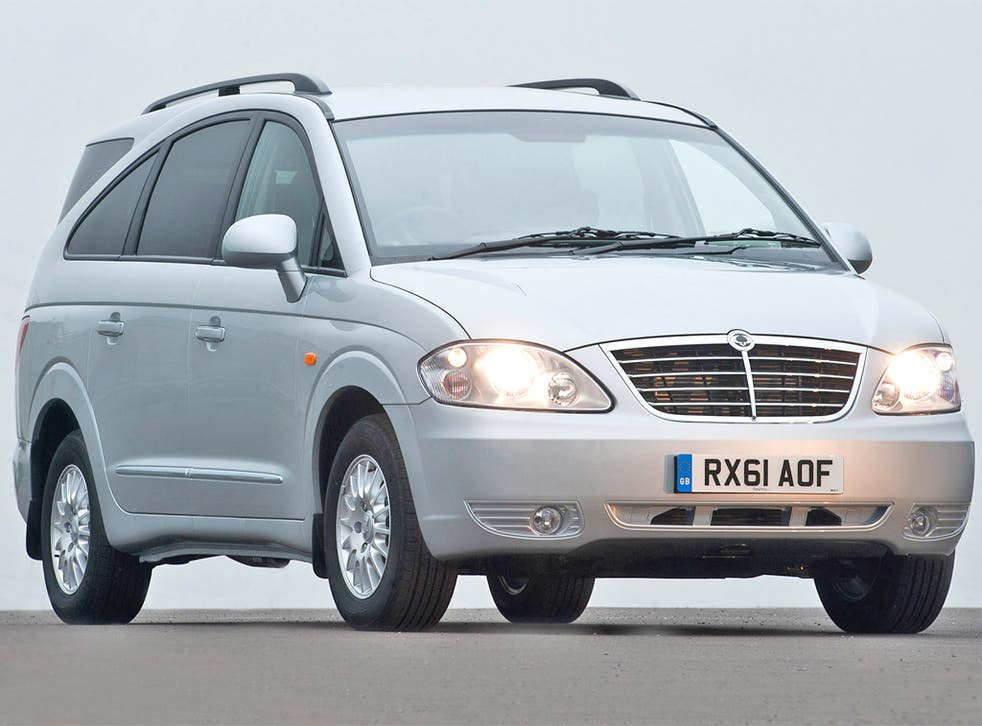 Ssangyong Rodius ES
It's no beauty, but there's room for a football team.
Price: £18,495
Engine capacity: 2.7 litres (167 PS)
Top speed (mph): 108
0-60 mph (seconds): N/A
Fuel economy (mpg): 29.1
CO2 emissions (g/km): 247
First things first. There's no getting away from the fact that the big Ssangyong Rodius people carrier isn't as easy on the eye as some other cars, and its challenging appearance has been a subject for debate ever since it was born back in 2004. That said, sheer familiarity and a facelift that saw the weird old shield-shaped grille replaced with a more conventional item have taken the edge off the problem. The ugly club is also a lot bigger now than it was then, thanks to the arrival of cars such as the Nissan Juke. The Rodius is a veritable Venus de Milo of the road in comparison.
If you're looking for razor-sharp handling and road-burning performance, though, it's unlikely to be your thing; Ssangyong doesn't publish any acceleration figures for the Rodius but you wouldn't want to push it too hard anyway, because when it comes to cornering, with its soft springs and twirly low-geared steering, this is a car that won't be rushed.
But ever since the Rodius appeared in the UK, I have loved it simply because it dares to be different. With its wacky name and complicated Korean/Chinese/ Indian pedigree, which bizarrely also incorporates a big wodge of Mercedes DNA, it provides endless fascination for car geeks. More than that, it has a great deal to offer in practical terms.
The main thing the Rodius has going for it is space – and lots of it. In fact, if you've never been in one, it's quite difficult to appreciate just how roomy it is. In the UK, it's sold as a seven-seater but in other markets it can be configured to accommodate up to eleven people. The driver and front passenger get a seat each, and they won't be rubbing shoulders because the Rodius has probably the widest centre console in the business. The two second-row passengers get individual "captain's chairs" that swivel, and finally there is the Rodius's pièce de résistance – its vast third row, which takes three. In many people carriers, third-row passengers get a rough deal, gaining access to their cramped quarters only after a lot of undignified scrambling, but in the Rodius they should find it a breeze – if they duck they can walk the few steps to the third row down the wide aisle-like gap between the second-row seats. And the big Ssangyong offers another plus as well; lots of MPVs lose most of their luggage space with the third row of seats in place but the Rodius is one of a small group that doesn't.
If you don't want to rush, the Rodius can be quite enjoyable to drive; its appealingly rumbly diesel engine and optional automatic gearbox are derived from last-generation Mercedes technology and are pretty good. Once you get it up to cruising speed, it takes on a nice unstoppable quality and that soft suspension, combined with high-sidewall tyres, provides good ride comfort.
And when you consider that prices start at just £14,999, cheaper than most Golf-sized hatchbacks, the Rodius makes a lot of sense.
The competition
The Rodius is only rivalled for space by the Chrysler Grand Voyager, Hyundai i800 and Volkswagen Caddy Maxi Life, but these are all more expensive.
Join our new commenting forum
Join thought-provoking conversations, follow other Independent readers and see their replies