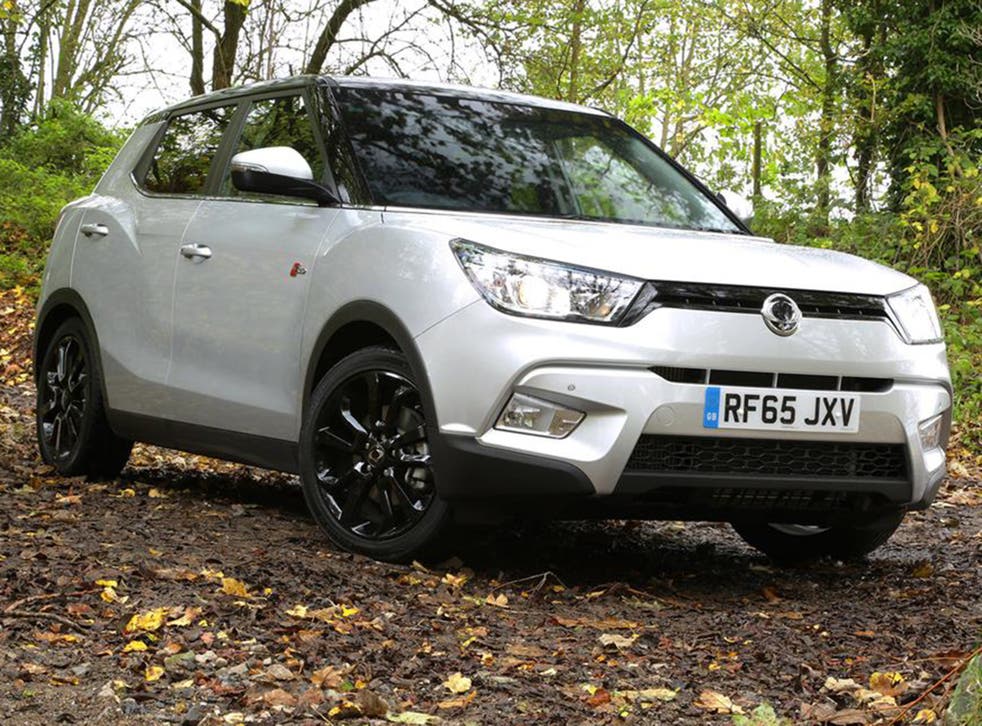 Ssangyong Tivoli 1.6d 4x4 Auto, car review: Adding four-wheel drive to the small yet roomy SUV
Sadly, a good idea is let down by the car's pricing being perilously close to some better and more refined competitors
Graham Scott
,
Whatcar
Friday 11 December 2015 14:26 Comments
On paper this looks like a good idea. Take the small yet roomy and cheap Ssangyong SUV and add to its practical ability with four-wheel drive. Make it a proper four-wheel drive system, too, with locking diffs front and rear like a 'real' and rugged 4x4.
Whatever happens, you're getting the children to school, wherever you live, whatever the weather. But not everything that works on paper works in reality. Like that football team – great on paper, hopeless on grass.
But it is a good idea. Where the competitors like the Renault Captur or the Kia Soul soldier on with two-wheel drive, a 4x4 system does give the Tivoli a distinct and practical edge when the weather gets bad.
Having an SUV that looks like a 4x4 is not terribly helpful when there's snow and ice on the road or you have to detour round a muddy track. You actually need four-wheel drive.
You can have this practical addition for £1250 more than the two-wheel drive version. But it only comes in the higher spec diesel models, from EX trim and up. This comes with a six-speed manual gearbox but there's the option of a six-speed auto if you plump for the most expensive ELX. So it's not as if you can buy a basic Tivoli with a 4x4 system and perhaps they're missing a trick there.
At least the 4x4 system doesn't make itself felt much on the road. Performance is still pretty adequate and the diesel pulls from down by 1500rpm and up. While performance is fine, the way it's delivered is far from refined. The cabin picks up quite a lot of diesel clatter under acceleration or heavy load. This is joined by wind and road noise to diminish the enjoyment of driving.
The cabin may be roomy but it's boomy too. Everything seems a touch flimsy and less well made than its competitors. But it is cheaper so perhaps that's not surprising. There is still quite a lot of kit since it starts with the EX, which has leather seats, Bluetooth, dual-zone climate control, a 7.0in touchscreen for the infotainment system and seven airbags, all as standard.
The steering is actually one of the stronger points. It has two modes, but leave it in Comfort for best results. Handling is adequate but no more, with a tendency to wash out the front fairly early and a ride that is never composed or relaxed.
But you are getting a 4x4 that is spacious for its size, and which has a five-year, unlimited mileage warranty, with a fair amount of kit. It will keep going when other more attractive vehicles have ground to a halt. But with the ELX costing £19,500 that's perilously close to the cost of some better and more refined competitors. Perhaps the EX model at £17,100 makes a better case for itself. You'll have to do the figures on a sheet of paper to decide.
Register for free to continue reading
Registration is a free and easy way to support our truly independent journalism
By registering, you will also enjoy limited access to Premium articles, exclusive newsletters, commenting, and virtual events with our leading journalists
Already have an account? sign in
Join our new commenting forum
Join thought-provoking conversations, follow other Independent readers and see their replies