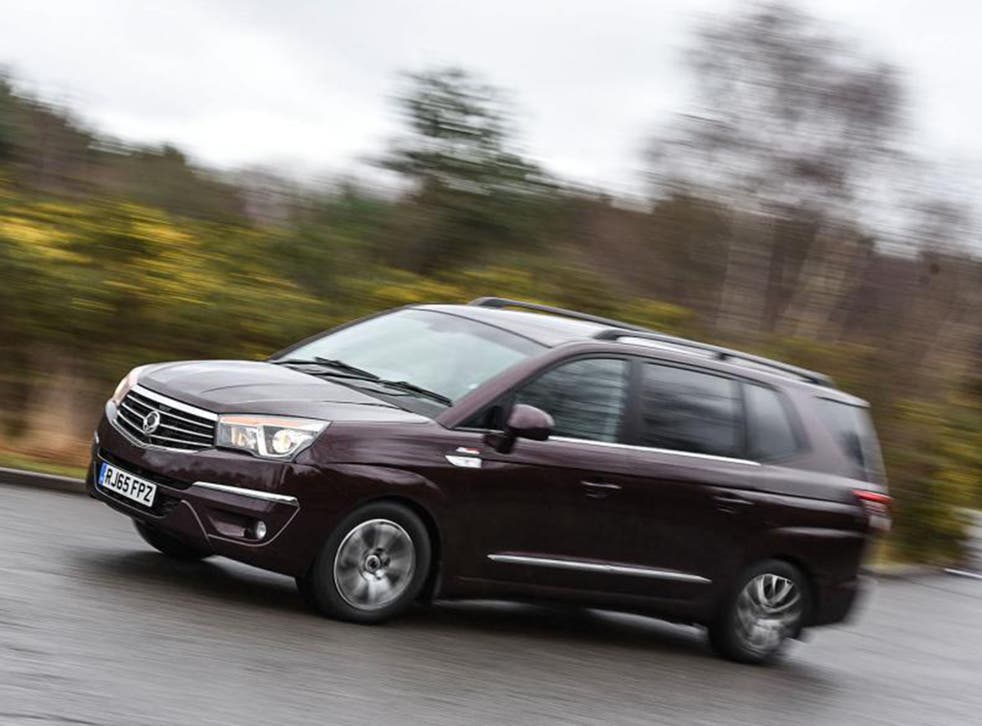 Ssangyong Turismo 2.2 e-XDi ELX auto, car review: Attempt to take on MPV market proves big doesn't equal clever
It's a lot of car for your cash but the driving experience is poor, to be blunt
John Calne
Thursday 11 February 2016 16:30 Comments
If Ssanygong were ever to do a longer-wheelbase version of its seven-seat MPV, no doubt it would be called the Gran(d) Turismo. But that's unlikely to happen, because if you were to make this thing any bigger each end would need its own postcode.
We're talking about a car that's bigger and heavier than a Range Rover. Perhaps not as good off-road, however – though it does now gain all-wheel drive to go with its new 2.2-litre diesel engine.
Producing 176bhp, the new unit is mated to a choice of six-speed manual and seven-speed auto boxes. The auto is a Mercedes unit, and selectable four-wheel drive is there for you with either.
It's the auto that we drove, and it lets the Turismo behave perkily enough at low speeds. Obviously, the engine is working pretty hard once you're up to a cruise, and it lets everyone know what it thinks of that.
With wind, road and suspension noise all coming out in sympathy, faster speeds are never what you'd call subdued. It rides well enough, though – but with understeer in charge, and precious little feel through the steering wheel and brake pedal, it's not what you'd call crisp to handle.
It is what you'd call enormous, though, inside as well as out. Rather than a typical MPV, it almost feels more like a US-style dayvan with its elevated front seats and so much clear air between driver and dash that you have to watch for turbulence.
Behind you, the second row is made up of two more captains' chairs. Then comes a rear bench that'll seat three adults if they don't mind rubbing shoulders a little. Leg and headroom is vast everywhere, cargo capacity is epic and there are lots of places to stash your odds and ends.
Other things there's lots of include standard equipment and, did we mention this, cabin space.
The driving experience is poor, to be blunt. But the only other way you're ever likely to see this many cubic feet moving from place to place is if your house gets hit by a landslide.
That makes the Turismo kind of unique. It's the ultimate example of a lot of car for your cash, too, though you're also likely to have experienced a lot of depreciation by the time you sell it on.
Still, the advent of the 2.2-litre engine and all-wheel drive transmission make this a better vehicle to drive than ever it was before. It comes with a five-year warranty, too, so there's another big thing for you. But no, by and large big does not equal clever.
Rather than going against the established talents in the MPV market, what Ssangyong is doing is pitching high in terms of space in order to try and be different. And at the price, it's bound to sell. Whether this is the way for the industry to move its offering forward is, however, another matter altogether.
Register for free to continue reading
Registration is a free and easy way to support our truly independent journalism
By registering, you will also enjoy limited access to Premium articles, exclusive newsletters, commenting, and virtual events with our leading journalists
Already have an account? sign in
Join our new commenting forum
Join thought-provoking conversations, follow other Independent readers and see their replies