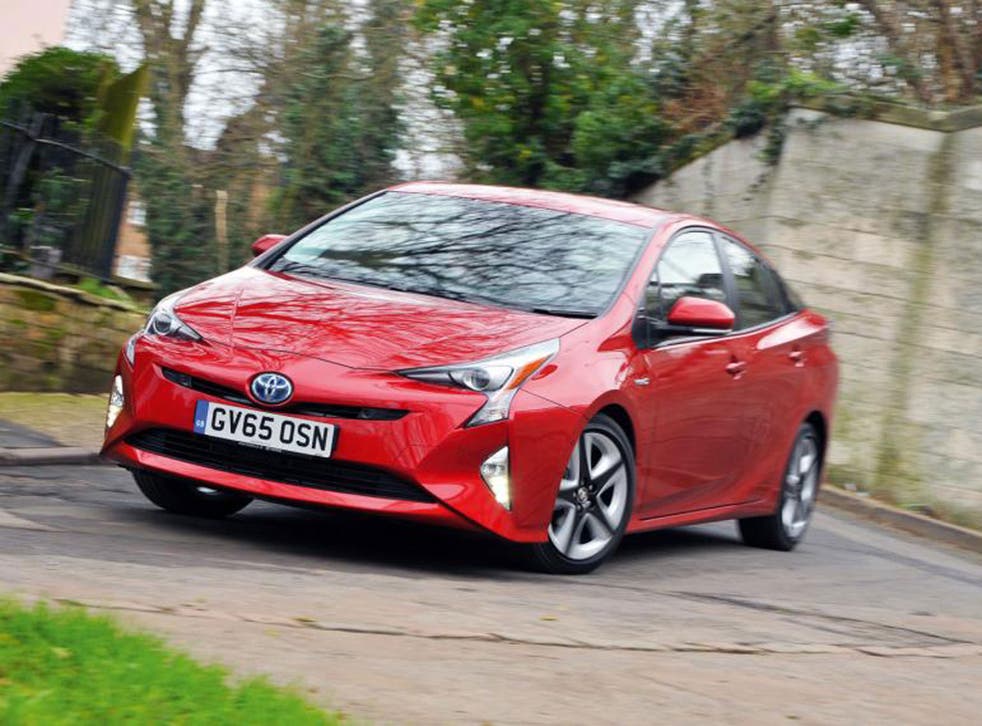 Toyota Prius, car review: Fourth-generation hybrid takes a big step up
This latest iteration addresses a whole swathe of issues that competitors would have viewed as weaknesses
Graham Scott Comments
Toyota has been refining the Prius since its launch in 1997. Nearly 20 years later, we're on the fourth generation. But over those decades the competition has ramped up considerably, with ever-more advanced engines, a growing market in electric-hybrids and of course all-electric cars. Has the Prius got left behind?
Certainly Toyota haven't been sitting back. This latest iteration addresses a whole swathe of issues that competitors would have viewed as weaknesses in earlier versions. One of the main ones is that the handling and ride are rather bland and uninvolving.
To that end, the Prius is now based on the latest Toyota New Global Architecture (TNGA). This means the car rides 20mm lower, and is longer and wider too. But the key point is the 60% increase in torsional rigidity. The effect of this and suspension changes is a firmer ride, albeit one that is comfortable and controlled too. The steering is considerably improved and helps with the feeling of being more in control of a more controlled ride.
It's still not exciting, but perhaps the sort of people who buy the Prius aren't really looking for life on the ragged edge. Burning rubber is bad for the environment. Similarly it would be tough to suggest that the heavily redesigned bodywork is exciting either. It's a subjective thing, and the car looks more modern and sharper, but whether it looks better than its competitors is for the market to decide.
So, the new Prius handles and rides better and is an improved package, but what is of at least equal importance is how Toyota has upgraded the plug-in electric hybrid powertrain. One of the big changes is that efficiencies and new technology mean that the main battery can now sit entirely under the back seats and the auxiliary battery can go under the bonnet.
In the engine compartment this joins the very latest version of the 1.8-litre VVti petrol engine. It produces 97bhp and is claimed to be the most thermally efficient engine of any mass-produced car. This is joined by an uprated 71bhp from the electric motor along with its 120lb ft of torque. Software changes mean the interaction of petrol and electric powerplants is more seamless and more efficient.
On the road this translates to reasonable power, but a noticeable improvement at smaller throttle openings, when the electric motor now contributes more along with the petrol engine. The effect is a more seamless drive, with noticeably more urge when you bury the throttle.
It's not fun, not a barrel of laughs, but it does its job efficiently and competently. Some of the headline people who drive these cars probably don't approve of laughing too much anyway, shocking waste of energy.
In traffic, though, it comes into its own, being quiet, calm, effortless and of course capably in control. The adaptive cruise control works really well in traffic, keeping you a safe distance from the car in front or beside you. It not only saves you effort and stress, it runs so efficiently like this that it saves you energy too.
All this adds to the driver's calm, sitting in an upgraded cabin. There is plenty of equipment to play with, and even basic models come with 7in touchscreen, Bluetooth, reversing camera and a USB port. Everyone has a decent amount of room, although headroom is slightly restricted in the rear. There's also good space for luggage, with a 343-litre boot that can swallow a lot of recycled luggage.
All this comes down to consumption of the world's resources though. A Prius that struggles to hit 30mpg would be like a vice president living in a house that is so brightly lit you could see it from space. To this end, Toyota claim 94.1mpg and 70g/km of CO2. Plenty to love there. We put it to the test using our Real World MPG cycle.
That produced a real figure of 62.5mpg. That's a fair distance from 94.1mpg. Still, that remains better than most cars and there are few that could match the Prius in stop-start city driving, both for efficiency and calmness.
You do pay for this. This is a premium price, and you could buy a car in the category up for Prius money. Prices start at £22,514 but most will end up costing more than that with extras.
Overall though, this is a step up for the Prius. So much so that it becomes almost a 'normal' car in many regards, and that's a compliment. As it wraps up two decades of continuous driving on our congested road systems, the Prius shows that it still deserves a place among them, and more than many. It does what it sets out to do.
But it never set out to be an exciting, engaging car to drive. This isn't a car you're going to love. Admire, certainly, and there's an efficiency here that is entirely admirable but there are whole areas of your emotional brain that the Prius doesn't touch and doesn't try to. How you view your relationship with your car and the road will probably decide how you feel about the new Prius.
Register for free to continue reading
Registration is a free and easy way to support our truly independent journalism
By registering, you will also enjoy limited access to Premium articles, exclusive newsletters, commenting, and virtual events with our leading journalists
Already have an account? sign in
Join our new commenting forum
Join thought-provoking conversations, follow other Independent readers and see their replies