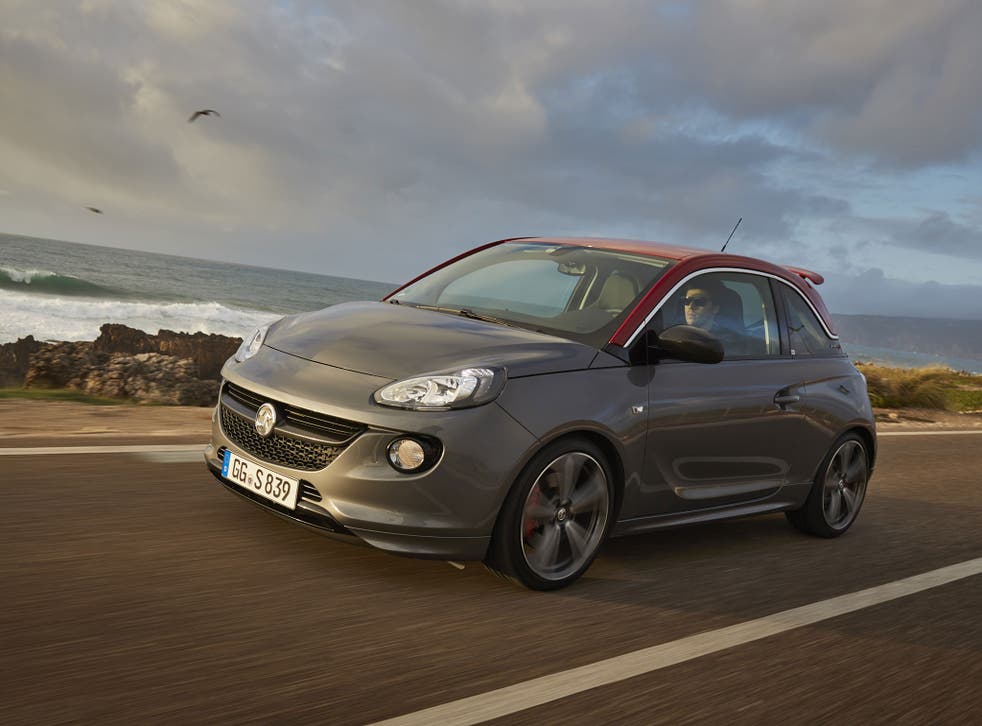 Vauxhall Adam Grand Slam, motoring review: This city-slicker might make you look like a prat
The Grand Slam is the hot version of Vauxhall's popular city car, the Adam
Price: From £16,995
Engine capacity: 1.4-litre turbo
Power output:148 bhp @ 5,000 rpm
Top speed: 130 mph
Fuel economy: 47.9 mpg
CO2 emissions: 139g/km
The streets around my flat in south-east London are slowing down. That's because, wisely, the local council has implemented a 20mph speed limit. All the evidence shows that it's an excellent idea that will reduce pollution, make the streets safer and give cyclists and pedestrians a break.
It's a move that's being copied across the country as more local authorities get behind the idea. This poses a problem for the new Vauxhall Adam Grand Slam, though. Aside from having a very silly name, the Adam Grand Slam is the hot version of Vauxhall's increasingly popular city car, the Adam.
That means it gets a punchy 1.4-litre turbo engine, a massive spoiler and alloy wheels. Vauxhall describes it as the "most powerful Adam money can buy" and with 148 brake horsepower it has the oomph of a 1980s Porsche.
I tested it on narrow Devon lanes and found that it sticks to them and their tight bends, thanks to its wider tracks and tyres. The brakes, from the larger and meaner Vauxhall Corsa VXR, mean it stops well too. The problem is that at its heart, the Grand Slam is still a city car and possesses the sort of power that you can't use in town without having an accident or rubbing people up the wrong way, in either case you will be rightly called a prat (the alloys wheels, raspy exhaust note and spoiler will see to that).
Plus, there's the fact that the Adam is tiny. There are only four seats and when fitted with the optional (£1,610) Recaro racing seats, the rear seats are of little use. Headroom is dire, too. This is not a car for motorway cruising or long commutes.
Vauxhall drafted in Abbey Clancy for its television advert, in the hope that the sight of her loading the Adam with a guitar and amplifier would convince drivers that it's a larger car than it really is.
I'll dismiss this as a throwback example of using attractive women to sell cars, the sort of thing that should have been consigned to the 1980s. This doesn't mean the Grand Slam is a terrible city car; after all it has stop-stop technology, diminutive proportions and a reversing camera for parking. It's just that no city-car needs to hit 60mph in 8.5 seconds and top out at 130mph. The traffic planners at Lewisham Council just won't stand for it anymore.
Register for free to continue reading
Registration is a free and easy way to support our truly independent journalism
By registering, you will also enjoy limited access to Premium articles, exclusive newsletters, commenting, and virtual events with our leading journalists
Already have an account? sign in
Register for free to continue reading
Registration is a free and easy way to support our truly independent journalism
By registering, you will also enjoy limited access to Premium articles, exclusive newsletters, commenting, and virtual events with our leading journalists
Already have an account? sign in
Join our new commenting forum
Join thought-provoking conversations, follow other Independent readers and see their replies