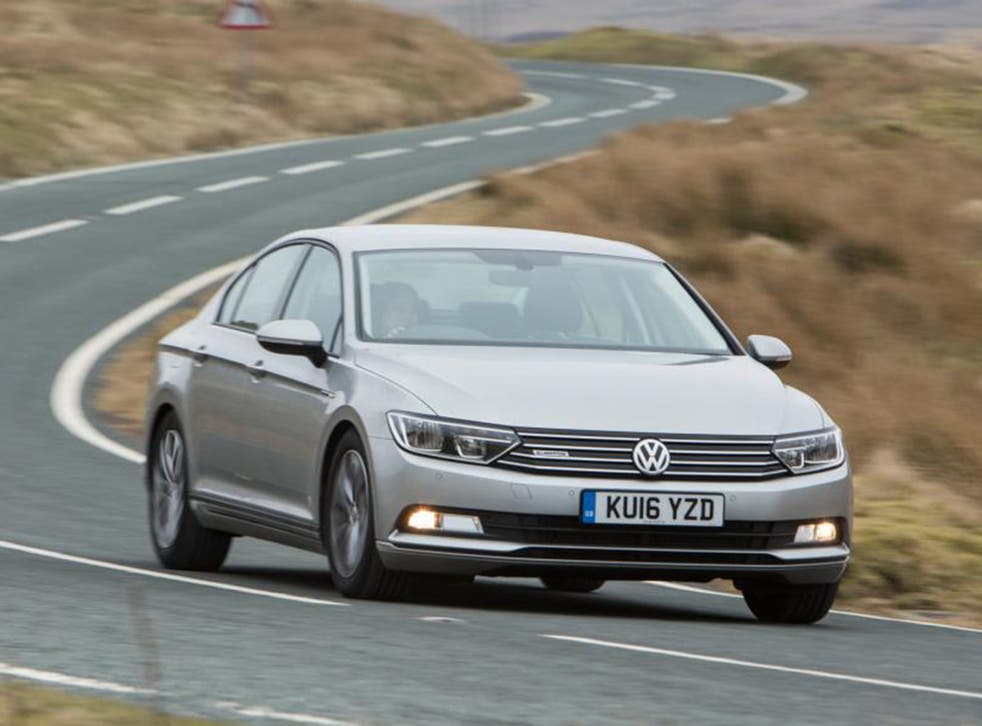 Volkswagen Passat 1.6 TDI Bluemotion, car review: Delivers efficiency for low running costs
Latest Passat is good, but so is some of the competition, like the Skoda Superb, which is cheaper and better equipped
Graham Scott
Wednesday 30 March 2016 17:07 Comments
If this was a performance model, you'd like the fact that it has been lowered by 15mm and has a more aerodynamic shape. The higher gearing might indicate it can pull an even higher speed. But actually all these things are done purely to use less fuel and emit fewer pollutants.
The engine is the same as in the standard 1.6-litre TDI Passat, so you get an identical 118bhp. But the key difference in this model is that higher gearing. Clearly it means you can woofle along on a motorway with fairly low revs showing, and that's good for emissions, consumption and relaxation.
But in several situations, like trying to get through slow traffic, it means you're riding the clutch and hanging on to gears. Neither of these things is good for relaxation and won't be good for the life of the clutch either. The six-speed manual works well enough, but there are several scenarios where you will find the length of the gears to be difficult to match to the road.
That also means you're feeling and hearing more engine noise and even vibration, which is not at all good for relaxation. So this is good for cruising, let good getting up to cruise speed. The handling is better than you might expect, given that the suspension has been shortened. Both handling and ride are pretty tidy, certainly good enough for a big saloon like this.
Inside, apart from the engine noise occasionally and the vibration through the steering column, you are in a very spacious and well appointed cabin, put together with first-class materials. Obviously it lacks the big boot of some estates, but rear passenger room is excellent.
There's a fair amount of kit, including 6.5in touchscreen, CD Player, DAB and Bluetooth, along with air-con as standard. But, if you bought the standard 1.6 TDI SE then you'd also gain auto lights and wipers, sensors, cruise control and auto emergency braking among other things. In a car which would be cheaper for the private buyer, and only marginally more for a company car driver. And you wouldn't have that gearing to worry about.
So, this is good, but then so is some of the competition, like the Skoda Superb, which is cheaper and better equipped. And that's not counting the competition within the ranks of the VW Passat itself.
True, this Bluemotion model can manage a highly creditable 76.3mpg with only 95g/km of CO2, compared to the standard Passat's figure of 56.4mpg. If that is the sole criterion then you'll probably be happy with this model. But if you're looking for a more rounded set of criteria then this probably doesn't tick enough boxes.

Register for free to continue reading
Registration is a free and easy way to support our truly independent journalism
By registering, you will also enjoy limited access to Premium articles, exclusive newsletters, commenting, and virtual events with our leading journalists
Already have an account? sign in
Join our new commenting forum
Join thought-provoking conversations, follow other Independent readers and see their replies