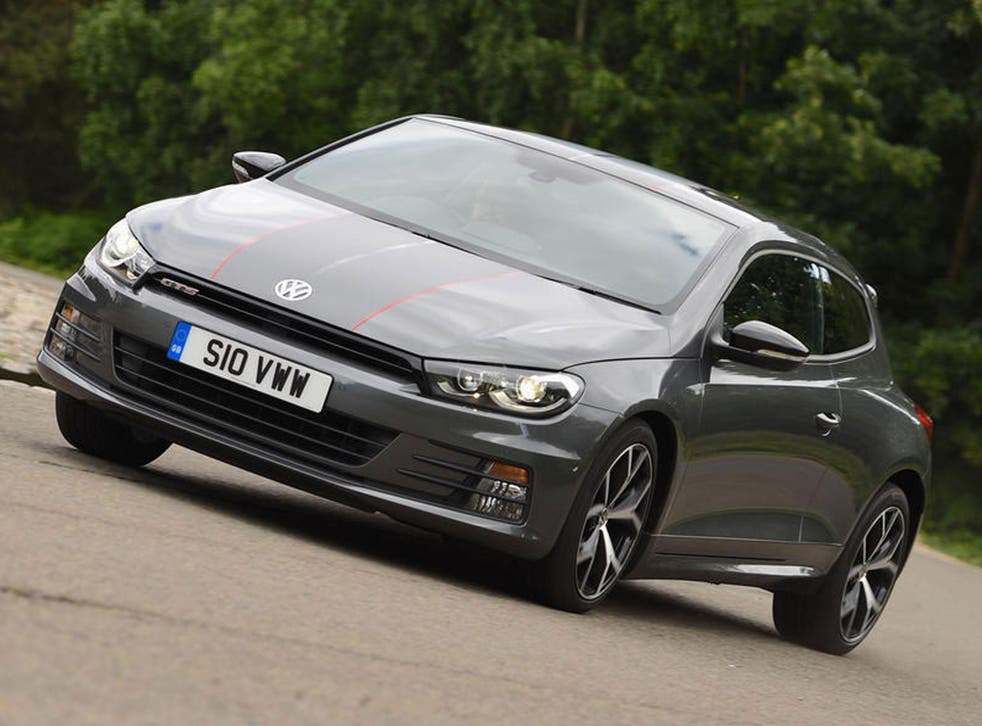 Volkswagen Scirocco GTS, car review: A makeover – and what looks like a made-up price
It's a good car, it's fun, but it's really just too much money
Graham Scott
Friday 01 July 2016 17:43 Comments
When the first Scirocco appeared back in 2008 it found instant favour with a lot of people for its pace, style and generally fun demeanour. Now it's had a makeover which has changed things a bit, and changed the price quite a bit.
The revised GTS version has the 2.0-litre turbo TSI petrol engine which is very good for 217bhp. That's pretty encouraging. It's an engine full of vim and vigour, and it's great fun to give it a good caning in the Scirocco GTS. It loves to go and there's a wicked exhaust note to enjoy as well.
The handling was always pretty good and it remains very capable of providing yet more fun, including lift-off oversteer. However, this doesn't come entirely as standard. The test car had the addition of adaptive dampers and an electronic diff. That's over a grand on top of the base price for a start. But they do allow you to get it all down with even more finesse and confidence.
While that's marvellous, the ride is less so. It just isn't that comfortable, even in Comfort mode. If you crank up the modes you can actually make it lose traction over rough surfaces so stiff and uncompromising is the ride. Leave it in Normal would be our suggestion.
That ride doesn't do the comfort in the cabin any favours, and the cabin itself is starting to feel a bit dated. It's well made of course, and there's a 6.5in infotainment screen and decent space for four and their luggage. But for all that it's not really up there with either newer cars or cars that have had a more comprehensive makeover.
One of those would be another VW product, the latest Golf GTI. The three-door Scirocco GTS isn't as good or as modern as a three-door Golf GTI. That's one problem. The other is that it's more expensive too. It's £1000 more and that's before you start adding in desirable extras like the adaptive dampers and e-diff.
It's a good car, it's fun, but it's really just too much money. And, it's probably shallow to comment on its looks post-makeover, but we think it doesn't look as good as it used to either.
Register for free to continue reading
Registration is a free and easy way to support our truly independent journalism
By registering, you will also enjoy limited access to Premium articles, exclusive newsletters, commenting, and virtual events with our leading journalists
Already have an account? sign in
Join our new commenting forum
Join thought-provoking conversations, follow other Independent readers and see their replies