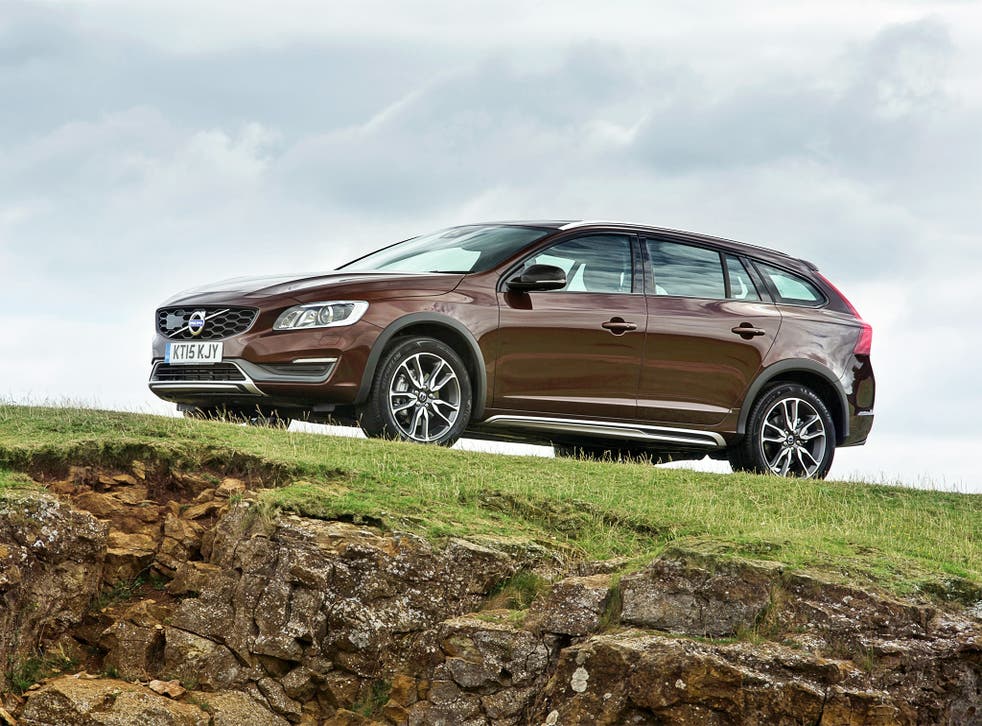 Volvo V60 Cross Country, motoring review: Unless you're going off-road, don't hitch yourself up to this
The entry-level version Jamie Merrill tested doesn't actually come with four-wheel drive
Jamie Merrill
Wednesday 10 February 2016 21:34 Comments
Price: £30,195
Engine capacity: 2.0-litre turbo diesel
Power output (bhp @ rpm): 148 @ 3,750
Top speed (mph): 127
Fuel economy (mpg): 67.3
CO2 emissions (g/km): 111
Forget snow chains and de-icer, the past two winters have been wet, not cold, with roads more likely to have been hit by flood water than snow drifts. This is bad news for makers of off-roaders. When there's so much as a light dusting of snow, Land Rover's website sees its traffic spike, but rain, I'm told, doesn't have the same effect. That's where cars such as the Volvo V60 Cross Country come into play. These "cross country" or "all road" models are typically upmarket estate cars that have been jacked up, given some protective padding and four-wheel drive. They're perfect if you live in the Cotswolds at the end of a muddy lane.
It's an industry-wide trend that, arguably, Volvo started back in 1998 with the launch of the V70 XV. But the once-boxy Volvo estate has changed somewhat since then, and the V60 has a curving roofline that does nothing for its load-bearing capacity. This is not a car for moving wardrobes like Volvo estates of old.
It does have a higher ride height though, which makes it a more comfortable cruiser on motorways and, when driven quickly, the extra height doesn't ruin the handling either. But what of its off-road capability? The extra cladding isn't all smoke and mirrors, and its ride clearance is higher than the base vehicle. But here's the catch: the entry-level version I tested doesn't actually come with four-wheel drive. If you want the additional traction gained from sending power to all four wheels, there's an £8,000 premium. That also gets you a more powerful diesel engine and a six-speed automatic gearbox instead of the manual.
Save your money. In a week of roaming around southern Britain through heavy rain and gales, I didn't miss the four-wheel drive. I got to the supermarket safely, ferried boxes to my girlfriend's parents in the suburbs and ran down to Surrey for a muddy walk on the slopes of the North Downs. At no point did conditions overwhelm my two-wheel drive.
The truth is that, even with our unpredictable weather, few of us really need a car that is capable of fording rivers and navigating blizzards. Country wagons such as this generate higher profit margins for carmakers, but for the average British driver they're not worth considering.
Register for free to continue reading
Registration is a free and easy way to support our truly independent journalism
By registering, you will also enjoy limited access to Premium articles, exclusive newsletters, commenting, and virtual events with our leading journalists
Already have an account? sign in
Join our new commenting forum
Join thought-provoking conversations, follow other Independent readers and see their replies