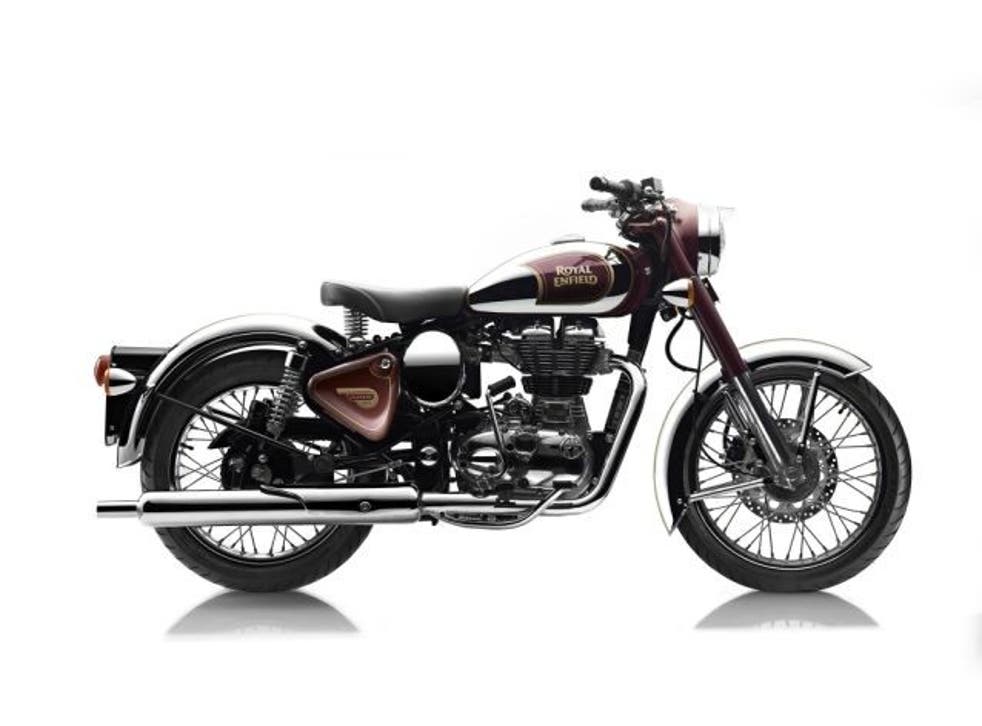 Royal Enfield Classic 500: a beautiful piece of British biking history made in India
 Ride a machine with all its quirks, and inject a bit of fun and swagger into your daily business
If all you want from motorcycling is to race along at speeds likely to get you killed, then get yourself a plastic-clad missile. And if all you want is to negotiate tight city traffic on the way to work and back, then go get a twist-and-go scooter, or one of those weird inverse trike things used by the police.
If however, for you, motorcycling is about riding a machine with all its quirks, and injecting a bit of fun and swagger into your daily business, then Royal Enfield's Classic 500 might be for you. It is not a perfect bike – its top end is around 85mph, it has a bit of a shake before you hit 40mph, the back drum brake needs a big push down before it bites and there are grumbles about the clearance when you bank right because of the low setting of the rear brake lever. But put these against its charms and the sheer joy of riding it, and they fall into insignificance.
It is a beautiful-looking machine. The frame and engine are the same as Royal Enfield's Bullet, but the styling is exactly the same as when they first rolled off the production line in Redditch in the early 1950s. The engine is, however, new to meet today's EU emission standards. It now comes with electronic fuel injection, which helps it to an economical 85mpg.
That's not the only economical thing – it sells, new, for £4,600. That's because this most British of British brands has been exclusively produced in Chennai in India for the last 40 years. The story goes that when production halted in the Midlands in the early 1970s there was plenty of demand in India – not least from the Indian army – to justify moving the whole operation lock, stock and barrel to the sub-continent.
One of the reasons for its popularity there is the robustness of the tough suspension and the lovely pull of its single cylinder 500cc engine, which makes it perfect for India's rugged roads. Ironically, given the state of London's roads, this actually makes it a perfect commuter bike. Potholes which on another bike bottom out the suspension are smoothed over by the Enfield. Its lightweight frame and high torque at low revs make it perfect too for sliding through packed traffic. While it's not going to win any drag races, there is a beautiful sweet spot when you hit 40-50mph when that single cylinder powers you forward and everything is in harmony. Even the wing mirrors return to focus and the phut phut phut of the engine brings a grin to your face.
Royal Enfield Classic 500
PRICE £4,600
TOP SPEED (MPH) 85
FUEL ECONOMY (MPG) 85
Join our new commenting forum
Join thought-provoking conversations, follow other Independent readers and see their replies