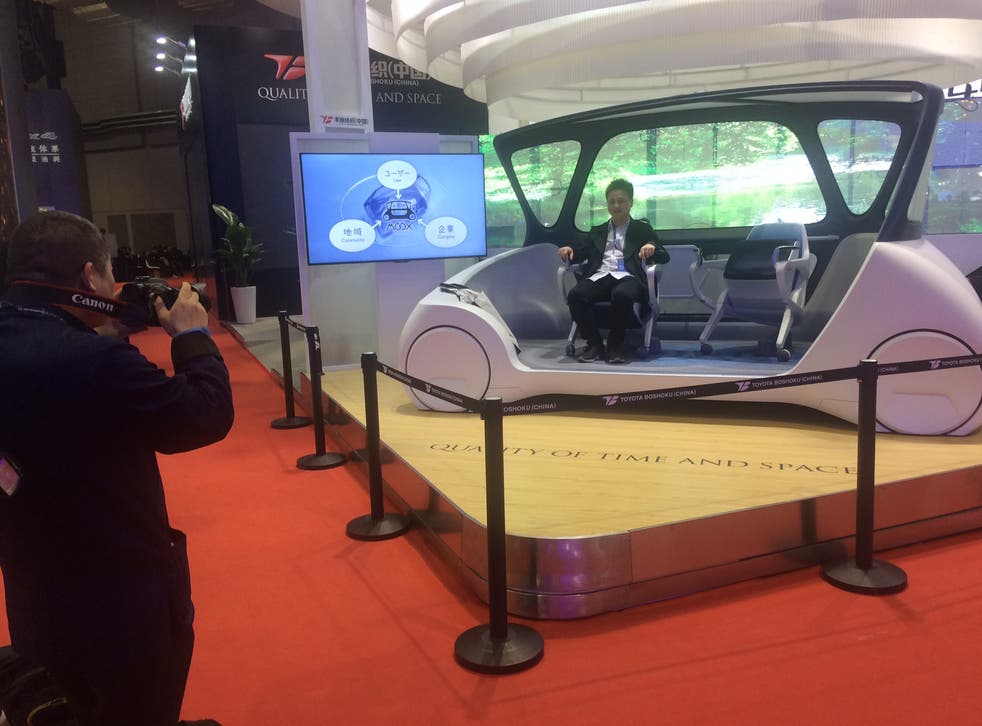 Great leap forward at the Shanghai Motor Show
Chinese car manufacturing is growing apace, discovers Sean O'Grady in Shanghai. Those (for now) obscure badges you see on garish stands may soon be on a steering wheel in front of your very eyes
Sean O'Grady
Thursday 18 April 2019 19:24 Comments
Roewe, Shanghai Motor, Jianbang, LandWind, FAW, Dongfen, Lynk & Co, Geely, Chery, Uon, Great Wall, Nio, Leap Motor, XPeng, Weltmeister (yes, really), Changan, BYD... maybe you've heard of a few of these but they are in fact only a fraction of the mesmeric array of Chinese makes that have turned up to the Shanghai Motor Show to prove just how far China has come on a very short time indeed. Those at the show are also only a fraction of the 72 Chinese firms that supply the bulk of the 22 million cars sold in China last year. Although that is down a little on the recent past, the Chinese consumer still buys more cars in one month than the British do in a year. There are 327 million cars on Chinese roads. Approximately.
Only a decade ago the Shanghai show was populated by comical knock-off copies of successful models made by anyone from Rolls-Royce to Kia, with a few recycled western models such as the 1980s VW Passat enjoying an afterlife as basic cheap transport for the growing market.
No longer. The likes of Shanghai Automotive Industry Corporation (SAIC) are gradually moving out of the shadow of the joint ventures. SAIC still makes cars with VW and General Motors, but it is also developing stronger products of its own. Having acquired the names and rights of various bits of the old MG Rover for example, it is rapidly reviving the MG, LDV Maxus and Rover, renamed Roewe, badges.
In photos: Shanghai Motor Show 2019

Show all 15
Maxus is a marque in its own right now, with an all new panel van unveiled at the show, the V90, that seems a match for, say, the Transit or VW Transporter. it has also expanded into SUVs and unveiled a stylish new MPV, the G50; all this from a moribund British van maker.
SAIC, like so many Chinese brands at the show, is also set to leapfrog western rivals by putting huge resources into electric vehicle technology and the 5G revolution, which will bring autonomous vehicles on public roads into the realm of reality. After all, China dominates the battery market already, and Huawei is a leader in telecoms and next-generation telemetrics. It is also pushing hard at the hydrogen fuel cell model, another alternative to traditional fossil fuels.
The Germans and Japanese may be better mechanical engineers and be the masters of the internal combustion, but all the physical, financial and human capital they have ploughed into world leadership might easily be worthless by 2030. Chinese startups such as Grove and Nio are trying to challenge Tesla as well. Those (for now) obscure badges you see on garish stands in Shanghai may soon be on a steering wheel in front of your very eyes.
Which is not to say that the old world is yet dead. Electric or not, the craze for SUVs continues to be the overwhelming global trend in passenger car design, with the emphasis on bulky coupe styling. Among many others, Buick and VW unveiled three apiece, Porsche is to offer us a coupe version of its massive Cayenne, the Land Wind folk knocked out another generic status symbol, as did Mercedes-Benz with the GLB, and Lynk & Co with a Volvo-based product. Plus Roewe, as mentioned, presented a kind of born-again Chinese Rover and showed off its Marvel X electric SUV. It boasts the biggest iPad-style screen ever seen in a production vehicle, about two feet deep, a huge VW-style grille, and some nice tan leather and wood trim. I'd like one, but then I always liked Rovers. An excellent choice perhaps for growing Chinese families after the relaxation of the so-called one child policy – and interesting to spot the promotional videos featuring more than one kid now.
There were also more modest, but interesting, developments around. VW is launching yet another brand, "VW by Jetta", with perhaps the aim of moving away VW itself from its present taxicab/basic car image. VW Group, with its various joint ventures, is still the market leader, and a new Audi electric super car and the VW ID Roomzz, a lounge on wheels, showed some intent to stay in pole position.
Broadly speaking, the Chinese brands have not quite caught up with their home-developed products. Passenger safety usually lags behind, and poke around and wriggle rough trim and you see that they still have some progress to make. That's not so condescending, though; they have had to do in two of three decades what the west did in two or three centuries. They are catching up even faster than the Japanese and Koreans did since the 1950s. Your next car might be a Roewe or a Jianbang; just remember that Toyota and Hyundai were once exotic words too.
Register for free to continue reading
Registration is a free and easy way to support our truly independent journalism
By registering, you will also enjoy limited access to Premium articles, exclusive newsletters, commenting, and virtual events with our leading journalists
Already have an account? sign in
Join our new commenting forum
Join thought-provoking conversations, follow other Independent readers and see their replies