Volvo V60 Cross Country review: The car that saved me from frostbite
Tom Richell praises the Swedish estate car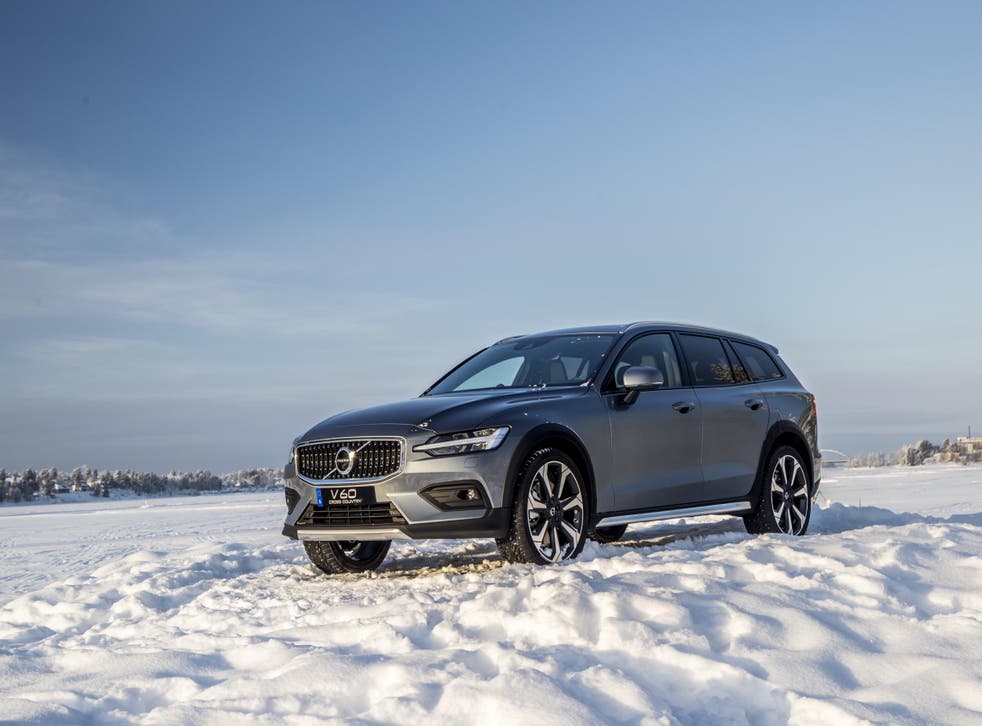 It's -17C and I'm blasting across a frozen patch of the Baltic Sea on a snowmobile just outside the Swedish city of Lulea.
There are reindeer scampering around 300 yards to my left on what was shoreline just three months ago. Far in the distance on my right, snow covered trees stand tall upon a frozen ridge. 100 miles south of the Arctic Circle, scenes like this aren't uncommon.
I'm here to test drive the Volvo V60 Cross Country. It's one of two of the latest iterations of the Swedish manufacturer's family estate car. The Cross Country is the more rugged offering. High ground clearance, four-wheel drive and equipped with off-road driving settings. The other is the V60 R-Design: a sporty, nimbler offering with lower suspension and a "dynamic driving experience" – whatever that means.
But it's not all about the car. I'm keen to try out some local activities. First stop: snowmobiling.
I spend the first 15 minutes riding wearing protective goggles. But there's a problem – they've been steaming up for the whole journey so far and I think: "What's the worst that could happen?" I find out pretty quickly. In seconds, freezing cold snow is kicking up into my face from the other riders and ice is beginning to build up on my eye lashes. Suddenly the steamy goggles don't seem so bad.
Testing the Volvo V60 Cross Country... on ice

Show all 7
"Oh f***," our guide Andreas says to me looking at my face. While I'm wondering whether to be offended or terrified he gently puts his hand up to my cheek. It was hard, ice cold and totally white. He turns to the expedition organiser and whispers: "Frostbite."
Thankfully, the minor frostbite I have is pretty easy to deal with, Andreas later tells me. Keep the area covered and slowly warm it up and you'll be fine. Out on the ice though, this is information I am not privy to. The rest of the ride back to the tiny island of Grasjaloren is a bit of a daze. My mind is totally preoccupied with how I would look without a cheek.
A common theme of this car, from conversations with the various Volvo reps on this trip, has been how confident you feel when driving it. Even in severe conditions like the ones we are subject to here, in Sweden's most northeasterly city, you feel in control behind the wheel.
"That's what I need," I think to myself. I feel out-of-control right now and my face is still hard and cold.
"I'm going for a drive," I say to the group as they make their way back to the hotel. Cranking up the heat to a balmy 24C and selecting a pre-programmed 'scenic route' on the in-built satnav, I'm on my way.
The Cross Country handles itself well as I make my way out of town. The steering is light and responsive and the automatic gearbox shifts quickly as I nip through an amber traffic light. There's a north facing map on the central console showing me my route for the next mile or so and a second view, a digital rendition of the road ahead, directly in front of me. The navigation information being split across two destinations isn't something I'm used to, however, and does leave me a little undecided on where to look as I approach the junction I need on the 94 road.
Like a nervous tick I keep reaching up and touching my recently-frozen-face. I need a distraction. A sensational set of Bowers & Wilkins speakers (a £2,500 optional extra) sit proudly atop the dashboard. The Cross Country comes with built in Spotify, which you'll need an internet connection to use. Approaching a junction I don't really have time to browse an online library. Swedish folk it is.
Glancing down at the navigation system on the centre console I notice that my route will take me on a ferry crossing the Lulealven River to an area called Avan. What the satnav hasn't accounted for here is that, in the sub-zero temperatures outside, there are no ferries.
Instead, I must drive across the surface of the river. I pull over before making my way down the bank and out onto the river and activate the 'comfort mode' to turn on the car's in-built electronic stability control.
There is a winding track carved out across the river and in a couple of minutes I'm driving up the other side.
We really are in what feels like the middle of nowhere now. Avan is a tiny collection of houses. A child is playing at the side of the road far up ahead with his mother. I ease on the brakes to slow down my approach, just in case. This car comes with 'large animal detection' – it claims to be able to spot an elk standing in the road up ahead. The kid looks about three years old ... I'd rather not find out whether he constitutes a large animal or not.
Upon touching it, my face now feels a little like a chicken breast which is about half way defrosted in the microwave. The soft, loose flesh on top of the hard, frozen part underneath.
Volvo V60 Cross Country skids around the Lulea ice track
It occurs to me that for large sections of this drive along ice covered roads, much of which have been in complete darkness lit only by my LED headlamps, I have barely been concentrating. In most cars, military levels of concentration would be required for conditions like this. In the Cross Country though, it has felt like a remarkably normal drive. There hasn't been a moment where I have felt out of control. It feels safe driving at the speed limit – up to 70kph (43mph) on even the windiest of windy roads. It's worth noting the model I'm driving has special tyres with spikes them in for extra grip.
Parked at the foot of a stranger's driveway (I backed in easily with the help of the 360-degree rear-view camera) a few miles past Avan, I consider this. There hasn't been a moment over the past two days, which has involved around four hours of road driving, where I've felt unsafe in the Cross Country. Volvo have long prided themselves on their safety standard: that is well documented. The latest adaptation of the mid-range doesn't disappoint if it's safety you're after. A new feature on this model uploads road condition information to the cloud while you're driving, allowing other Volvos to download warnings about the road ahead. It's another little nudge towards vehicle autonomy but a tool that can really be praised for making a driver feel safe and secure.
My face is getting softer. It's time to head back to Lulea.
I remain in something of a daze for most of the journey back to the city, and flicking onto autopilot (not actual autopilot – this car doesn't have that, although lane assistance is a feature, as is the not-so-sexily-titled 'BLIS with Cross Traffic Alert and Rear Collision Mitigation', if you want to spend an additional £500) I hear a "ping". Glancing at the head-up display nestled on the windscreen, a warning is telling me that a speed camera is in 300m. I'm too comfortable by now, cruising at 10kph above the speed limit.
Before I know it I'm back at the hotel and hand the keys over to the smiley Volvo representative waiting for me to return. Most importantly, I have now totally defrosted and am just left with something of a shiner below my right eye.
There's a lot to like about the Cross Country. The 60mm of added road clearance in comparison to the standard V60 model makes the difference off-road, as does the four-wheel drive system. It's fast and comfortable at the same time and has an elegant interior that doesn't shout at you. Matte metal finishes and textured leather feel welcoming and sophisticated. The clean look and feel of the interior is mirrored on the outside too. For a big car it looks sleek and absolutely stacks up aesthetically alongside its German counterparts.
The on-board computer isn't the most friendly user-interface I've come across. It's probably worth spending the extra £300 so you can hook up your phone and use Apple CarPlay or Android Auto instead.
As always Volvo seem to have nailed the safety aspect – something that was never in doubt. In a family car like this one, presumably used by many for ferrying kids about, the importance of safety really can't be underestimated.
Support free-thinking journalism and attend Independent events
Starting at £38,270 it's the most expensive base model in the V60 range. Six grand more than the cheapest Volvo Momentum is a big leap – and that's before you chuck on the optional extras. You can easily make this car more than £40,000.
But me, now with a soft and puffy face, I have the Cross Country to thank. It took me on a much-needed uneventful and calming tour through the Swedish countryside. At a time when I was, within my own mind at least, being incredibly over-dramatic, the comfortable, smooth and predictable nature of this car was the perfect antidote.
Register for free to continue reading
Registration is a free and easy way to support our truly independent journalism
By registering, you will also enjoy limited access to Premium articles, exclusive newsletters, commenting, and virtual events with our leading journalists
Already have an account? sign in
Register for free to continue reading
Registration is a free and easy way to support our truly independent journalism
By registering, you will also enjoy limited access to Premium articles, exclusive newsletters, commenting, and virtual events with our leading journalists
Already have an account? sign in
Join our new commenting forum
Join thought-provoking conversations, follow other Independent readers and see their replies