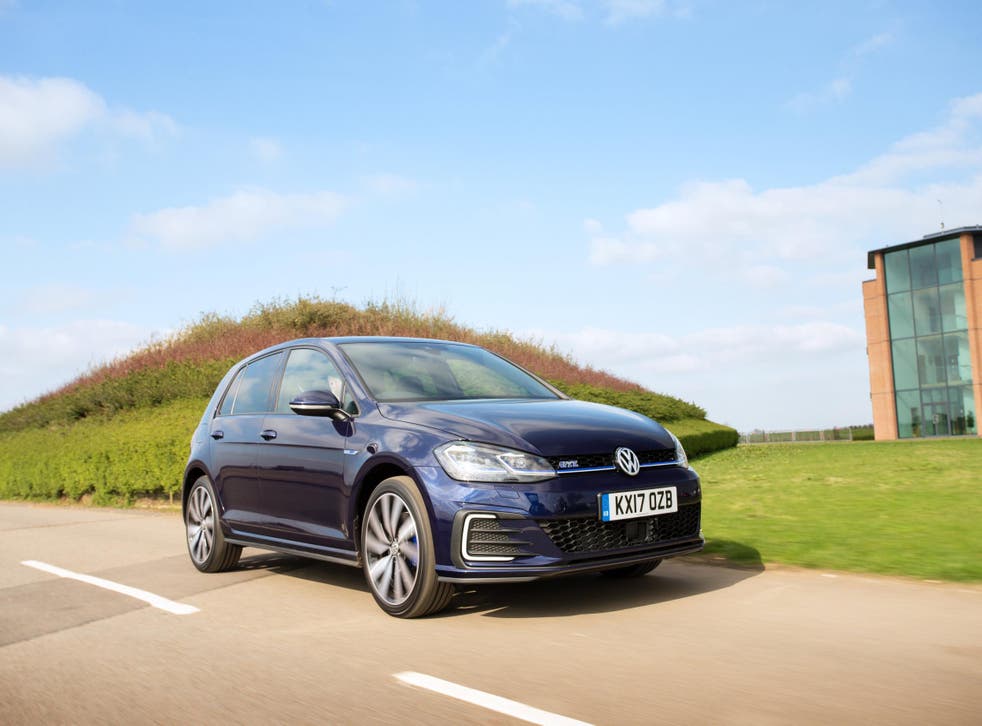 Volkswagen Golf GTE Review: VW's Act of Contrition for the Diesel Scandal
A refuelling point on the road to the future
The E in Volkswagen Golf GTE stands for 'electric'. That's because this particular variation, one of so many on the Golf theme, is the petrol-electric hybrid version.
So it takes in fuel via a normal fuel hatch, but also by the GTE – i.e. its on-board batteries – being plugged into a mains electricity source. It also generates some fuel for the batteries itself: for example, by harnessing energy otherwise wasted, as when the engine is running but the car is being braked.
You might suppose that this Golf Hybrid should really be re-badged GTH, and the all-electric Golf called the GTE, rather than the current 'e-Golf' moniker. That wouldn't have the required racy overtones, though, and sounds a bit too much like GBH, which is far less civilised.
Does it work? Yes, and quite flawlessly in the way it switches between power sources depending on needs and driving style. If there's anything in the batteries, it will always start in electric – and stay there, if being driven at 'town' speeds and gently for 20 miles or more.
If you put your foot down, the petrol engine will swiftly make its presence felt, especially when you get onto a motorway. Because you can just drive it like any conventional car, with its petrol engine delivering adequate performance, you needn't worry about 'range' like you might with a 'pure-electric' car.
If you plug the Golf GTE into the mains for a couple of hours, either via a three-pin plug the way you would a kettle, or via a special charging point you can have installed on an outside wall of your home, then it'll take a few hours to charge. You just pop open the VW badge on the grille and attach the cable, and you can even lock the car while you do so – and your house too, if you thread the cable.
Fast chargers on motorways can also be accessed, though they're of more use to drivers of pure electric cars and require membership of various charging schemes.
Depending on your domestic electricity tariff, the marginal cost of a short journey will be near nugatory. By the way, you also barely notice the reduction in boot space.
The Golf GTE looks much like an other Golf, the GTI being stylistically closest, the GTE having blue 'highlights' to the interior trim while the GTI has red. So it looks normal - but doesn't signal virtue as obviously as a Toyota Prius.
That may or may not matter to you, or to VW for that matter. Unfair as it is, no-one is going to associate the Golf with hybrid technology, because 'Prius' has achieved such strong word association that it isn't far off becoming a generic term for 'hybrid' in the way that 'Hoover' is for vacuum cleaners.
The Toyota deserves the attention because it was, after all, a pioneer of the concept, launching its first slightly gawky version of the Prius 20 years ago, and is extremely technically accomplished and remarkably reliable for what is still a comparatively novel concept.
Still, the Golf GTE does make a very good case for itself. This is a 'refresh' of the existing model, so it gets some modest cosmetic upgrades, most notably the touch screen that controls the sat nav, audio and the entertaining graphics that show you how much energy you're using and generating.
It couldn't really get any quieter than it is – and you cannot get more refined than that. However, like the Prius, the automatic transmission makes a fuss if you press it hard, which you are encouraged to do when you set it up in sporty 'GTE Mode', as opposed to the economy-oriented default.
The GT in GTE is justified, too, because of how the electric motor delivers such acceleration, especially notable when going from standstill 20 or 30 mph. That, in turn, is because electric motors have lots of torque, or low down power, where the internal combustion engine needs to be worked through the gears to get anything like the same effect, and therefore is at an intrinsic disadvantage.
Thus, if you add an electric motor to a petrol engine, then you pretty much get the best of all worlds as they reinforce and complement each other. As regards the handling, it is like pretty much any other Golf: class-leading stuff, even though the hybrid does feel marginally heavier to manoeuvre on the road.
The obvious benefits to the buyer are the outstandingly low running costs – with an effective return of more than 160mpg in mixed driving – zero road tax, a £2,500 government grant, and substantial savings on company car tax for business users.
On the other hand, you obviously have to consider the relatively high 'entry fee' of about £32,000, a premium of roughly £10,000 on the pure-petrol equivalent. So the higher your mileage, and especially your urban motoring, then the more advantageous the GTE becomes as a financial proposition.
Given the Golf's durability, it is probably best looked at as a long-term ownership proposition, though that will inevitably mean you get a little left behind as the newest technologies are introduced to new generations of the car.
You'd also be committing yourself to an arguably interim technology when you could just hang around until they make more progress on an all-electric alternative – the VW e-Golf, say, in 5 years' time. So if you just drive your Golf GTE to the shops once a week, and trade it in after a year, it only makes ethical rather than financial sense.
Then again, leasing rather than outright purchase could be a more future-friendly option, but you do have to rack up some miles for it to still make financial sense. Sadly, the GTE is not a viable option if you live in a flat, I should add, or anywhere else that makes it impossible to charge at home. That factor is emerging as probably the biggest technical obstacle to the rapid adoption of plug-in electric cars in big cities.
For VW, the GTE is a rather poignant achievement. In the 2000s, if you recall, the hybrid/petrol-electric idea was being derided – not least by VW, because of the claimed potential of, ahem, diesel powered vehicles to deliver better fuel economy and low emissions with competitive performance and reliability.
Now we know better, and the hybrid and the pure-electric car are, once again, being rightly looked on as the future. Looks like the Japanese-based giants – Toyota and Honda, in particular – were right, where the Europeans – VW Groups and Peugeot prominently – were plain wrong, if not worse.
Given the VW diesel scandal, perhaps we should view their Golf GTE, its plug-in hybrid Passat sibling, plus the fully-electric e-Up! and e-Golf, as acts of contrition.
Join our new commenting forum
Join thought-provoking conversations, follow other Independent readers and see their replies