Volkswagen Golf GTI Performance

Show all 12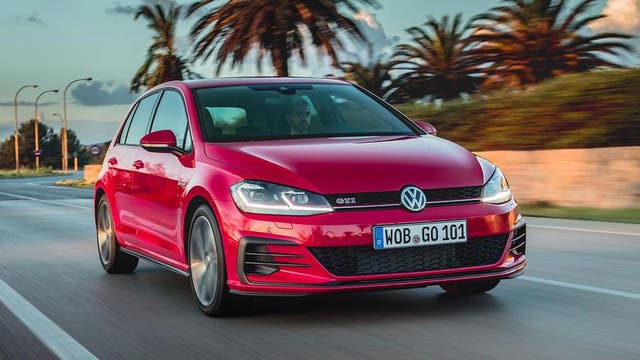 VW Golf GTI Performance Pack: driven
Making this hatch just a trifle hotter
As the Golf GTI has matured it has improved in so many ways, but it's not exactly a race winner these days out of the box. There are numerous hatches that are hotter, and some of them, like the R or the Clubsport Edition, have Golf in their title. So this Performance Pack adds a bit more performance to warm things up while still not making them red hot.
Performance still comes from the 2.0-litre four-cylinder petrol engine, but there is now 15bhp more and 15lb ft of torque more as well. That doesn't sound a huge amount and it's not, but it is a useful amount, even if 242bhp is still a way off the 261bhp of the Clubsport Edition.
But this isn't meant to be a car that takes sales away from the Clubsport Edition. It's a car that's meant to enhance yet further the attraction of the standard GTI. It can now reach 62mph in 6.2sec and, somewhat interesting this, it posts the same time for manual or seven-speed DSG dual-clutch auto transmission.
Inside it's had all the latest updates, so the already exceptionally well screwed together cabin gains a 9.2in Discover Pro infotainment system, a 12.3in digital instrument cluster ahead of the driver, the Composition Media system and rain sensors.
As ever it's a tremendous tartan-tastic cabin to be in. You're at the wheel of one of the most accomplished hot hatches on the road, one that's been improved and improved over the decades. There's a lot of practical and useful urge in the low to midrange, and now there's even more of a sparkle to the upper register.
You can easily marvel at the way the power pours smoothly out, and how it's handled so professionally and easily by a drivetrain and chassis well up to the job. The electronic locking front diff copes admirably with the extra power, as do the larger brakes, so there's no need to pause as you hunt down some twisty road. You just flow so naturally in a Golf GTI, and that has only been enhanced in this Performance Pack edition. Things have been added, but nothing has been taken away.
But there is a bit of a niggle. For a car with 'Performance' in the title, you don't really feel like there's a real performance going on. There no sense of real drama, frenzy or squealing excitement. It's all just so competent and assured that you make rapid progress unsullied by febrile emotions.
And for a performance hot hatch that's going to disappoint some. As yet we don't know how much of a premium this will take over the base GTI, but if it edges near the £31,865 of the Golf R then it would really raise some questions as to its purpose. But if it's nearer the £27,865 of the 3dr GTI then it might well make a case for itself. But just taken in and of itself, it's one of the great hot hatches, from a whole family of them.
Volkswagen Golf GTI Performance 2.0 TSI
Engine 4cyls in line, 1984cc, turbocharged petrol
Power 242bhp at 4700-6200rpm
Torque 273lb ft at 1600-4300rpm 
Gearbox 6-spd manual
Kerbweight 1386kg
​0-62mph 6.2sec
Top speed 155mph
Economy 43mpg
CO2/tax band 148g/km, 28%  
Graham Scott is a writer for AutoCar.
Join our new commenting forum
Join thought-provoking conversations, follow other Independent readers and see their replies