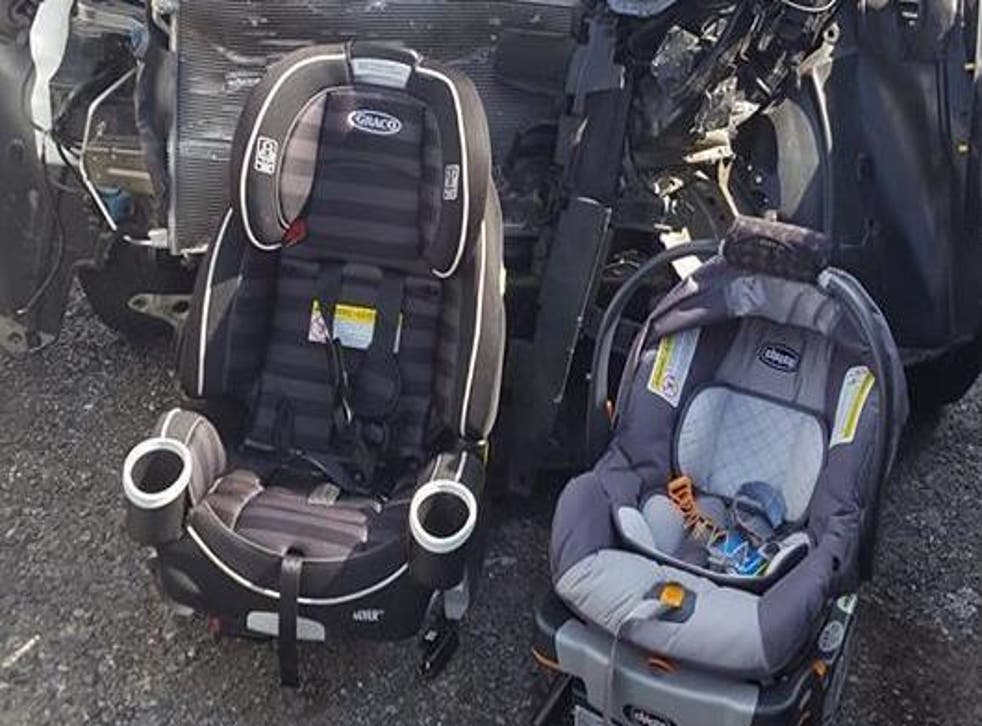 Mum's viral post of horrific car accident warns other parents of the importance of car seats
'The paramedics told me it could have been very different'
Sarah Young
Wednesday 13 December 2017 11:51 Comments
A mother has shared a photo of a horrifying car accident in hopes of reminding parents of the importance of car seats.
On the way home from pre-school, Jenna Casado Rabberman, from Pennsylvania, stopped for milk with her two young sons – Beckett, two, and Brooks, six weeks – buckled into the back of the car.
However, just minutes later another car slammed into the families vehicle. Despite the car being totalled, luckily Rabberman escaped with minor injuries while her two sons were "completely unharmed."
Sharing a photo of the wrecked car and two intact car seats, the mother-of-two wrote, "THIS is why you buckle your kids into their car seats correctly every SINGLE time.
"Even when they scream because the straps are tight. Even when they complain about the chest clip or being rear facing.
"My boys escaped without a scratch but the paramedics told me it could have been very different had I not taken the extra 2 minutes to be sure they were buckled correctly."
The image has since been shared an impressive 260,000 times as concerned parents join Rabberman in her quest to reinforce the importance of proper car seat installation and use.
According to Gov.uk, children are required by law to use a car seat until they are 12-years-old or 135 centimetres tall, whichever comes first.
In addition, the Child Car Seats website has information on understanding the different types of a seat, how to travel safely with children in cars as well as product safety recalls.
Register for free to continue reading
Registration is a free and easy way to support our truly independent journalism
By registering, you will also enjoy limited access to Premium articles, exclusive newsletters, commenting, and virtual events with our leading journalists
Already have an account? sign in
Join our new commenting forum
Join thought-provoking conversations, follow other Independent readers and see their replies