Nancy Pelosi dons same outfit to oversee Trump's second impeachment as she wore for his first
She paired outfit with a blue floral mask for House impeachment vote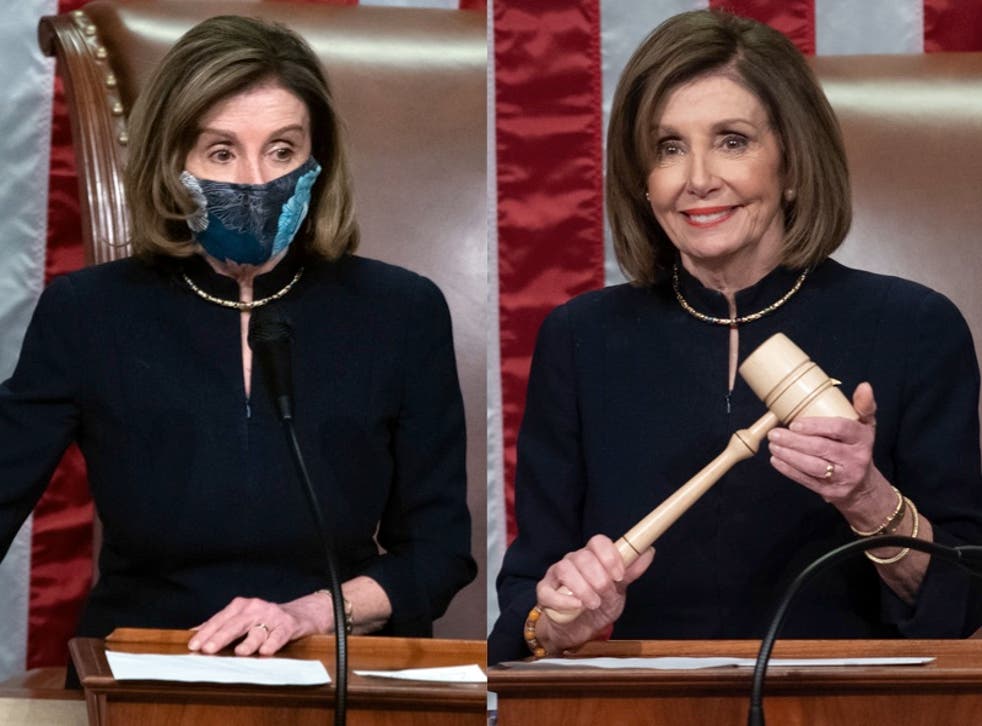 Leer en Español
House Speaker Nancy Pelosi has reworn the outfit she appeared in during President Trump's first impeachment in 2019 for the second impeachment vote against the president.
On Wednesday, Ms Pelosi appeared at the House impeachment vote wearing a black dress with three-quarter sleeves and a blue and black floral mask. She paired the outfit with a gold necklace.
As confirmed by her office in a statement to People, Ms Pelosi first wore the suit dress and necklace on 18 December 2019, when the House passed two articles of impeachment against the president for abuse of power and obstruction of justice.
While today's outfit was nearly identical, she did leave off the symbolic brooch she wore while presiding over the president's first impeachment.
The speaker's brooch, which sent a message of its own, was in the image of the Mace of the United States House of Representatives, a totem of the body's legislative authority.
Ms Pelosi also wore the brooch during the president's 2019 State of the Union address.
On social media, the speaker's recent sartorial choice has been praised, with many applauding the "powerful" symbolic outfit.
"Did Pelosi wear the same outfit for both impeachments? HELL YES SHE DID," one person tweeted.
Another said: "I love that Madame Speaker Nancy Pelosi has an impeachment outfit."
Ms Pelosi chose the outfit again to oversee an impeachment vote accusing the president of inciting last week's violent Capitol riots.
Ahead of Wednesday's vote, the speaker said in a speech to Congress that the president "must go" for his role in encouraging the insurrection, calling him a "clear and present danger to the nation".
"We know that the president of the United States incited this insurrection. He must go. He is a clear and present danger to the nation that we all love," she said.
With the second impeachment, Mr Trump has become the first president in the nation's history to be impeached twice.
Register for free to continue reading
Registration is a free and easy way to support our truly independent journalism
By registering, you will also enjoy limited access to Premium articles, exclusive newsletters, commenting, and virtual events with our leading journalists
Already have an account? sign in
Register for free to continue reading
Registration is a free and easy way to support our truly independent journalism
By registering, you will also enjoy limited access to Premium articles, exclusive newsletters, commenting, and virtual events with our leading journalists
Already have an account? sign in
Join our new commenting forum
Join thought-provoking conversations, follow other Independent readers and see their replies