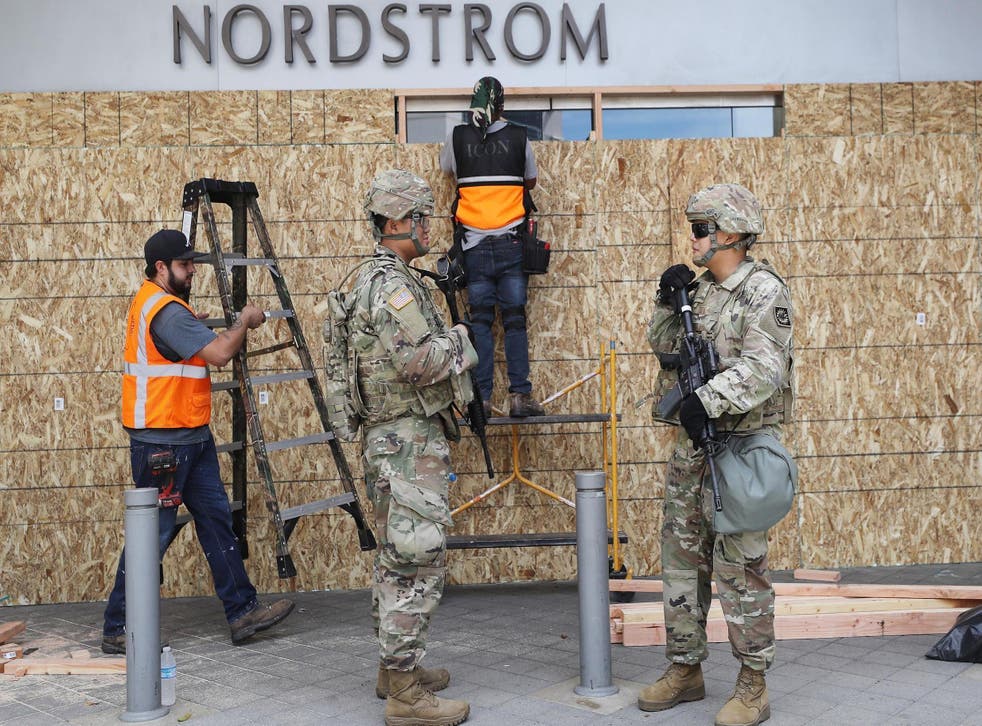 Nordstrom closes all its stores after looting amid protests: 'Windows and merchandise can be replaced'
Retailer says it will pay employees for any shifts that are missed 
Nordstrom has announced it will be temporarily closing all of its stores to keep customers and employees safe amid continued protests over the killing of George Floyd.
On Monday, the department store shared the announcement on its website, where it said it would be taking the time to assess and repair damage done to its stores during the protests.
"We continue to be heartbroken by the senseless deaths of George Floyd, Breonna Taylor, Ahmaud Arbery and too many others, and the deep pain and division we're seeing across the country," the company said. "Our priority is always the health and well-being of our employees, customers and communities.
"To help keep everyone safe, we made the decision to temporarily close our stores yesterday. Some of our stores were impacted by gatherings in our cities this weekend, and we wanted to take the time to assess the damage, repair and reopen those stores so we can continue serving customers as soon as possible.
"The events of this weekend are one more painful reminder that injustice remains in our world. We can fix the damage to our stores. Windows and merchandise can be replaced. We continue to believe as strongly as ever that tremendous change is needed to address the issues facing black people in our country today. We strive to be a positive force for change in every community we serve."
According to the company, which had slowly begun reopening stores as coronavirus restrictions eased, it will be paying employees for shifts they missed "as a result of these unexpected closures".
In the statement, the retailer also said it is actively working to connect employees with non-profits in their communities "that are providing valuable resources, information and support in these difficult times".
The company's announcement comes after its flagship store in Seattle and another location in Los Angeles were looted over the weekend.
In an open letter shared on Saturday, Nordstrom's co-presidents Pete and Erik Nordstrom called the protests "heartbreaking" and said it was "deeply saddened and angered by recent events in our country".
"The senseless deaths of George Floyd, Breonna Taylor, Ahmaud Arbery and too many others reflect the deeply ingrained racial prejudice and injustice that still exists in our communities today," the letter read. "It is stirring many emotions, which it should. The unnecessary and unjust killing of anyone must not be accepted. The issue of race and the experiences of too many people of colour cannot be ignored.
"We owe it to our employees, our customers and our communities to be very clear in condemning these acts of violence. They represent a disregard for basic human rights that has no place in our communities or country, and certainly not at Nordstrom."
While the store has not announced a return date, it said the "situation is evolving quickly" and advised customers to check its website for updates.
Join our new commenting forum
Join thought-provoking conversations, follow other Independent readers and see their replies