LIFESTYLE FEATURES
The cult of Peloton: How an at-home spinning community became a pandemic obsession
As exercise bikes become increasingly popular during the pandemic, Olivia Petter speaks to Peloton instructors about reaching into people's homes to get them moving
Friday 27 November 2020 16:46 GMT
Comments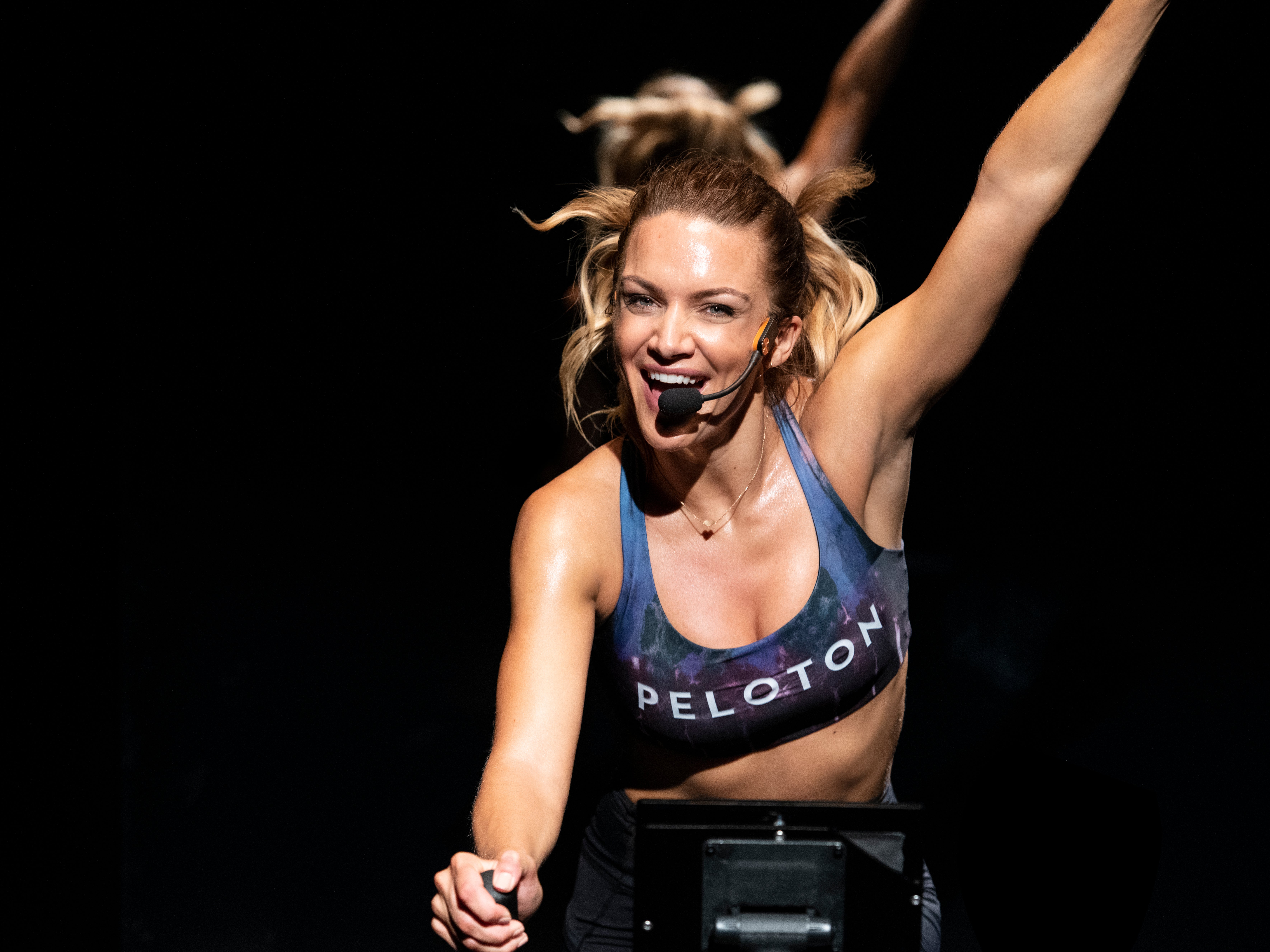 Leanne Hainsby, 33, was scrolling on Instagram when she saw a message from a stranger. "He told me his mum in her seventies used to be really into her fitness," she recalls, "but she completely lost her mojo after her husband passed away and has since been suffered from depression." In a bid to get her exercising in lockdown, the man had bought her a Peloton, a stationary bike on which you can take virtual spinning classes.
The bike had been such a success he decided to message Hainsby, one of the Peloton instructors. "He said she's been in tears ever since she took my class and is finally starting to feel good again. There's very few things that can change people's lives like that, especially at that stage in life."
When the UK went into lockdown in March, the nation was forced to adapt almost every part of their daily routines. From the way we worked, travelled, and, well, lived, everything was suddenly different, including the way we exercised. Thanks to the nationwide closure of gyms, the only way Britons could workout was outside (although in the dark, cold months this is less preferable), or from home. And so while many industries have struggled immensely in 2020, others, like those selling remote workout equipment, have thrived.
Founded in 2012 with the help of a Kickstarter campaign, Peloton is an American company that sells, amongst treadmills and other pieces of exercise equipment, stationary bikes. But these aren't just your average spinning bikes. With 22" flatscreen TVs and thousands of on-demand workouts at your disposal, Peloton bikes are quite unlike anything else on the market, which is perhaps why they're also among the most expensive.
You can purchase a Peloton bike all-out for £1,750, or pay for the bike in £45 instalments for 39 months. Combined with the subscription fee of £39 per month, the whole package ends up costing £84 every month. And that's without accessories, like the shoes you need to clip onto the bike, weights (many classes include arm workouts) and headphones – you can buy all three in an "essentials" package for £145. Given the average monthly spend on a gym membership in the UK is £35 – and anyone who already owns a bike could cycle outside at no cost – it isn't cheap.
Despite the high costs, Peloton has grown exponentially in lockdown, a period of time that has arguably been one of the most financially straining for many. And yet, Peloton has doubled its revenue and subscriber count – there are currently 3.6 million around the world. In total for the fiscal year, taking into consideration sales of equipment, subscriptions, and merchandise, Peloton collected revenue of $1.83bn (£1.3bn) in sales. 
It's quite the comeback when you consider how, in December 2019, Peloton lost $1.5bn (£1.1bn) in value in the wake of its Christmas advert, which was criticised as "dystopian" and "sexist". The 30-second advert showed a woman receiving a bike from her partner on Christmas morning. The gift inspires her to record a video diary of her exercise sessions, in which she proudly says: "A year ago I didn't realise how much this would change me." Critics pointed out that the woman was already slim and that the advert implied that her partner thought she needed to get fitter and lose weight.
State-of-the-art equipment aside, what attracts many users to Peloton is its emphasis on community. While you can take classes on-demand, you can also do them live, an option which Peloton say is preferred by many given that this allows you to see who else is taking the class with you, and where in the world they're located. In April, when the UK was in the midst of its first lockdown, more than 27,338 members took part in a live ride together.
As well as live group sessions Peloton fosters this community by celebrating rider milestones. Riders are encouraged to talk to one another and give virtual "high fives" during classes and trainers are to congratulate members on reaching their 100th, 200th, or sometimes 500th ride. Of course, as Peloton grows, this isn't always possible. "I taught a class the other day and there were just under 2,000 people live on the leaderboard and 320 milestones between them," says Hainsby. "You try to go through as many as you can but obviously you can't go through everyone. That's the side of the job I struggle with, because as the company grows, it's not possible to give riders the moment you want to."
The world of Peloton would be nothing without its instructors. There are 33 worldwide, and each holds a sort of P-list celebrity status in their own right. Unlike the PE teachers we may remember from our childhood, the Peloton instructors are groomed and glamorous. The female instructors all wear makeup while teaching, and their personalities draw people to specific rides due to their individual styles and carefully-curated soundtracks. 
Most were scouted while working at boutique fitness studios. Hainsby, a former professional dancer, explains: "Cody Rigsby, an instructor in America, showed up to one of my classes in London and said he would change my life," Hainsby recalls. "I thought it was very over the top but it was at a time when I was craving change. Before I knew it, I was on my way to New York to audition." 
The process was similar for Hannah Frankson, 31, who was scouted by a Peloton producer after they took one of her spinning classes in London. "I did a few auditions and then I was flown out to New York for two months of training," she said. Teaching a Peloton class is quite unlike teaching a regular spinning class. "There's a much bigger focus on cycling rather than simply riding to the beat," Frankson explains. 
"We reach people from all over the world," says Olivia Amato, 28, who was working on Wall Street before shifting to a career in fitness. "Before when I was teaching, I was only reaching 60 people in one room. It gets a little bit weird sometimes when you're like, 'How are you doing, Peloton?!' to an empty room, but then you see people's names popping up on the leaderboard and you can feel them with you."
It will come as no surprise that the instructors also have large social media followings. Many boast six-figures. "I don't think of myself as an influencer," says Hainsby, who says she receives roughly 100 DMs a day from people taking her classes. "There's a level of intimacy because you're in these people's homes, and so if they're taking your class every day they feel like they know you and want to connect".
Being sent touching stories about how her classes have inspired so many others has also become the norm. "There's a lovely teenage girl who's in a wheelchair and she takes my classes using her hands on a small bike that she's built," says Hainsby. "She'll do it to the beat and does it for the energy. Another guy who has MS, he's living in the US and he says that his condition has been the most stable it's ever been because he's been riding every day."
"I've received so many of those stories," adds Amato, who teaches across Peloton's multiple disciplines, including the recently added treadmill. "A mother-of-three reached out to me and explained she was a recovering alcoholic and that whenever she felt like she needed to grab a drink, she would get on the Peloton. Seeing that impact is such an honour."
Peloton has somehow fostered a level of intimacy not often found in a real-life studio, where participants are usually eager to leave the room immediately rather than spend 20 minutes telling the instructor how they changed their lives. "People aren't always confident enough to go to the gym, but they're confident in their own house," says Hainsby. "I love that people can come to a class from any walk of life, each with a different story, and they all can enjoy that same moment together."
With the coronavirus pandemic having bred loneliness for people across all sections of society – and people struggling to maintain physical and mental health within the confines of their home – a service like Peloton is offering a helping hand (or a high five). Unfortunately for most people, it's not a financially viable invitation, but for those who can afford to accept, it's one that has become a lifeline.
Join our commenting forum
Join thought-provoking conversations, follow other Independent readers and see their replies