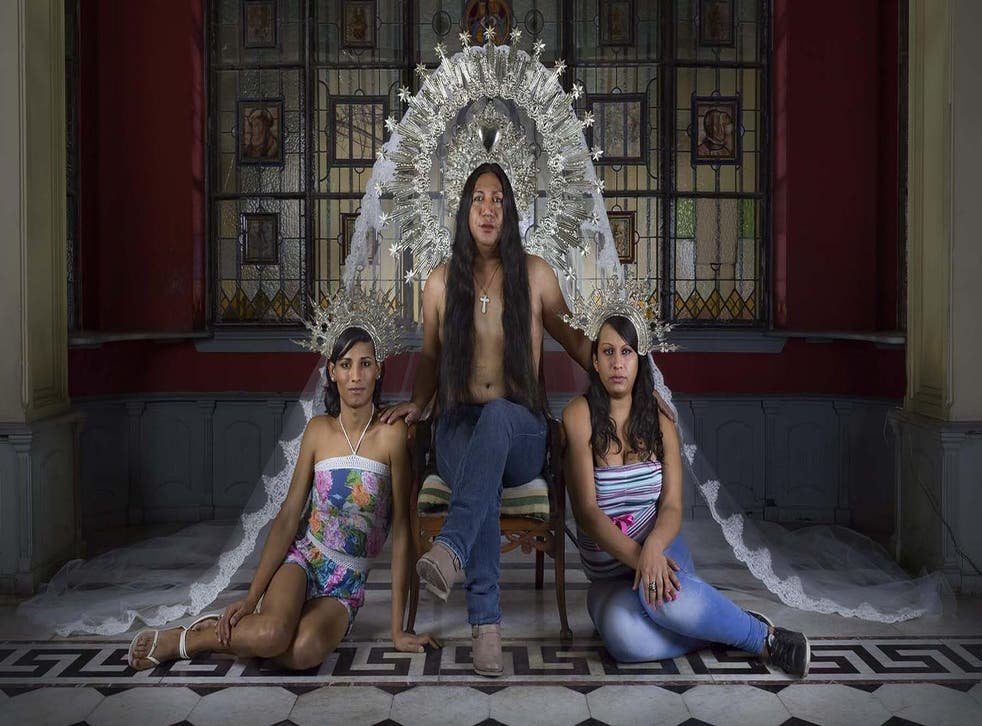 Virgenes de la Puerta: Photo series portrays Peruvian trans women as saints
The exhibition is showing at the Museum of Sex in New York until January 15
Sarah Young
Thursday 26 October 2017 13:27 Comments
A Peruvian artist has paid homage to the strength and bravery of his country's transgender community with an empowering photo series.
Growing up in Peru, Juan Jose Barboza-Gubo admits to witnessing an attack on a transgender woman who was beaten in his hometown of Lima.
And, while the assault still haunts him to this day, sadly such incursions of violence against members of the LGBT community are all too common in a country he says has "antiquated concepts of masculinity and machismo."
In Peru, trans women continue to be cast aside by the political and religious administrations. They are constantly denied employment, assistance from government programs such as housing and welfare, and are granted limited access to basic medical care.
In fact, a 2015 government study found that 90 per cent of LGBTQ people in Lima alone were victims of violence.
In light of the brutality faced by these transgender women, Barboza-Gubo and collabroater Andrew Mroczek, who is also an artist, set out to re-incorporate them into the cultural landscape and history of Peru with a powerful photo series titled "Virgenes de la Puerta" ("Virgins of the Door" in Spanish).
In the images, Barboza-Gubo and Mroczek present the women as saints, cultural icons and religious figures from 19th century portraiture in "an effort to strengthen, empower, and embed a sense of pride within the current and future generations" of Peru's trans community.
Presented as part of Canon, the photographic series is currently on view at New York's Museum of Sex where the artists hope it will garner a better understanding of the issues faced by the country's transgender women.
"At the Museum, we feel that no one deserves to be ostracised based on their body, birthplace, or desires," curator Lissa Rivera told Broadly.
"Canon is the first exhibition that is an explicit call to action in support of transgender rights and condemnation of the violence that LGBTQI people face."
Register for free to continue reading
Registration is a free and easy way to support our truly independent journalism
By registering, you will also enjoy limited access to Premium articles, exclusive newsletters, commenting, and virtual events with our leading journalists
Already have an account? sign in
Join our new commenting forum
Join thought-provoking conversations, follow other Independent readers and see their replies