The Independent's journalism is supported by our readers. When you purchase through links on our site, we may earn commission.
A YEAR OF LOCKDOWN
'It's like becoming a parent with no NCT classes': A year with our pandemic pets
Brits have bought millions of new pets during the last 12 months. But what has a year shut indoors with our new companions taught us? Natasha Preskey finds out
Thursday 25 March 2021 11:55 GMT
Comments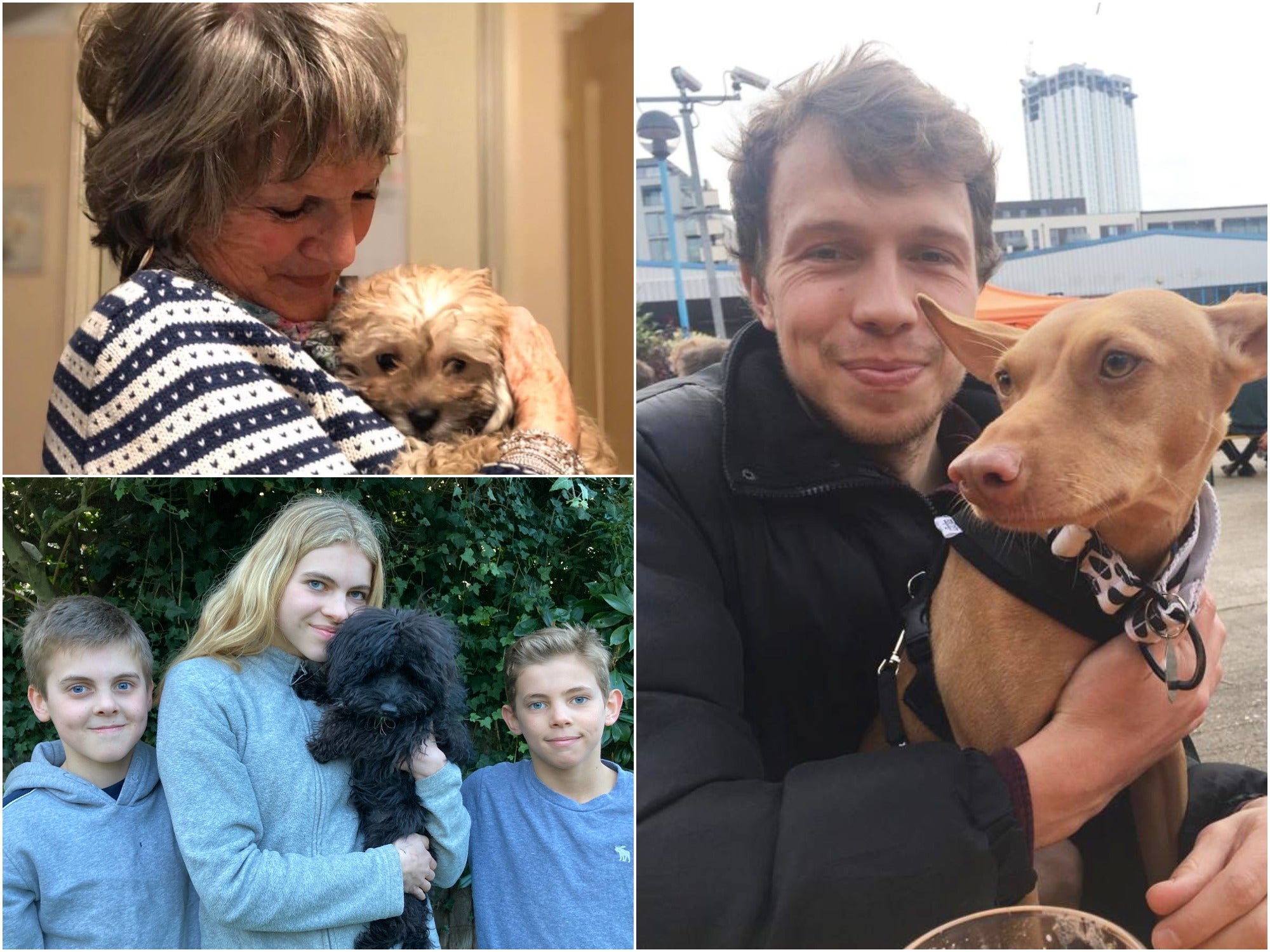 Leer en Español
Before the coronavirus pandemic, Ianthe Huntington had always been more of a dog person. But, like many people in their mid-twenties, her work schedule won't allow for the demanding reality of raising a puppy. 
Instead, two days after Boris Johnson gave his third national stay-at-home order on 4 January, the 24-year-old and her boyfriend bought 12-week-old kitten Parsnip on Gumtree. Huntington has found this lockdown the toughest of the three and, faced with drizzle, cold and the prospect of an extended stint working from home, being able to focus on her cat has been an emotional boost.
"With it being so dark and miserable and just grim, and not being able to do anything, it's really, really helped having a little kitten," Huntington tells me from the flat she and her partner share in Bristol. "With me and my boyfriend working from home for a year together, it's quite nice to have something else to talk about... Having the cat has added a new level to our relationship."
Annual figures released earlier this month by the Pet Food Manufacturers' Association (PFMA) suggest that Huntington is one of millions of Britons who bought a pet in lockdown. The PFMA estimates that 3.2 million UK households have acquired a new pet since the pandemic began. Puppy prices have soared as a result of increased demand – so much so, in fact, that dog thefts have spiked by 170 per cent, according to charity DogLost.  
For a nation of people who have been starved of company, stimulation and physical touch during large swathes of the last year, especially those who live alone, pets have offered purpose and companionship. Last year, research by the University of York and the University of Lincoln, published in American journal PLOS One, linked pet ownership to reduced deterioration in mental health and smaller increases in loneliness during lockdown. In 2017, a large-scale Swedish study even found a link between dog ownership and a decreased risk of early death. 
For people stuck in an eternal Groundhog Day punctuated only by walks and supermarket shopping, a new member of the household has been a welcome addition. However, once offices reopen and clocking off work once again means a possible rotation of pubs, restaurants and (for the truly brave) gyms, animals will likely no longer have the 24/7 human presence they currently enjoy.
Warren Kirk, owner of London-based Premier Dog Walkers, says his company's business declined 80 per cent during the first lockdown but, since schools reopened, he's noticed a surge in demand – which he expects to increase further as lockdown continues to ease.
Though she is aware cats are "adaptable", Huntington is nervous about how Parsnip "will take" her and her partner's absence as they transition out of lockdown, and plans to help him get used to the idea gradually. "We're both working from home at the moment, and that's all he's ever known," she says. "If we're both in the bedroom with the door shut during the day when he's not expecting it, he will cry outside the door, which is really sad."
The RSPCA is concerned that the end of lockdown could prove distressing for pets who have almost no experience of being alone, without the right preparation. "If dogs spend more time with [owners], that can increase their chances of developing separation-related behavior in the future," explains RSPCA pet welfare expert Dr Samantha Gaines. While Dr Gaines says suddenly spending time alone may be "particularly stressful" for puppies bought during the pandemic, she warns that this time could also be stressful for older pets too.
"What we're urging people to do now is to prepare for life post-lockdown and to get dogs, especially, ready for what is going to be a very different way of life for many of them," she adds.
To prepare your dog for increased alone time, Dr Gaines advises encouraging them to go and rest in their bed, or by taking a five-minute walk around the block each day without them. Keeping your dog in another room for a while, and leaving them with something they enjoy playing with, can also help an animal realise being by themselves doesn't have to be a negative experience. 
While cats are more independent animals, the RSPCA still advises adjusting your routine to make it more similar to how it will be when you're back in the office – for example, by changing feeding and play times. Ensuring you have hiding places and elevated resting places for your cat can help them to relieve stress, and providing puzzle feeders, toys and scratching posts will help with boredom while you're at work.
Carolyn Fraser, 76, plans to avoid travelling for games of bowls once lockdown lifts, to avoid leaving her Zuchon puppy Rosie alone for too long. Fraser's three children bought her the puppy as a surprise just weeks before the first lockdown so Rosie could provide company for their mother, who was widowed 16 years ago.
The grandmother admits she would have struggled emotionally without Rosie. "I think I'd have mentally lost the plot," she says. "I've not found it easy anyway."
"Rosie's really kept my head above water," Fraser, who lives in Stamford, Lincolnshire, continues. "I can cuddle her and she knows when I'm down and she's a joy."
Cheryl Travers, an occupational psychologist and senior lecturer in human resource management and organisational behaviour at Loughborough University, says the fact that pets are "oblivious" to the Covid crisis can be a great source of comfort to their owners.
Travers also believes animals can help us "compartmentalise" aspects of our lives, allowing our homes (many of which are now doubling as offices) to feel more homely again. "Having a pet forces us to have downtime, it forces us to see our home as a place where family resides," she says. "In lots of cases, people will be living at home, home-schooling with partners who are also working, with every room in the house being taken over by work of some description. Having a pet suddenly helps us create a homeliness and differentiates home and work."
Having more time than usual to spend with their new rescue dog helped Jack Kellam and his partner form a "strong bond" with Mona, a Podenco they adopted in September last year. While Kellan says having more time to spend with their dog has helped her trust the couple "very quickly", it also means that she's only used to the couple being present at home.
"Because it's only ever been the three of us in the flat, she's probably quite defensive or nervous when people come to the door, because we haven't been able to have anyone inside," the 27-year-old from London says.
Adjusting to being alone isn't animal welfare experts' only concern for lockdown pets. Dr Gaines warns that, when furlough ends for good, a change in financial circumstances could lead to many people having to give up animals. "We know that changing personal circumstances is often one of the reasons given for relinquishment of pets to animal centres," she says. "And we know that coronavirus is a bit of a perfect storm for that."
For Fritha Flint, being unable to access in-person dog training classes for her family's Schnoodle puppy Minnie has been one of the greatest challenges of having a new lockdown pet.
"It's a bit like having a baby and no NCT classes," she says, explaining that Minnie still jumps up and chews on the lead. While Flint has benefited from Battersea Dogs Home's online training classes, she says that not having live classes means fewer opportunities to socialise and seek advice from other owners in the same position. "I've missed it just saying, 'Oh God, do you wake up at five to let them out for a wee as well? Is that normal?'"
Training Minnie hasn't been easy but Flint says the mental health benefits to the family, especially her 14-year-old daughter, have been massive. Prior to the pandemic, Flint's husband didn't want a dog but is now "totally converted".
"At that age, I think you really miss your friends," Frith, 47, says of her daughter. "She's massively benefited from cuddling Minnie on the sofa. At the beginning, she used to walk into a room and just cry like, 'I'm so happy I've got a dog!' It would just totally take her mind off any worries."
Many are concerned about how our imminent change in lifestyle could prove challenging for pets – however, Travers makes the case that, instead, pets may have long-term altering effects on the way some people live.
"I foresee that we will possibly feel the pull of pets and they might help us take some of the good things about this whole year forward into the future – making us wind down more often, making us spend more quality time in the home with our lovely pets, making us get out in the fresh air more," she says. "There are a lot of good things that our commitment to pets in lockdown will transfer to our future lives – if we have any sense."
Of the things worth keeping from our lockdown lifestyle, animal companionship, and the excuses to stay close to home that come with it, are likely to be top of our lists. As lockdown begins to ease, it may be time for us to offer the comfort to our pets that they have spent 12 months providing to us. 
Join our commenting forum
Join thought-provoking conversations, follow other Independent readers and see their replies