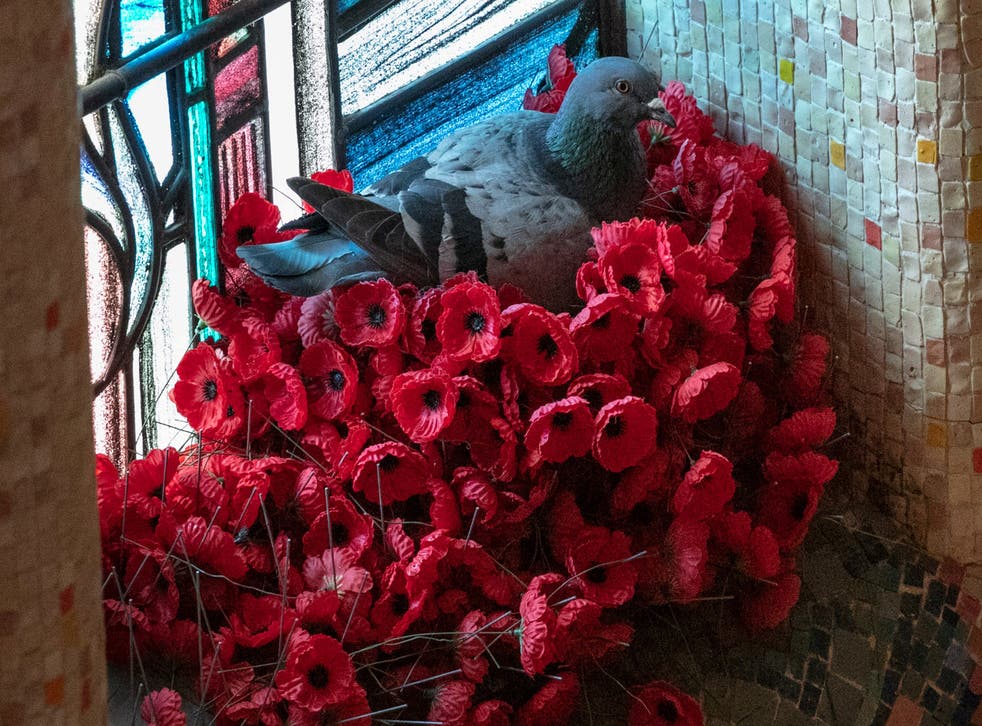 Pigeon steals Remembrance Day poppies from Tomb of Unknown Solider to build nest
Discovery highlights role of pigeons in wartime efforts
A patriotic pigeon has made a home out of paper poppies taken from an Australian war memorial.
Baffled staff at Canberra's Hall of Memory were unable to explain the disappearance of the commemorative flowers, which began to vanish from the memorial in early October.
A maintenance worker solved the mystery after discovering the elaborate construction next to a stained glass window of a wounded Australian soldier in the Hall of Memory.
The memorial said that the wounded soldier represented the attribute of "endurance", while the nest acted as a "reminder of the powerful bond between man and beast on the battlefield".
The enterprising bird took the poppies from the Tomb of the Unknown Soldier.
Disregarding the anti-pigeon spikes in the mosaic-covered window, photographs show the bird nestled in a beautifully-crafted abode of red poppies.
Pigeons played a crucial role in wartime, making the animal's settlement particularly poignant.
According to the Royal Pigeon Racing Association, almost a quarter of a million pigeons were utilised for their homing ability and speed in communicating messages during the Second World War.
Special message containers were attached to the bird's legs or in pouches looped over their bodies.
Gustav was just one of the RAF's messenger pigeons during the Second World War.
The Imperial War Museum tells of how on 6 June 1944, "Gustav carried back the first news from the D-Day landings in Normandy.
"He flew more than 150 miles – from the northern coast of France, to his loft near Portsmouth – in just over five hours to deliver this message: 'We are just 20 miles or so off the beaches.
'First assault troops landed 0750. Signal says no interference from enemy gunfire on beach…steaming steadily in formation. No enemy aircraft seen.'
Gustave was awarded the Dickin Medal in September 1944 – an award designed to honour the work of animals in war.
According to the Imperial War Museum, he is one of 32 pigeons – "more than any other species" – that has received the award.

Join our new commenting forum
Join thought-provoking conversations, follow other Independent readers and see their replies