The Independent's journalism is supported by our readers. When you purchase through links on our site, we may earn commission.
Pilot draws raised fist with flight path in honour of George Floyd
'End racism,' he wrote on Facebook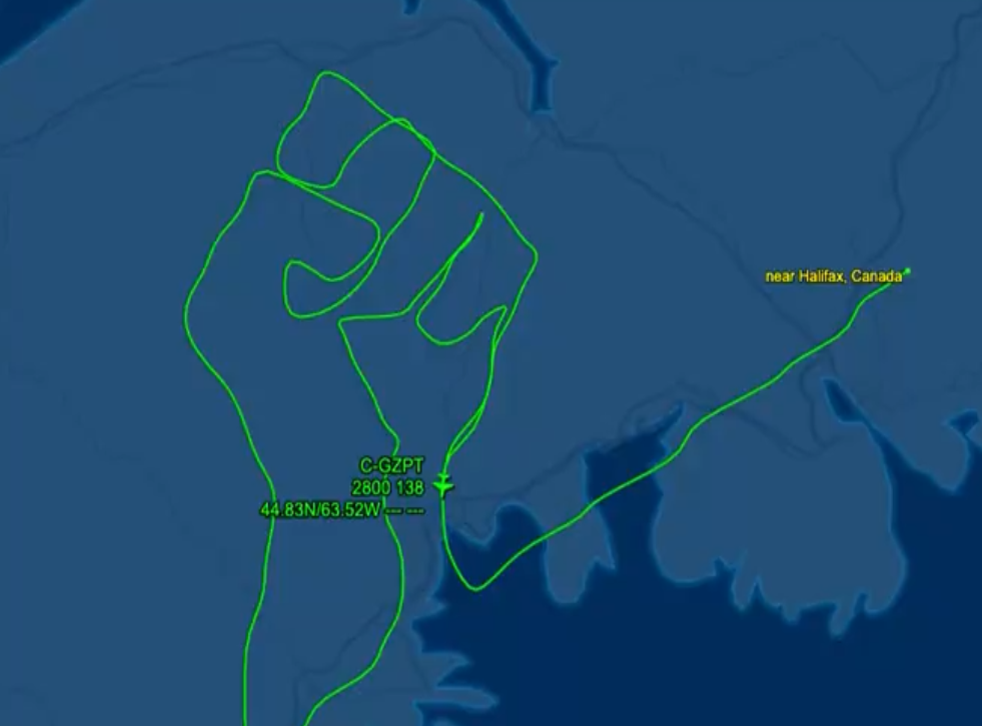 A pilot showed his support for George Floyd and the Black Lives Matter movement by "drawing" a raised fist in the sky.
Dimitri Neonakis from Canada designed a flight path that would chart the outline of a fist over Halifax.
Taking nearly two and a half hours on Thursday 4 June, the aerial tribute covered 330 nautical miles.
Tracking site Flight Aware shared a speeded-up video of the flight path last week, tweeting: "HAPPENING NOW In the skies over Halifax, Canada."
Neonakis shared the flight path on his Facebook page, dedicating it "For George" and also sharing a picture of George Floyd alongside images of his journey.
"Today I flew this 330 nautical mile flight pattern which took the shape of a movement symbol which I respect and support," he posted.
"While I was up there moving around free, the words of George Floyd 'I can't breathe' came to mind a few times, a stark contrast.
"I see a world of one race in multi colours – this is the world I see, and this is my message.
"End racism."
The post has been shared 4,600 times and garnered 3,200 likes at the time of writing.
"That is amazing – what an impressive flight pattern! Thank you sir!" wrote one social media user, while another commented: "Awesome job. Creative, forceful, beautiful. Thank you."
It's not the first time a pilot has used a flight path to "draw" a message in the sky.
In March 2020, as many countries first entered lockdown due to the coronavirus pandemic, a pilot used their flight path to write the words "stay home".
The sentiment could be seen by using a flight tracking site, which shows planes' exact routes.
They left the message while flying a Diamond DA40 single-engine aircraft over Austrian airspace.
Register for free to continue reading
Registration is a free and easy way to support our truly independent journalism
By registering, you will also enjoy limited access to Premium articles, exclusive newsletters, commenting, and virtual events with our leading journalists
Already have an account? sign in
Register for free to continue reading
Registration is a free and easy way to support our truly independent journalism
By registering, you will also enjoy limited access to Premium articles, exclusive newsletters, commenting, and virtual events with our leading journalists
Already have an account? sign in
Join our new commenting forum
Join thought-provoking conversations, follow other Independent readers and see their replies