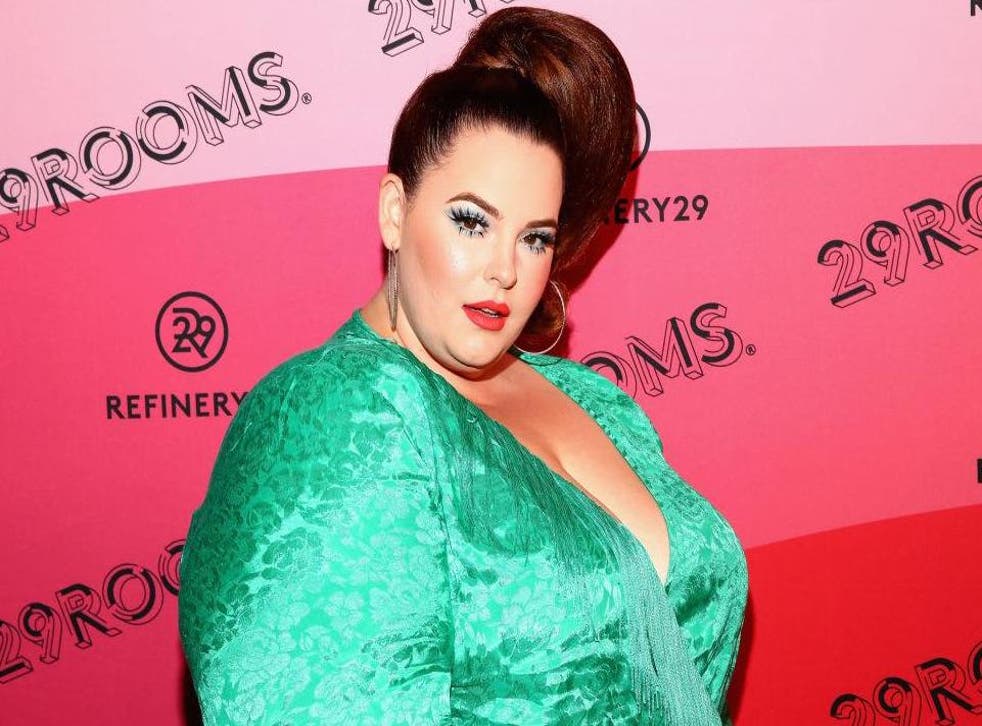 High street stores urged to cater to plus-size women in open letter by top models
'We're here, we have money to spend and you're missing out'
Sarah Young
Thursday 29 November 2018 17:03 Comments
A group of top models and influencers, including Tess Holliday and Sonny Turner, are urging high street stores to cater for plus-size women.
Laura Capon, a beauty and fashion journalist at Cosmopolitan UK, published an open letter to the British high street on the women's magazine website earlier today.
Penned in response to a recent survey of 8,700 women who wear a size 16 or over, which found that 83 per cent do not feel represented by the high street, the letter calls for brands to make plus-size women a priority.
"Dear the British high street, as a size 22 woman, we haven't always had the best relationship," Capon writes.
"I've called you out for failing plus-size women and you've made it virtually impossible for me – or the average British woman who is a size 16 - to buy clothes that aren't office-inappropriate kimonos. But I've heard that you're going through a hard time and I wanted to reach out."
Capon goes on to reveal that despite regularly visiting Oxford Street, which is littered with more than three hundred stores, there are just three she can actually buy clothes from.
"There's a reason why 45 per cent of plus-size shoppers buy their clothes online," she adds.
"I don't want to have to tell the entire internet that it's a genuine struggle for me to buy clothes. I just want to have a wardrobe as good as my smaller sized friends.
"So I'm asking if you can finally make plus-size women your priority, instead of an afterthought."
Capon's candid letter has since won the support of 14 plus-size models and influencers including blogger Grace Victory who says stores that don't make clothes in bigger sizes are fat phobic.
"The average size woman in the UK is a 16 and at my smallest, which was a 16, I still struggled to find items of clothing on the high street that were stylish and cut correctly - especially jeans," she tells The Independent.
"We come in all different shapes and sizes and plus size women deserve the basic need of adequate clothing. It isn't hard to make clothes in bigger sizes, therefore brands are deciding to alienate a huge amount of women.
"It's prejudice and extremely fat phobic and plays into the narrative that fat women should be invisible and cease to exist".
Fashion influencer Lottie L'Amour agrees, adding that the British high street needs to catch up with the times.
"Plus size fashion has come on in leaps and bounds since I was younger, but despite a growing market, advances in fashion options and more representation in the form of plus size models and influencers, we're still forced to shop online," she tells The Independent.
"Plus size bodies are more confident than ever, and our shopping experiences shouldn't be confined to our homes or to shapeless, soulless items crammed into the back of a store.
"It was important for me to lend my voice to this because I'm a consumer, I'm a plus size woman and I'm gunning for change! This is a rally cry to the British high street to catch up with the times - we're here, we have money to spend and you're missing out!"
Sonny Turner, a 19-year-old curve model from Birmingham, says that she backed Capon's letter because brands "need to know that plus-size fashion is here to stay".
"It is not just a trend," she tells The Independent. "It is people's daily lives and we deserve representation and fashionable clothing just as much as thinner women."
The open letter follows the launch of a documentary called Curvy Girls Stripped Bare which goes behind the scenes at one of the UK's biggest modelling agencies, Milk Management.
Airing on Channel 5 last night, the first episode followed Turner and her fellow Curve Wall models Felicity Hayward and Hayley Hasselhoff as they discussed the impact modelling has had on their lives.
Daniel Pearl, commissioning editor for Channel 5, said: "There has been a remarkable shift in opinion and backlash against 'traditional' model body shapes and diet culture in recent months.
"I am pleased that we have been able to commission this two-part series which will celebrate women of all shapes and sizes."
The documentary has since been praised online by women on social media with many calling it "inspiring" and "beautiful".
"I loved the show! Very inspiring. Well done to all the girls," one person tweeted.
"If you have not already watched Curvy Girls Stripped Bare on @channel5_tv then you NEED to!! It's so important for the fashion industry to acknowledge diversity and to embrace it!!" another added.
Support free-thinking journalism and attend Independent events
Register for free to continue reading
Registration is a free and easy way to support our truly independent journalism
By registering, you will also enjoy limited access to Premium articles, exclusive newsletters, commenting, and virtual events with our leading journalists
Already have an account? sign in
Join our new commenting forum
Join thought-provoking conversations, follow other Independent readers and see their replies