Poppers: How gay culture bottled a formula that has broken down boundaries
With a Tory MP outing himself as a user, why are poppers being banned?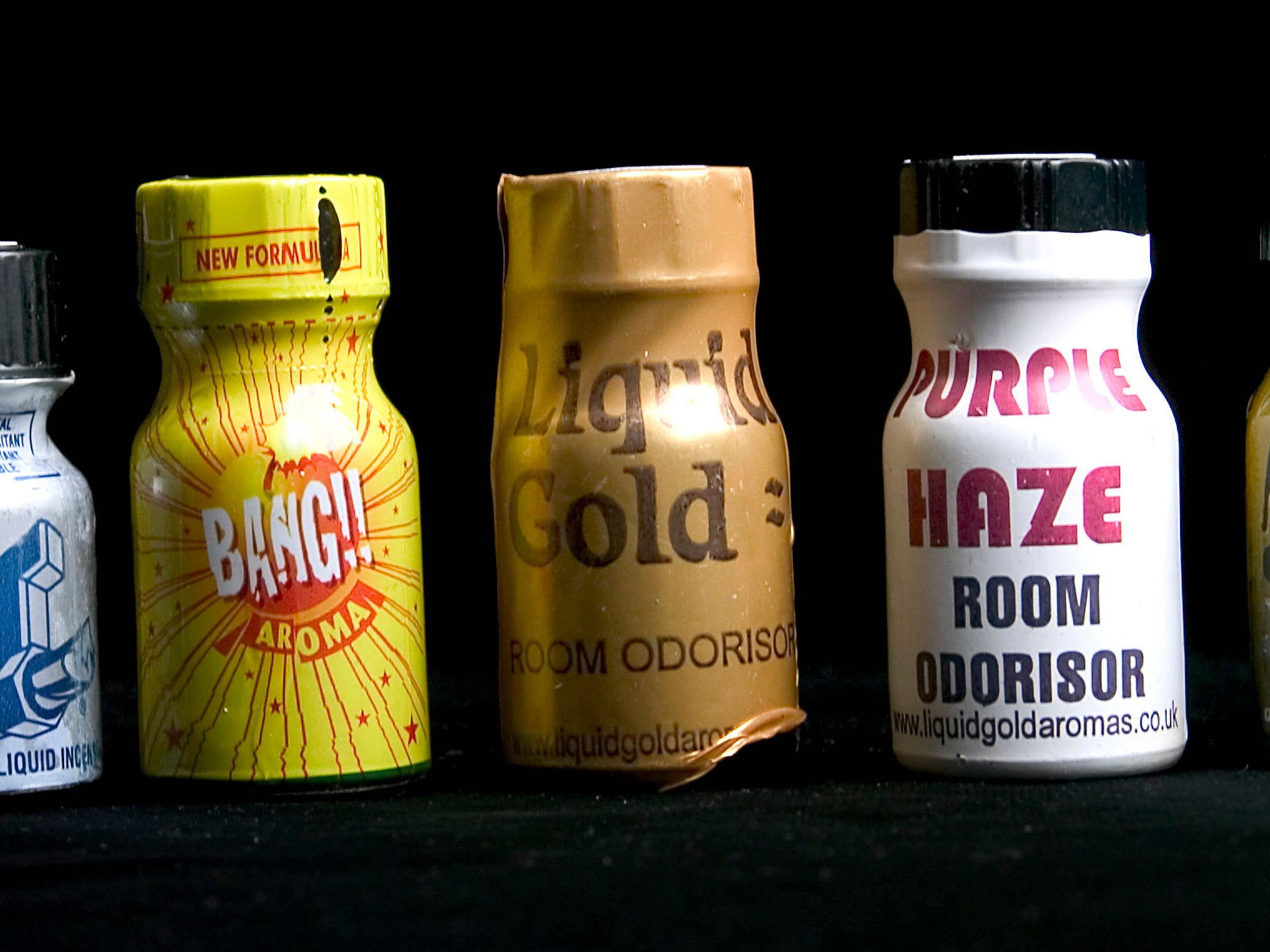 Prowler on Brewer Street in Soho is, by its own account, the UK's largest gay lifestyle superstore. Past rails of neon elasticated underwear and shelves bearing pornographic comic books, neat rows of small, colourful bottles stand on top of the sales counter.
With names including Buzz, Rush, Deep and Hard On, these are poppers – alkyl nitrites in liquid form that cause a head-rush when inhaled and were banned by the Government this week.
On Wednesday, the House of Commons voted down an amendment to exclude poppers from the Psychoactive Substances Bill. From 1 April, all poppers will be banned in the UK. The debate was all the more remarkable in that the Tory MP Crispin Blunt "outed himself" as a user of poppers – which are often taken before sex as they act as a muscle relaxant.
"We've had a lot of people come in in the last couple of days saying, 'What am I going to do now?'" says Stephen Dunne, 43, a sales assistant at Prowler. "People rely on them: one man yesterday bought 40 bottles."
A recent survey found the use of poppers to be 25 times more common among gay than straight men. Some believe the association of poppers with gay culture is what has now led to the ban.
"If you trace the bottle of amyl [a type of alkyl nitrite] through late 20th-century history, you trace the legacies of gay culture on popular culture in the 20th century," says Dr Lucy Robinson a history lecturer at Sussex University. "We wouldn't have had rave, disco or club culture as we know it today without the gay community."
Amyl nitrate, the drug's first incarnation, was synthesised in 1844 by the French chemist Antoine Jérôme Balard. It was pioneered as a treatment for angina: inhaling the liquid's fumes would cause blood vessels to expand and pain to subside. The street name by which they are now known came from the packaging of this treatment. The liquid came in individual ampoules to be "popped".
When nitro-glycerine tablets replaced amyl nitrite as the preferred treatment for angina in the early 1960s, demand for the stimulant rapidly declined. But its manufacturers sought an alternative market. Poppers were soon being shipped to Vietnam and given to soldiers as an "antidote to gun fumes".
Various bans caused chemists to resynthesise chemical variations, such as butyl nitrite. The liquid on offer at Prowler is mainly isopropyl nitrite. "I remember when it was amyl nitrite," says Mr Dunne. "That was a different story altogether: you'd get burns on your nose if you spilt it. Those were serious; these here are far tamer."
According to Ian Young, author of The Stonewall Experiment: A gay psychohistory, an unspoken agreement seems to have emerged between manufacturers and regulators that amyl nitrite could be sold as long as it was labelled as a room odoriser and marketed only to the gay community. Adverts promoting poppers as a sex aid began to appear in gay magazines in the US and before long a similar strategy was adopted in the UK. Because poppers were used mainly by the gay community, and were associated with sex, there was speculation in the early days of HIV and Aids that they might be causing the disease.
Amyl nitrite peaked in popularity, first as a drug of choice during the 1970s disco era and then in the late-1980s and early-1990s rave scene – both of which owed much to the gay community. Poppers, says Dr Robinson, owe their popularity to two important qualities: their association with pleasure and their communal nature. Used in clubs as much as in the bedroom, they have always provided a "crossover between what feels good in a club and how great sex can be".
Clubs in 1970s New York would reportedly spray amyl nitrite into the air to create collective euphoria. Being cheap and easy to inhale from, the small bottles are often passed among many people – either in the club or in the bedroom. Amyl nitrite quickly became a way to break down boundaries – those standing in the way of pleasure as well as those between individuals.
Back at Prowler, Mr Dunne echoes concerns raised by Mr Blunt that the legislation will push poppers underground, increasing gay men's exposure to drug dealers. Many dealers already sell the stimulant. Others have criticised the legislation for being based on paranoia surrounding sexual practice rather than on firm evidence.
There is no indication that poppers are particularly harmful to human health. "Drugs are never simply good or bad," says Dr Robinson. "They – and their policing – have always been a lot more to do with the groups that are taking them."
Join our commenting forum
Join thought-provoking conversations, follow other Independent readers and see their replies