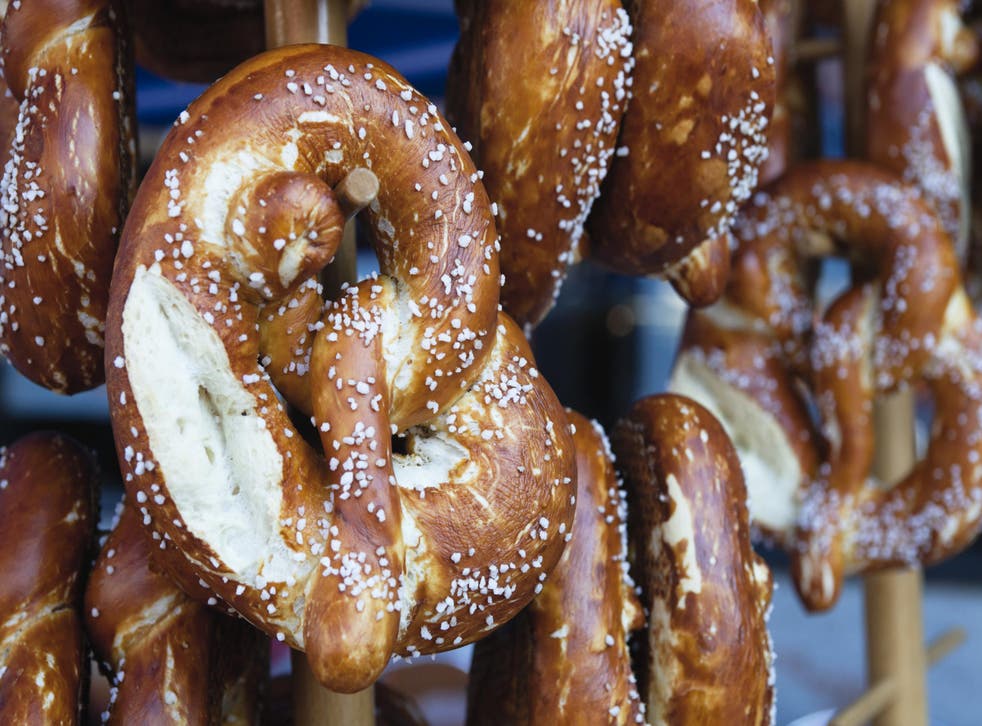 Pretzel: Google Doodle welcomes Oktoberfest by celebrating baked treat
Doodle honours unique knot-shaped bread credited to monastic bakers 
Pretzels are the chewy baked treat enjoyed by millions around the globe – and they're being honoured with their very own Google Doodle.
It comes as Oktoberfest, the world's largest beer festival, begins on Friday.
The knot-shaped bread is the perfect accompaniment to lager and würstl.
While in the US a pretzel is often assumed to be a crisp, salted biscuit, in Europe it tends to refer to a fresh, chewy bread.
Thanks to its resemblance to folded arms crossed in prayers, the snack is often credited to monastic bakers. However, it actually originated in Europe prior to the spread of Christianity.
The best Google Doodles

Show all 50
One of the more notable pretzel myths involves a group of monks baking the snacks in a Vienna basement who overheard an invading army tunnelling under the city walls in 1510.
As a reward for helping to thwart the invasion, the pretzel bakers received their own coat of arms.
Indeed, the pretzel has been in use as an emblem of bakers in southern areas of Germany since at least the 12th century.
The unique texture of the pretzel is achieved by dipping the dough in a lye solution and sprinkling with salt just before baking. This results in a chemical process known as the "Maillard reaction".
Germany: This ancient 250-year-old pretzel has blown archaeological minds
While the soft pretzel has existed for centuries, it was only in the nineteenth century that they were baked until hard to extend their shelf life. In 1947, the Reading Pretzel Machinery Company unveiled a pretzel-making machine that produced up to 250 pretzels per minute.
The world's largest pretzel was baked in 2015 in El Salvador, weighing over 780kg with a length of 29ft.
Register for free to continue reading
Registration is a free and easy way to support our truly independent journalism
By registering, you will also enjoy limited access to Premium articles, exclusive newsletters, commenting, and virtual events with our leading journalists
Already have an account? sign in
Register for free to continue reading
Registration is a free and easy way to support our truly independent journalism
By registering, you will also enjoy limited access to Premium articles, exclusive newsletters, commenting, and virtual events with our leading journalists
Already have an account? sign in
Join our new commenting forum
Join thought-provoking conversations, follow other Independent readers and see their replies