Prince Nikolai of Denmark signs to modelling agency
Prince Nikolai is in line for the throne and a model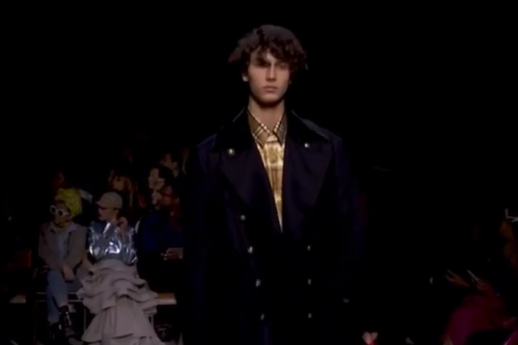 As the world's single women come to terms with a married Prince Harry, the good news is there is now a new royal bachelor to swoon over.
And, in addition to being a prince of Denmark, Prince Nikolai also happens to be a very good-looking newly-signed model.
The 18-year-old son of Prince Joachim and Alexandra, Countess of Frederiksborg, just signed a modelling contract with Scoop Models - which the Denmark-based agency announced on Instagram with a series of headshots.
Judging by the photos of his brown curly hair and smouldering eyes, Prince Nikolai clearly has what it takes - and Burberry thought so too.
The teen, who is sixth in line to the throne, showed off his modelling abilities on the catwalk during London Fashion Week, when he walked in the Burberry show alongside model Cara Delevingne.
A representative for Scoop Models told Danish newspaper Billedbladet: "I can confirm that he is with us and that it was us who booked him for the Burberry show at London Fashion Week."
And it looks like the in-laws would be pretty great too.​
According to Billedbladet, Prince Nikolai has his parents full blessing to pursue his modelling career despite conflicting with royal protocol - which we can't help but be thankful for.
His father, Prince Joachim, told Billedbladet Nikolai "should not be forced into something. Nikolai's future shall be conducted entirely by his own plan."
However, this isn't the first time a royal has pursued an interest in fashion.
Queen Elizabeth II also made an appearance at London Fashion Week, where she made her debut appearance sitting front row and Lady Amelia Windsor, the granddaughter of the Queen's cousin, walked for Dolce & Gabbana.
It isn't clear when his next runway appearance will be, but we can't wait.
Join our commenting forum
Join thought-provoking conversations, follow other Independent readers and see their replies