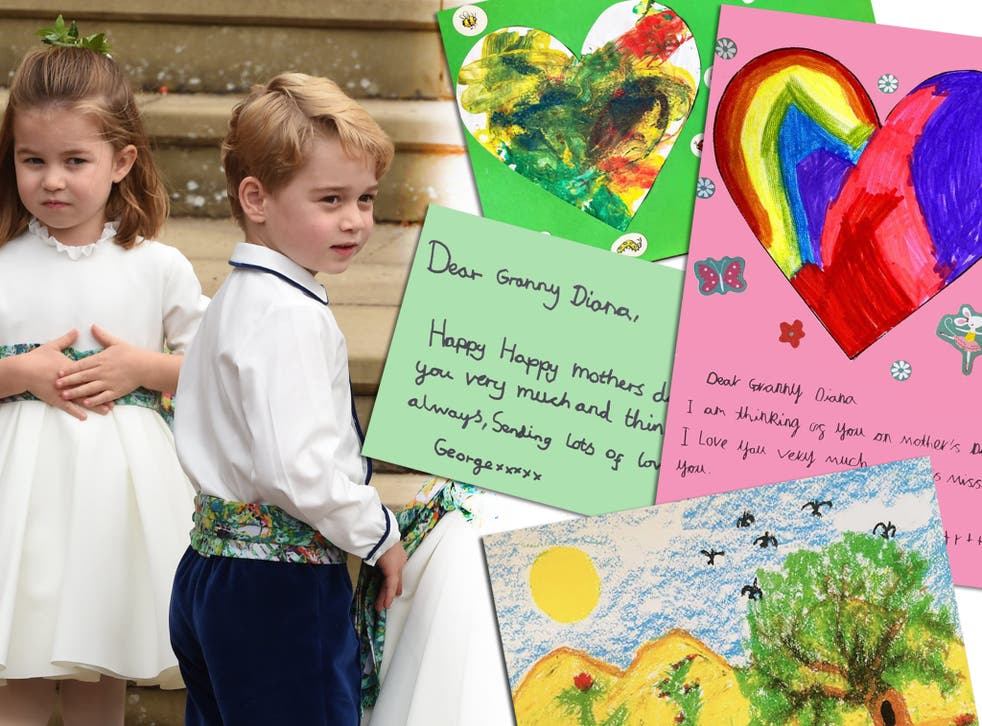 'Papa is missing you': Prince William's children write Mother's Day letters to 'Granny Diana' every year
'Whatever your circumstances, we are thinking of you this Mother's Day,' says Kensington Palace
The Duke and Duchess of Cambridge have revealed that their three children write letters to Princess Diana every year on Mother's Day.
Posting on Twitter on Sunday, Kensington Royal shared a series of images of the handwritten cards created by Prince George, seven, Princess Charlotte, five, and Prince Louis, two.
The first image features a drawing of an outdoor landscape complete with trees, mountains and birds, presumably created by one of the children, though the palace did not specify by who.
A second snap is of a letter written by Prince George, which wishes "Granny Diana" a "happy happy mothers day [sic]."
Princess Diana died in a car crash in Paris in August 1997.
The letter continues: "I love you very much and think of you always, sending lots of love. George xxxxx."
A card created by Princess Charlotte features a multi-coloured drawing of a heart and some butterfly stickers.
Underneath, the young royal writes: "Dear Granny Diana, I am thinking of you on Mother's Day. I love you very much.
"Papa is missing you. Lots of love, Charlotte xxxxx."
A third and final image shows the card created by Prince Louis, which features a coloured-in drawing of a heart on a green background alongside stickers featuring various animals.
The card simply reads "from Louis".
In the corresponding caption, Kensington Royal explained how difficult Mother's Day can be for those who have lost a parent.
"This year Mother's Day will be different once again." it begins.
"Many of us will be apart from our loved ones, but looking forward to a time in the not too distant future when we can give our mother a hug again.
"But for those experiencing bereavement, today may be particularly challenging.
"Each year on Mother's Day, George, Charlotte and Louis make cards remembering their Granny, Diana, for William.
"Whatever your circumstances, we are thinking of you this Mother's Day."
Join our new commenting forum
Join thought-provoking conversations, follow other Independent readers and see their replies