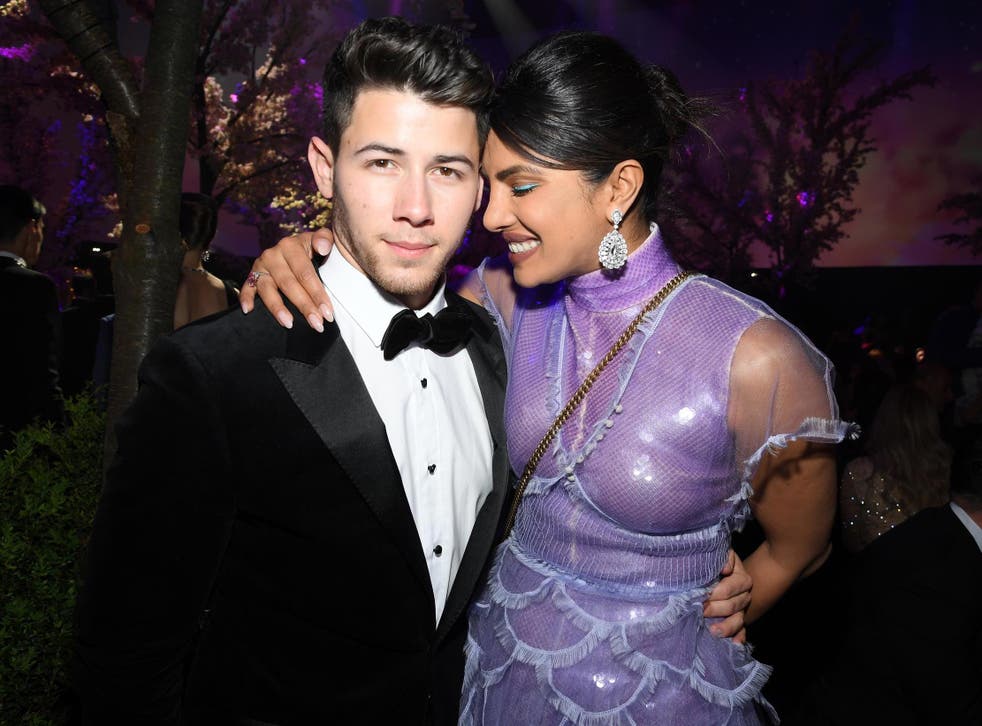 Vogue India: Priyanka Chopra says having a baby with Nick Jonas is on her 'to do' list
Couple married in December 2018
Sarah Young
Saturday 07 September 2019 12:45 Comments
Priyanka Chopra has opened up about her future with Nick Jonas, revealing the couple are planning to have children together.
In a new interview with Vogue India, the actor speculated about settling down with her husband in Los Angeles.
"Buying a home and having a baby are on my to-do list," Chopra said.
"For me, home is wherever I'm happy, as long as I have the people I love around me."
The Baywatch star married Jonas in a lavish ceremony at the end of 2018 which was attended by her now sister-in-law, Game of Thrones star Sophie Turner and Nick's brother Joe Jonas.
Priyanka Chopra and Nick Jonas in pictures

Show all 16
In the interview, Chopra also revealed that the wedding has inspired an upcoming movie collaboration with Mindy Kaling.
"The story basically came from my wedding, where a bunch of Americans were exposed to this grandiose palace – the food, the family, the culture, the clothes and the comedy that comes with it," Chopra told Vogue India.
The celebrations, which lasted several days, featured a number of traditional outfit changes for the couple, a larger-than-life bridal party and a host of celebrity guests.
Chopra, whose career began when she was crowned Miss India and Miss World in 2000, also opened up about her difficult start in the movie industry.
"I didn't know anything or anyone. I was yelled at by directors, I was thrown into movies, I was thrown out of movies" Chopra said.
The actor said she managed to cope by listening to her father's advice.
"The more you talk, the less you will listen and the less you will learn", Chopra said.
"I learnt it's what you do after failure that makes you a success."
This isn't the first time Chopra has discussed the possibility of having children.
Earlier this year, the 37-year-old revealed children were on the horizon when the time is right.
"In 10 years, I definitely want to have kids," Chopra told People.
"That is, it's going to happen in the next 10 years. Well, hopefully earlier than that.
"I'm very fond of children and I want to be able to do that."
You can read the complete interview with Priyanka Chopra in Vogue India's September 2019 issue which hits stands on 7 September, 2019.
Register for free to continue reading
Registration is a free and easy way to support our truly independent journalism
By registering, you will also enjoy limited access to Premium articles, exclusive newsletters, commenting, and virtual events with our leading journalists
Already have an account? sign in
Join our new commenting forum
Join thought-provoking conversations, follow other Independent readers and see their replies