Guilt-ridden Britons spend more than a penny when using toilets belonging to shops and pubs, claims study
A quarter of respondents said they suffered 'stage fright' after paying to use the toilet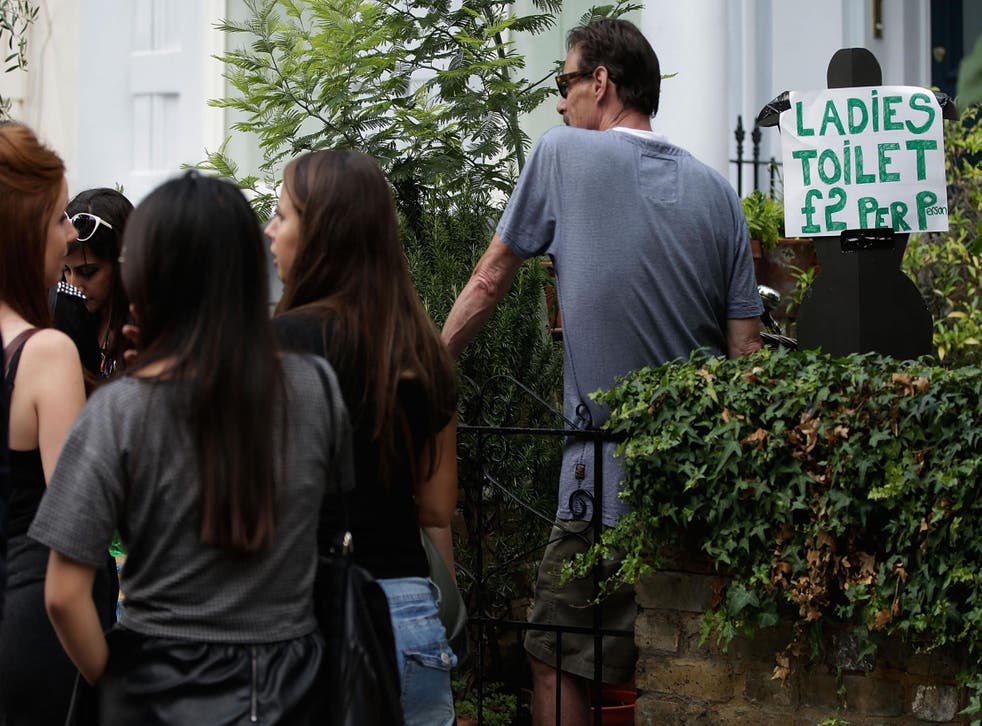 It costs Britons £43.92 a year to 'spend a penny', a study has found.
The average adult will shell out for drinks, snacks and even full meals in order to use a shop or restaurant's toilet guilt-free.
And almost £3 is spent just paying to get into public toilets in places such as train stations and parks.
A quarter of respondents also said they paid to use a toilet only to then succumb to 'stage fright' and find themselves unable to go.
The research was commissioned by TENA, whose spokesman said: "Needing to use the loo when out and about can be fraught with tension.
"Unfortunately, it's not always easy to find a toilet nearby and even when you do, you may find you have to pay just to use it.
"As a result, we often find ourselves buying things we didn't need or want from a café or pub so we can use their facilities.
"It might not seem a lot but it all adds up over time.
"What's more, if you suffer from incontinence, the issue of finding a toilet when in public can be a constant worry – especially if you don't have any cash or even the correct change on you."
The study of 2,000 adults found an average of £5 a year is spent on bottled water in a bid to be a genuine 'customer' while £7.40 is parted with for tea or coffee in a café.
Brits will also spend £14 each per year on drinks, snacks and sandwiches so they can use a shop's toilet.
That figure includes £6 spent on soft drinks every year, £7.10 on snacks and £6.93 on sandwiches – just to gain access to the loo.
One in four have even bought something they had absolutely no use for – throwing it into the nearest bin shortly afterwards – just to use a shop's facilities.
It also emerged four in 10 Britons feel 'guilty' using a shop or restaurant's toilet without making a purchase to justify their 'customer' status.
This is despite 55 per cent believing people should have a 'right' to use a toilet even if they're not a paying customer.
Furthermore 43 per cent always make sure they have some small change on them – specifically in case they need to use a public toilet.
However, more than half say they aren't happy to pay to use a public toilet.
Almost six in 10 would be more likely to use their hard-earned cash to go to the toilet if it was clean and tidy, while half would pay if it was stocked with nice hand soap or moisturiser.
Forty-eight per cent even say they would happier to pay to use a toilet if the money was going to a good cause.
UK news in pictures

Show all 50
The study, carried out via OnePoll, found a shopping centre is the most common place to go to the toilet when out and about, followed by public toilets or a nearby pub.
But while an honest one in three Brits ask to use a shop or restaurant's toilet, 27 per cent admit they just try and sneak in without any staff spotting them.
For some, not knowing where they can go to a toilet is a worrying prospect with half of Brits admitting to feeling uncomfortable if they don't know where the nearest useable toilet is.
And curiously, more than half of the population somehow feel they need the toilet more when they know there isn't one nearby.
SWNS
Register for free to continue reading
Registration is a free and easy way to support our truly independent journalism
By registering, you will also enjoy limited access to Premium articles, exclusive newsletters, commenting, and virtual events with our leading journalists
Already have an account? sign in
Register for free to continue reading
Registration is a free and easy way to support our truly independent journalism
By registering, you will also enjoy limited access to Premium articles, exclusive newsletters, commenting, and virtual events with our leading journalists
Already have an account? sign in
Join our new commenting forum
Join thought-provoking conversations, follow other Independent readers and see their replies