PureGym trainer who created '12 years of slave' workout has received racist abuse
'Some of the abuse has been things I am ashamed to say out loud,' says Matt Simpson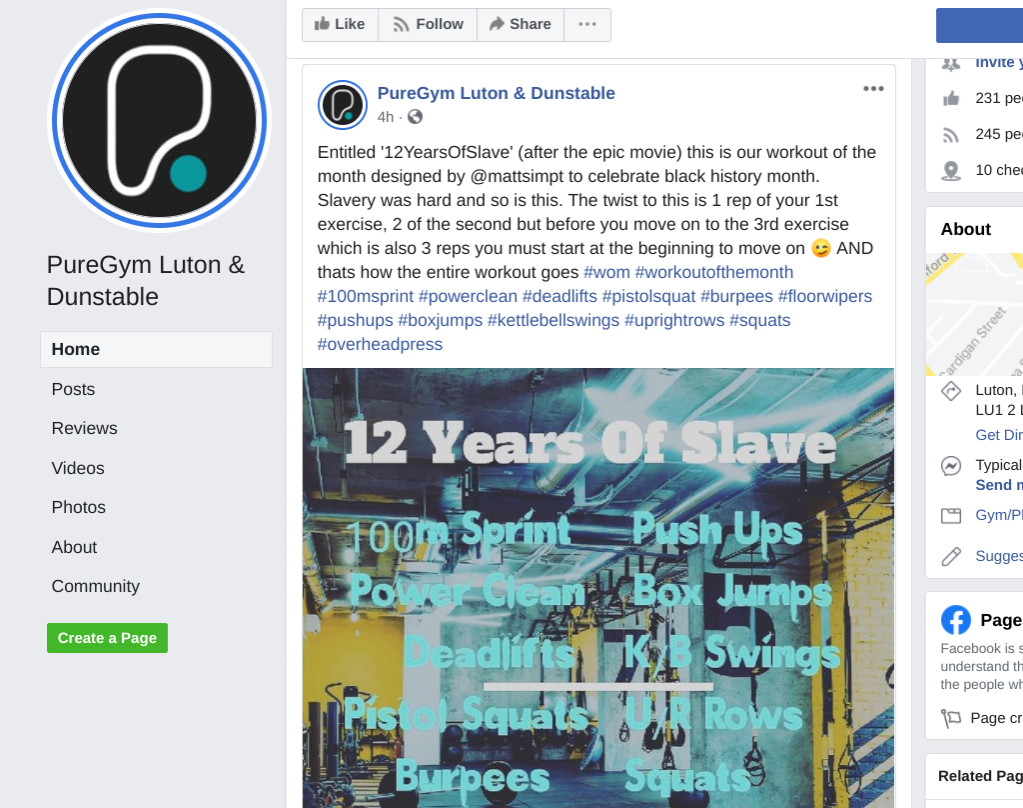 The PureGym personal trainer behind the controversial "12 years of slave" workout, Matt Simpson, says he has struggled with racist abuse since sharing the post on Facebook.
The workout, which was captioned "slavery was hard and so is this", was shared on the PureGym Luton & Dunstable Facebook page in the first week of October.
The post said the workout was in honour of Black History Month, a global observance raising awareness and celebrating the achievements of black people, and referenced the Oscar-winning film of the same name.
But after widespread backlash, PureGym issued an apology and removed the post. 
It told The Independent: "PureGym apologises unreservedly for a post made today by our gym in Luton. This post is wholly unacceptable, was not approved or endorsed by the company and was removed as soon as it was brought to our attention.
"Each of our 271 gyms has its own social media channels which are run locally. We take this matter extremely seriously and are urgently investigating how and why this post was made."
Simpson, who is black himself, was identified as the person behind the workout and quickly published his own apology on his Instagram page.
"I sincerely apologise to all whom I offended and angered in any way, shape, or form, directly or indirectly. There was absolutely no malice or ill intentions meant by the post," he wrote at the time.
But now, two weeks on, Simpson has told BBC Radio 1 Newsbeat, that he is still getting "heartbreaking" levels of abuse on social media.
He says: "It was wrong, I totally get that, and I'm sorry, but now I'm receiving racist abuse.
"Some of the abuse has been things I am ashamed to say out loud. The most common theme has been in reference to slavery, and my skin colour." 
Simpson, who says the abuse is taking a toll on his mental health, explains that people have told him to "keep your white company" and that he will have his "black card taken off him".
"It's heartbreaking when you look at the sender and the sender resembles you," he added.
The original apology post now has over 1500 comments, and although the volume is slowing down, there are still new ones being added daily.
Simpson says as a result of the abuse he has "stopped going out so much, my appetite has changed and I'm nowhere near as lively or positive".
The trainer's original apology on his personal social media page, referenced Dr Martin Luther King Jr, saying: "Sometimes words are not enough. Dr Martin Luther King Jr said judge on character. My character is owning this. Judge me on that.
He continued: "There are no excuses for it. Only a place from which the post came. Which was from a proud black man wanting to bring his history together with his passion and profession.
"Unfortunately as a result have been vilified and branded racist. The branding of PureGym as racist couldn't be further from the truth in my experience. During my time at the company I have never experienced racial prejudice and always been given the tools and support needed.
"This is a very had lesson for me and whole heartedly apologise to all effected. I am deeply sorry [sic]."
PureGym told The Independent an internal investigation is ongoing. 
Join our commenting forum
Join thought-provoking conversations, follow other Independent readers and see their replies