The Independent's journalism is supported by our readers. When you purchase through links on our site, we may earn commission.
Why the Queen clasps her hands in public, according to body language expert
No, it's not to avoid awkward handshakes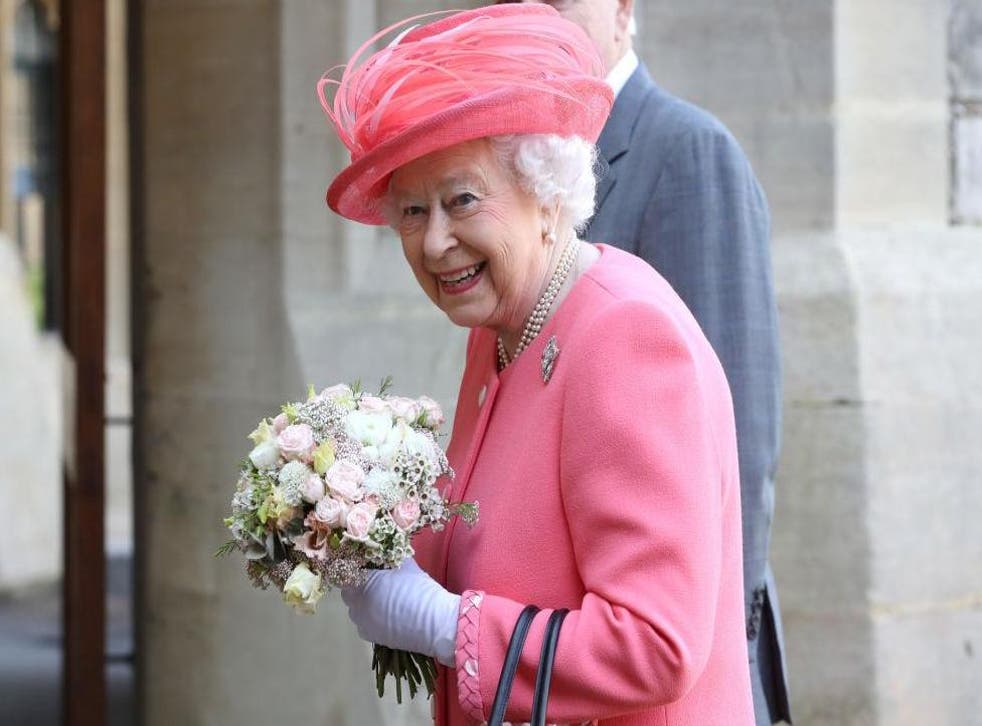 A body language expert has revealed why the Queen often clasps her hands during public appearances.
All eyes might be on Prince Harry and Meghan Markle ahead of the couple's wedding tomorrow but, as interest in the royal family reaches fever pitch, other members of the household have also come under close scrutiny.
Speaking on Sky News, behavioural psychologist Peter Collett revealed that the Queen purposefully adopts a specific pose when in public and that there's a significant reason behind it.
You may have noticed that the Queen often clasps her hands together at events but it's not to avoid awkward handshakes.
Instead, the pose is intended to show that she is not threatening.
"The Queen's signature pose is the handclasp. This is a demure defence posture and it is designed to be unthreatening. But it is also a respectful gesture," Collett said.
"When people are in the Queen's presence, we often see them clasping their hands together, partly to echo her behaviour but also to show their deference."
He also revealed that the Duke of Edinburgh has a signature pose too.
"In contrast, the Duke of Edinburgh has a habit of walking around with his hands clasped behind his back," Collett added.
"This is what I call the crane posture. It's a dominant signal.
"It shows that he's so self-assured that he doesn't feel the need to defend himself from frontal attack."
The body language between Harry and Meghan has also recently been analysed with experts insisting that it reveals a lot about the couple's relationship.
"What's been clear from the outset is that their love and respect for each other is genuine from their non-verbal behaviour," Darren Stanton, a body language expert, told The Independent.
Royal wedding ceremonies: through the years in pictures

Show all 27
"When people are getting on well either as friends, colleagues or as romantic partners, we see a naturally occurring process called matching and mirroring.
"It's when two or more people match each other's postures, gestures and behaviours. The pair are very much in this state a lot of the time indicating genuine deep rapport between the two."
The happy couple are set to marry tomorrow, May 19, at St George's Chapel in Windsor.
Kensington Palace has announced that the Prince of Wales will walk Meghan Markle down the aisle at her wedding following the news that her father, Thomas Markle, would not be attending the wedding.
In a statement shared on Twitter, Kensington Palace wrote: "Ms. Meghan Markle has asked His Royal Highness The Prince of Wales to accompany her down the aisle of the Quire of St George's Chapel on her Wedding Day," it reads.
"The Prince of Wales is pleased to be able to welcome Ms. Markle to The Royal Family in this way."
Register for free to continue reading
Registration is a free and easy way to support our truly independent journalism
By registering, you will also enjoy limited access to Premium articles, exclusive newsletters, commenting, and virtual events with our leading journalists
Already have an account? sign in
Register for free to continue reading
Registration is a free and easy way to support our truly independent journalism
By registering, you will also enjoy limited access to Premium articles, exclusive newsletters, commenting, and virtual events with our leading journalists
Already have an account? sign in
Join our new commenting forum
Join thought-provoking conversations, follow other Independent readers and see their replies