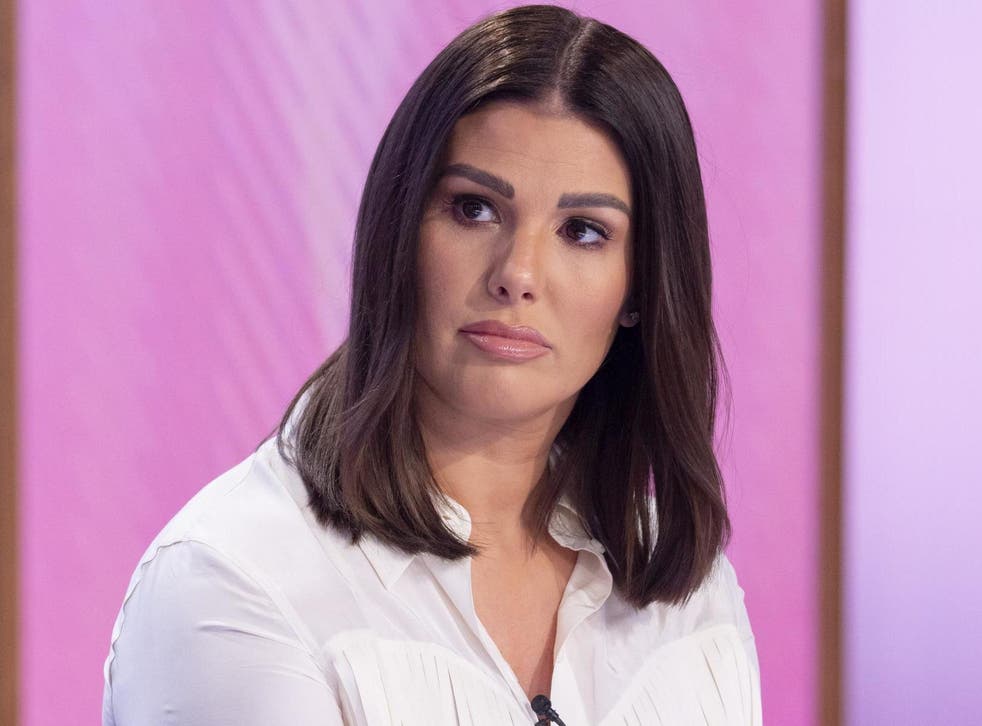 Rebekah Vardy says she had anxiety attacks and was hospitalised three times after Coleen Rooney dispute
'It was hideous, it was horrible and I don't think I was prepared for what was to come,' said Vardy
Rebekah Vardy has said the stress of her public dispute with Coleen Rooney caused her to have severe anxiety attacks and she "ended up in hospital three times" as a result.
Vardy appeared on ITV's Loose Women on Thursday where she spoke about the extent of the trolling after Rooney alleged the fellow-WAG was responsible for leaking stories about her family to the press last October.
The 37-year-old, who still denies the allegations and is currently in a legal battle with Rooney, said: "It was really, really hard, it's probably up there with one of the worst things I've had to deal with, apart from being abused by my stepdad when I was younger.
"It was hideous, it was horrible and I don't think I was prepared for what was to come."
Vardy said the worst part for her and her family - she is the wife of Leicester City striker Jamie Vardy and was seven months pregnant at the time - was the trolling.
"It just escalated, really," she said. "I've been trolled before but this escalated off the back of it, it was a whole new level.
"I had people messaging me saying nasty stuff, one in particular said, 'You fat ugly rat, I genuinely hope you and your baby rot."
Vardy explained how the messages caused her to have "severe anxiety attacks". "I ended up in hospital three times, and I ended up with kidney stones.
"I felt like I couldn't go out, I had people just looking at me just questioning, 'did she do it? Did she not do it?"'
She said her husband, Jamie, "really struggled seeing me upset", and her 15-year-old daughter Megan also faced negative messages on social media.
14 women using social media to change the world

Show all 14
Vardy had her youngest daughter, Olivia, in December and says her focus is now on her.
"It's a new year isn't it, it's 2020 and it's time to focus on some exciting things that are happening, the family and the new baby, and babies need healthy mums."​
In October it was reported Vardy had received death threats following Rooney's revelation on Twitter.
Rooney said: "This has been a burden in my life for a few years now and finally I have got to the bottom of it."
She went on to reveal that she had devised an elaborate scheme to establish which of her followers on the social media platform was passing information to the Sun newspaper.
Register for free to continue reading
Registration is a free and easy way to support our truly independent journalism
By registering, you will also enjoy limited access to Premium articles, exclusive newsletters, commenting, and virtual events with our leading journalists
Already have an account? sign in
Register for free to continue reading
Registration is a free and easy way to support our truly independent journalism
By registering, you will also enjoy limited access to Premium articles, exclusive newsletters, commenting, and virtual events with our leading journalists
Already have an account? sign in
Join our new commenting forum
Join thought-provoking conversations, follow other Independent readers and see their replies