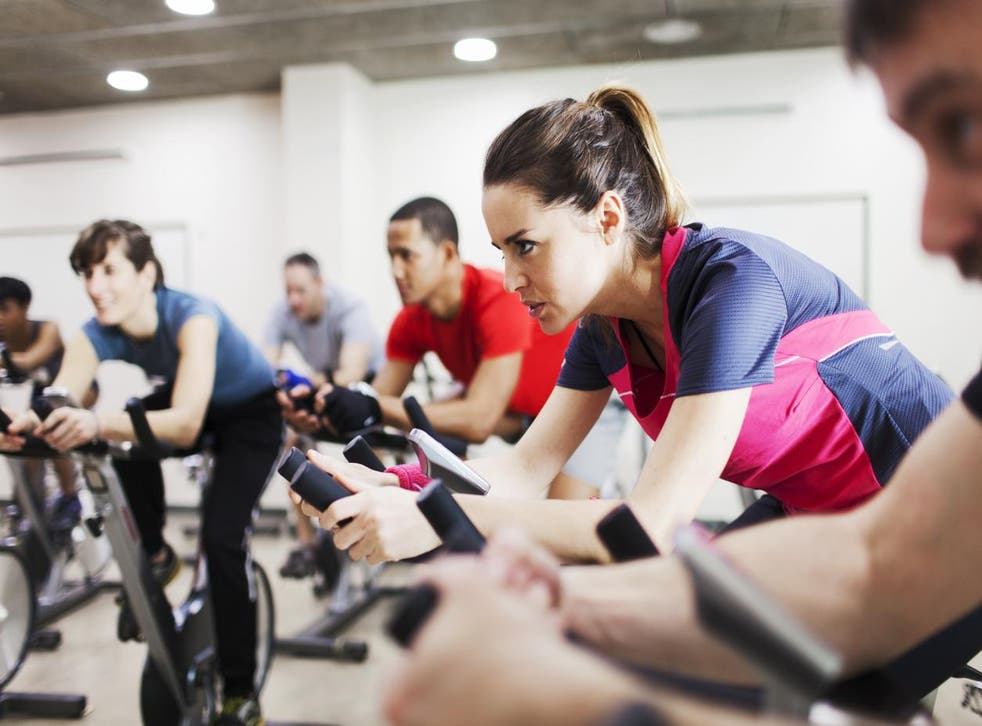 Rhabdomyolysis: The life-threatening condition affecting spin classes
Though rare, it could put your health at serious risk
Sarah Young
Tuesday 18 July 2017 14:33 Comments
Being sore after a hard-hitting spin class is expected and often recognised as a sign that you're building new muscle. But, it turns out there is such a thing as being too sore and it could put your health at serious risk.
If you feel achy, wobbly, nauseous and in pain after an intense workout, you could actually be suffering from rhabdomyolysis.
Also known as "rhabdo", rhabdomyolysis is a rare but life-threatening condition often caused by extreme exercise. Typically, it occurs when muscle fibres work to hard, become destroyed and release their toxic contents into the bloodstream.
When this happens, compounds that can be harmful to your kidneys are released causing pain, swelling and in some instances organ damage.
While the condition has been long documented among professions that are physically demanding like soldiers or firefighters, doctors say they are now seeing a sudden rise in cases among those who favour high-intesnity workouts, in particular spinning.
One such case saw Christina D'Ambrosio end up in hospital for two weeks, the New York Times reports.
After her first spin class, D'Ambrosio's legs felt sore and wobbly but put this down to inexperience.
"I thought my body just wasn't used to that kind of muscle ache because it was my first class," she said.
However, over the next two days "her legs throbbed with excruciating pain, her urine turned a dark shade of brown, and she felt nauseated."
Six workout gadgets to help you train

Show all 7
Thankfully, she made a full recovery but in a recent report published in The American Journal of Medicine which highlighted her case, at least 46 other instances of spinning-induced rhabdomyolysis were noted by the same team of doctors; 42 of which had taken the class for the very first time.
The authors said their goal was raise public awareness of the condition so that people who were starting a new workout regime eased into it to lower their risk of injury.
"I would never discourage exercise, ever," said Alan Coffino, the chairman of medicine at Northern Westchester Hospital and a co-author of the new study.
"Spin class is a great exercise. But it's not an activity where you start off at full speed. And it's important for the public to realise this and for trainers to realise this."
Other studies into the condition agree, with one highlighting that between 2010 and 2014, there were 29 emergency room visits for exericise-induces rhabdo at New York-Presbyterian alone. And while some were caused by CrossFit or running, the majority had been spinning.
So, what can you do to avoid getting rhabdo?
In general, experts say that the main cause is people simply not giving their muscles enough time to adjust to an aggressive new exercise and that while any intense activity can cause it, it almost always strokes when people take up something new.
As such, you should always progress slowly from light to moderate intensity before moving on to anything vigorous. The most important thing here it seems is to know your limits.
Register for free to continue reading
Registration is a free and easy way to support our truly independent journalism
By registering, you will also enjoy limited access to Premium articles, exclusive newsletters, commenting, and virtual events with our leading journalists
Already have an account? sign in
Join our new commenting forum
Join thought-provoking conversations, follow other Independent readers and see their replies