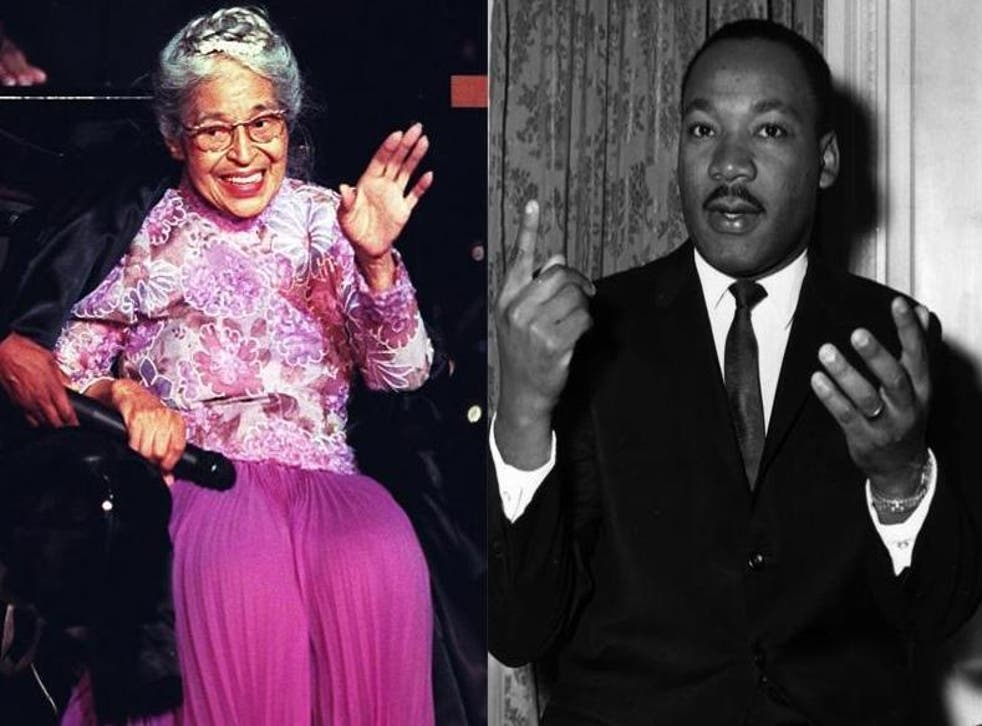 Letter handwritten by Rosa Parks about Martin Luther King Jr goes on sale for $54,000
Letter is dated 6 October 1981
Chelsea Ritschel
New York
Thursday 30 July 2020 23:32 Comments
A letter handwritten by Rosa Parks in which she describes Martin Luther King Jr as a "truly great man" has gone on sale for $54,000.
In the letter, dated 6 October 1981, Ms Parks responds to an autograph collector who asked her opinion on the late civil rights icon.
"It is difficult to put in words, on paper any comments about the late Dr Martin Luther King Jr," Ms Parks began the letter, written 13 years after Dr King was assassinated on 4 April, 1968. "So much has been spoken and written about him by so many other people.
"I admired and respected him as a truly great man committed and dedicated to freedom, peace and equality for all oppressed humanity.
"He was a leader of the masses in Montgomery, Alabama, and the nation."
Ms Parks also remembered the activist as a "devoted husband and father" to his wife and children and as a "loving and loyal son" to his parents.
"His sister, brother and other family and relatives loved him dearly as all of us who were fortunate to know him," the civil rights icon, best known for her role in standing up against segregation on a Montgomery bus, concluded.
Ms Parks' refusal to give up her seat and her subsequent arrest led to the Montgomery Bus Boycott, largely organised by Dr King, one of the most recognisable leaders of the American civil rights movement.
A Nobel Peace Prize winner at the age of 35, Dr King was integral to the fight for equality.
The letter, which has been owned by an anonymous private collector, is for sale through Moments In Time.
According to the autograph dealer, there has already been interest in the letter, which can be seen here.
Register for free to continue reading
Registration is a free and easy way to support our truly independent journalism
By registering, you will also enjoy limited access to Premium articles, exclusive newsletters, commenting, and virtual events with our leading journalists
Already have an account? sign in
Join our new commenting forum
Join thought-provoking conversations, follow other Independent readers and see their replies